Sharpening and honing a knife are different processes, though often confused. Sharpening grinds a completely new edge into the metal, while honing only smooths out small deformities and irregularities in the blade.
A honing steel won't "sharpen" your knife -- it's not powerful (or hard) enough to do that -- but proper use of a steel in the daily upkeep of your blade will lengthen the time between formal sharpenings. That means your knife will last longer and you'll have to sharpen your knife less often.
Using a steel can be unwieldy and can do more harm to the edge of your knife than good, but with these simple tips you'll find that using a steel is easier than you think. The trick is in finding stability.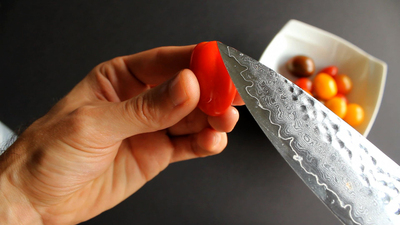 And catch us in NYC Taxis and on TV.
Related