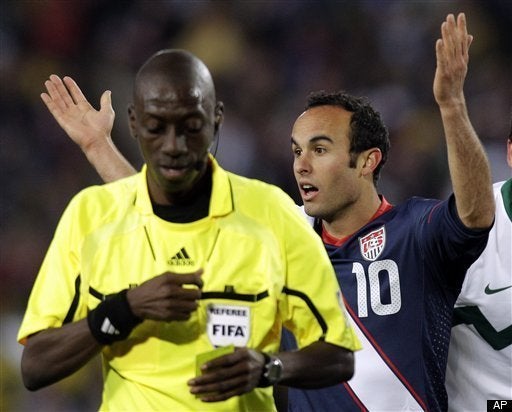 Koman Coulibaly, refereeing his first World Cup match, called 'foul' on Maurice Edu in a critical moment of USA vs. Slovenia, which would have given the Americans a 3-2 lead.
Coulibaly, a Mali resident, has been refereeing since 1993. He has called several Africa Cup matches including the 2010 final, but never before a World Cup match until today.
Many analysts and fans around the world united in disbelief that the goal was called back. While the reason for the callback was unclear, most assumed the ruling was offsides.
SI senior writer Grant Wahl noted that the official FIFA ruling was not offsides, but a foul on Edu.
Said @chamberpost on Twitter: "Prediction: Referee Koman Coulibaly's first World Cup game will be his last."
Was it the right call? Judge for yourself by watching video of the goal and Koman Coulibaly's ruling here.
Popular in the Community