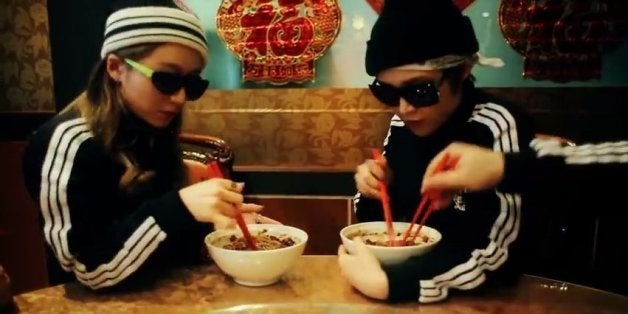 Should this Valentine's Day pass you by without anyone to share it with, there's still ample time to make it to South Korea for Black Day. It's the unofficial holiday in which heartsick singles don their darkest clothing, eat bowls of black bean paste noodles -- and, since misery loves company, come together to share their romantic woes.
The holiday, which happens every April 14, comes after the celebrations of Valentine's Day on Feb. 14 and White Day on March 14. On South Korean Valentine's Day, Korean women give men chocolate to show their affection, and then men have the opportunity to return the compliment during White Day.
The Valentine's Day/White Day tradition is the same in Japan, which also took over the Western tradition and added its own cultural influences. Where South Korea stands apart is Black Day, where those people who were left without gifts during the previous two celebrations get a moment to gather and meditate on the state of their love life.
As Reuters reports, Black Day has become boon for marketers and companies hoping to cash in on the festivities. In previous years, a matchmaking service and movie ticket business have both targeted the holiday with promotions that included a speed-dating night. Korea's K Pop industry has also gotten in on it, with girl group Pascol releasing the track "Merry Black Day" in 2014.
Beyond meeting with other single friends and wearing black, the focal point of Black Day is eating Jjajangmyeon, an extremely popular type of black bean noodle dish. As Smithsonian Magazine details in its excellent explainer on the day, Jjajangmyeon has a significance in Korea as a kind of beloved comfort food, and its dark coloration matches the holiday's desired aesthetic.
While descriptions of Black Day can make it sound like a morose, nationwide version of a bar at last call, the holiday is seemingly a little more lighthearted. As one Seoul resident told Forbes, "It's not a serious thing. You just get a chance to gather with your friends and just eat and enjoy and celebrate the time."
If you want to celebrate Black Day yourself, you can watch this helpful instructional video on how to cook instant Jjajangmyeon at home.
You can almost taste the loneliness.
Related
Popular in the Community