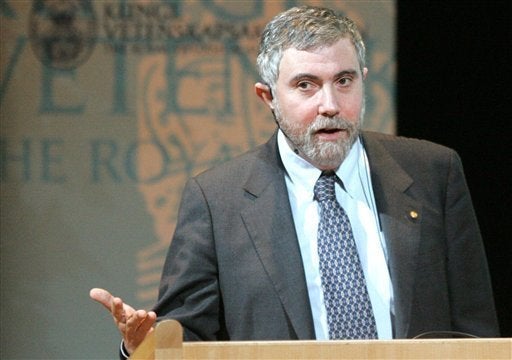 SEOUL, South Korea (AP) -- The United States may emerge from recession as early as this summer, though further job losses mean a "depressed economy" could last as long as five years, Nobel Prize-winning economist Paul Krugman said Tuesday.
"I think it's quite possible that industrial production in the United States and perhaps in the world as a whole will bottom out sometime in the next few months, that GDP growth in the United States will be positive in the second half of the year and maybe a little bit later than that in Europe," Krugman told a global financial conference in Seoul.
Krugman said that he would not be surprised if the U.S. recession, which began in December 2007, ended in August or September this year. But job losses were likely to continue into 2011, meaning "the period of a depressed economy" could last until 2013 or 2014, he said.
Krugman, who teaches at Princeton University, won the Nobel Memorial Prize in Economic Sciences last year for his analysis of how economies of scale can affect international trade patterns. He also writes columns for The New York Times.
The U.S. economy, the world's largest, contracted a worse-than-expected 6.1 percent on an annualized basis in the first quarter. Americans increased purchases of cars, furniture and appliances, but businesses cut back spending and exports had their biggest drop in 40 years. The U.S. unemployment rate hit 8.9 percent in April and many economists expect it to reach 10 percent by year's end.
Krugman said that while economic indicators from around the world are improving, they suggest that the pace of economic decline has only slowed.
"I share the optimism that the worst of this may be over," he said, also noting a stabilization in financial markets. "What's really hard, however, is to say when does this go beyond stabilization to an actual recovery."
A general definition of recession is two straight quarters of economic contraction, although broader measures are also taken into account.
Krugman said that defining the beginning and end of recessions is tricky. He noted that in the United States they are officially dated by the National Bureau of Economic Research, which he said generally declares "that the end of a recession is when some major economic indicators begin improving. When it's no longer a case where everything is falling."
Krugman said that the last two U.S. recessions officially ended when industrial production turned up even though unemployment continued to worsen "long after the official end of the recession." As an example, he cited the one in 2001, which ended after eight months in November, though the unemployment rate didn't bottom out until June of 2003.