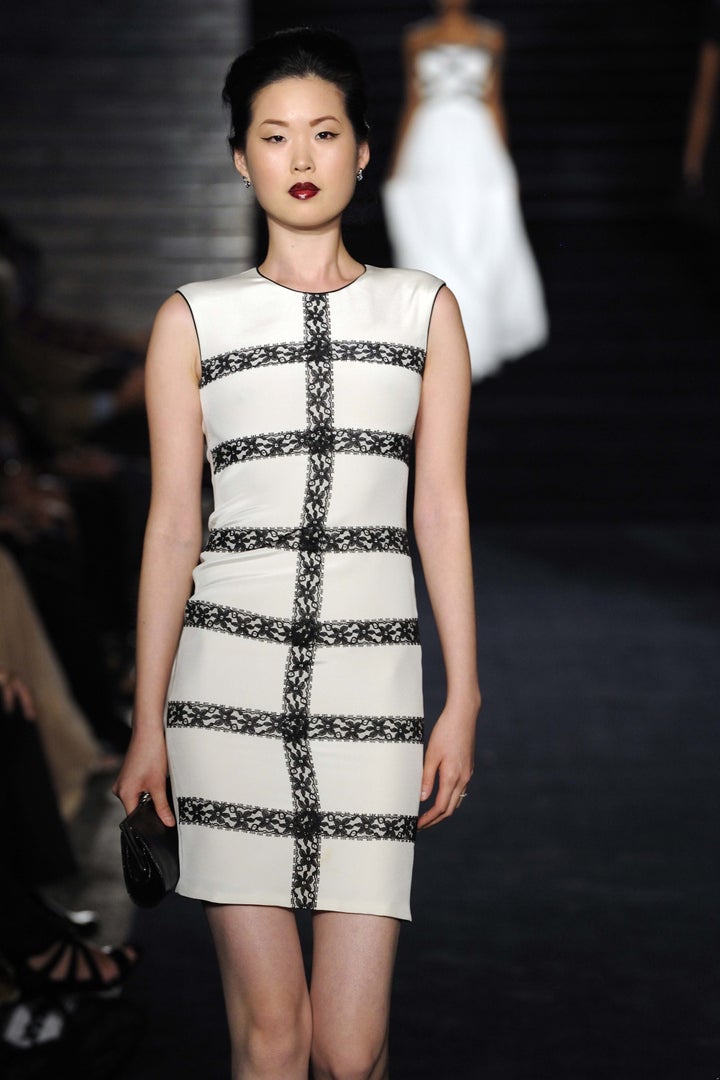 Pictured: Jen Awad's striking hot pink cocktail dress with roses

(Photo courtesy of Jen Awad., Photo by: Jen Zeitlen)
Last night Jen Awad gave Los Angeles a new look at 1940s styles. Just as Christian Dior was determined to give women a "New Look" after the somber styles of World War II by bringing out a collection full of cinched waists, full skirts, and jackets with big buttons, Jen Awad brings that new look style to women in 2010 looking to break away from the somber charcoal and gray of some fall runway collections.
Pictured: Christian Dior's "New Look" style from 1947. A tailored jacket showing off an hourglass figure with a full skirt.
When I saw Jen's collection, I could just imagine Rita Hayworth in Gilda or Gene Tierney's Laura wearing her pieces. I felt like cheering when I saw her models coming down the runway. There's no need for the mourning shrouds and the extreme goth looks shown by some of the other designers. Who wants to cross over to the dark side? I had the chance to talk Jen after her runway show about what inspires her and her vintage vogue collection. She told me, "I love the 1940s the structure of the clothing, the top stitching and the embellishments. In my collection, I was trying to bring that aesthetic in with a futuristic sense. The hourglass silhouette, old school materials like georgette, pearls and wool suiting, these are the elements I wanted to bring in."
Pictured: Jen Awad's green tailored jacket with big buttons and matching skirt is a homage to 1940s style. (Photo courtesy of Jen Awad., Photo by: Jen Zeitlen)
Many of the pieces in her collection have fabric rosettes around the collar for decoration. I asked her why she added all the roses. Jen notes, "I just likes the concept of roses. In last collection, I had a print called 'drunken roses' on some of the pieces. I like the feminine touches like a oversized, glamorous bunches of roses." That's why she choose roses as enhancements on her dress collars, necklines and on the body of one of her evening dresses.
Pictured: Ring around the rosey, roses decorate the neckline of a beautiful Jen Awad dress.

(Photo courtesy of Jen Awad, Photo by: Jen Zeitlen.)
Even though the economy is slow, I think women are still buying things within reason that uplift them and make them feel good (witness the recent Target Liberty of London sell out.) Jen Awad's Fall 2010 collection definitely comes from a very positive place, with red, green and bold blues--no somber black and browns here. She says it is her goal to " send a positive message." Designing and picking the colors in her collection is a very emotional, joyful process. She tells me, "Its about what pops and what looks good."
Asked about her design perspective, Jen says, "I design within the lines of a women's silhouette, the hourglass is important, and women need their bodies back. Its okay to be feminine."
Watch this space for more information on Jen's designs and where they will be sold. This young designer is still in her twenties and only graduated from the Fashion Institute of Design & Merchandising (FIDM) in 2008. When people scoff that LA Fashion Week is just a wannabe without originality, designers like Jen Awad show that although smaller, Los Angeles runways still offer plenty of style. She has done impressive work in a short period of time. Her collection was bold and refreshing, offering a "new look" at some classic styles.
Related
Popular in the Community