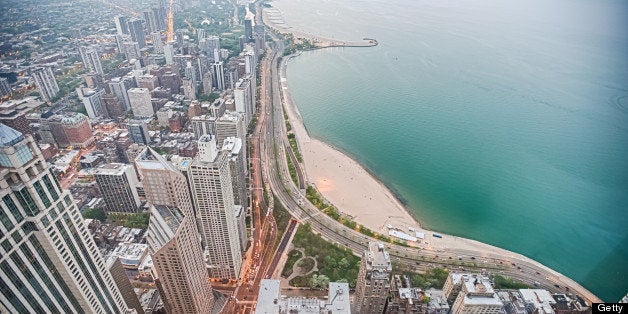 If a massive redesign suggested by a coalition of Chicago civic groups succeeds, the freeway-like speeds of Lake Shore Drive traffic could slow considerably.
The coalition of 15 civic groups -- which includes the Active Transportation Alliance -- has already submitted a suggested plan that dramatically re-works the stretch as part of what it's calling the "Our Lakefront" plan.

Story continues below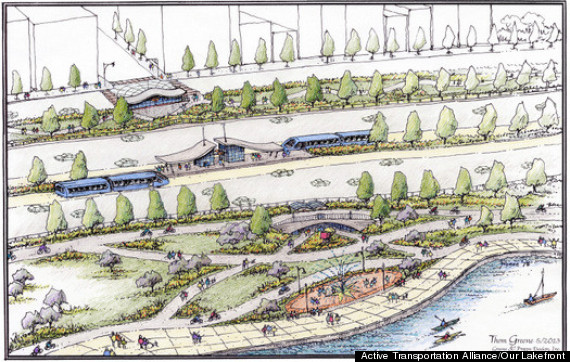 According to the Sun-Times, the plan calls for dropping the speed limit from 40 to 35 mph; create bus-only or high-speed-rail lanes; build a high-speed bike lane; add green landscaping and nix several parking spaces.
The coalition says the proposed changes would make the drive more like the original plan envisioned by the city's famed 19th century planner, Daniel Burnham.
"It was a pleasure drive early on," said Lee Crandell of the Active Transportation Alliance, noting in the Sun-Times the drive was originally designed as a boulevard. "It's slowly turned into a freeway."
Transit officials are motivated to redesign the drive saying several structures within the drive are at the end of their "useful life" and need to be overhauled to meet new safety and accessibility standards. Additionally, officials hope to reduce the number of crashes that occur near on and off ramps. Citing crash data, the Tribune says the current LSD design contributes to an average of three crashes a day north of the downtown area.
The remaining public hearings for Redefine the Drive:
Tuesday: Gill Park, 825 West Sheridan Road, 3rd Floor, 6 - 8 p.m.
Wednesday: Truman College, 1145 W. Wilson Ave., Atrium, 6 - 8 p.m.
Thursday: Peggy Notebaert Nature Museum, 2430 N. Cannon Dr., South Gallery, 6 - 8 p.m.
Calling all HuffPost superfans!
Sign up for membership to become a founding member and help shape HuffPost's next chapter
BEFORE YOU GO
PHOTO GALLERY
Lake Shore Drive Through The Years