Wait, wait, wait, wait, wait, wait, wait. What?
Some rumors have started to circulate in the last 24 hours about the Los Angeles Lakers, and when pasted together, it's all almost enough to make a Laker fan ask: OH MY GOD, COULD THIS POSSIBLY BE REAL LIFE? COULD WE THEY BE BACK?
Lakers fans have been forced to spend the last couple of weeks talking themselves into getting excited about the prospect of rooting for a team based around last year's first-round pick, Julius Randle, and Duke's Jahlil Okafor, who many people expect the Lakers to draft at No. 2 on Thursday night despite the fact that he can't really shoot or play defense.
But then, because like water drops toward earth things break for the Lakers, two simultaneous reports cropped up ever so separately but ever so beautifully.
2. The Lakers have reportedly vaulted up the list of second team All-NBA forward and free agent-to-be LaMarcus Aldridge's preferred teams. In fact, the Lakers appear to only be behind the San Antonio Spurs at the current moment.
OK, hold on. The Lakers could theoretically obtain DeMarcus Cousins and LaMarcus Aldridge this summer? It is within the realm of possibility that the Lakers, a team whose future looked bleak just a month ago, could be just a few short weeks away from having the second best power forward and the second best center in the league on their team, paving the way toward a future so bright I'm already in tears?
BREATHE, LAKERS FANS. BREATHE. BUT KNOW THE POSSIBILITIES.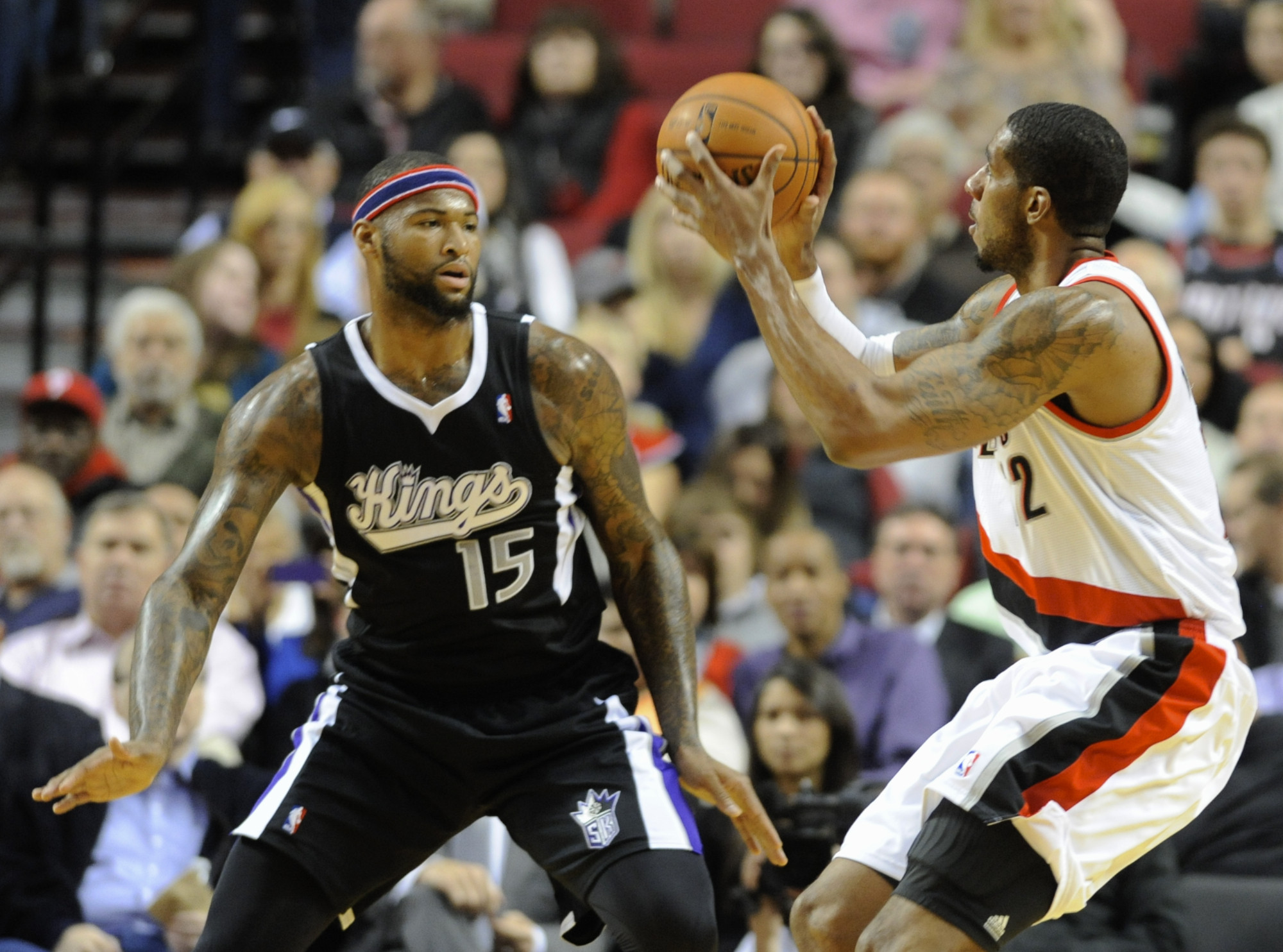 Just imagine this situation, except they are on the same team. In Lakers uniforms. (Source: AP)
The two would work together so seamlessly on offense too. Aldridge with his midrange game. Cousins bruising people down low. It would be enough to bring Phil Jackson to tears as tries to sign whoever to whatever contract for the Knicks.
Will these two transactions work under the salary cap rules? I'm no Larry Coon, but with only $37 million currently on the books for next season, I'm sure NBA Commissioner Adam Silver would let it slide, right? The only real snag right now is that the Lakers are reportedly unwilling to move Randle at this moment. But see the forest through the trees, Mitch Kupchak! Once the team has LaMarcus and DeMarcus -- and God, don't those names look beautiful side by side? -- it's only a matter of time before the team is able to also sign Russell Westbrook, Kevin Durant, LeBron James and a 27-year-old version of Michael Jordan, no?
It just makes too much sense, doesn't it? To be honest, the Lakers' rebuilding effort was always going to end like this. Out of nowhere, the team will obtain the latest incarnation of the Twin Towers, vaulting them back into relevancy. They're the Lakers, this is what happens. And it could happen, people. It. Could. Happen.
EDITOR'S NOTE: Maxwell Strachan's a Lakers fan, obviously.
REAL LIFE. REAL NEWS. REAL VOICES.
Help us tell more of the stories that matter from voices that too often remain unheard.