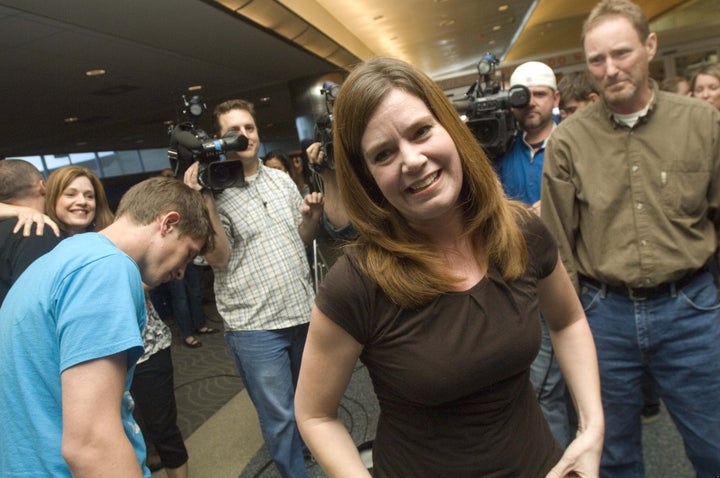 By Ankita Rao
Religion News Service
(RNS) Convicted of arranging illegal travel, Baptist missionary Laura Silsby on Monday (May 17) became the last of 10 Americans released for trying to take 33 children out of Haiti after the January earthquake.
Silsby, released in Port-au-Prince, was sentenced to the three months and eight days she already spent in jail, according to The Associated Press. Prosecutors had called for six months of imprisonment on charges of kidnapping and criminal association. "I'm praising God," Silsby told the AP after the trial. The 40-year-old businesswoman attends Central Valley Baptist Church in Meridian, Idaho. She had led her group, comprised of members from her church and other Baptists, to Haiti to move children to an orphanage she planned to operate in the Dominican Republic.
During the trial, Silsby stated her occupation as the manager of an orphanage, and said she thought the Haitian children did not have parents. However, CBS News reported that the children had come from the devastated village of Callebas, where families told reporters they handed over their children because the missionaries promised to educate them and allow visitation.
Silsby reportedly landed in Miami on Monday night, according to Fox 12 in Idaho. The local television news station visited Central Valley Baptist Church, where members of the congregation were ecstatic about her return.
"With her coming back there will be some better feelings for future missions and things," church member Jerry Hamilton told Fox 12. "That's very, very big in the Baptist faith."
REAL LIFE. REAL NEWS. REAL VOICES.
Help us tell more of the stories that matter from voices that too often remain unheard.