After Hurricane Katrina hit the New Orleans coastline, breaking the levees and engulfing the city's low lying areas with water, President George W. Bush suspended Department of Labor workplace rules, allowing federal contractors to enlist immigrant workers for the recovery effort. But 10 years later, many of those workers haven't been fully compensated for their labor.
In a conversation with HuffPost Live last week, Fernando Lopez, an organizer from the Congress of Day Laborers, explained that many of the undocumented workers who played an integral role in rebuilding post-Katrina were victims of wage theft -- an issue which was exacerbated because the suspension of Department of Labor workplace rules left the industry largely unregulated and prone to problematic labor conditions.
While the exact number of relief workers is unclear, a 2006 study found that Latinos made up 45 percent of the recovery workforce, about half of whom were undocumented. According to the study, of those undocumented workers, 43 percent hailed from Mexico, 32 percent from Honduras, 9 percent from Nicaragua and 8 percent from El Salvador.
"The type of work that they were doing was mostly, at the beginning ... focused on cleaning -- cleaning roads, cleaning mostly hospitals, government buildings and schools. And then from there they started rebuilding homes," Lopez told host Alyona Minkovski.
Although the laborers expected adequate living conditions, they quickly realized that would not be the case.
"People who came to work, they were promised to have a stable job, have good pay and a place to live. When they came here, the conditions were terrible," Lopez said. "There was not really a place to live. It was really hard to find food. It was really hard to find water. So the working conditions were really bad."
Lopez also said that dishonest contractors exacerbated the problem by taking advantage of the Latino workers.
"And on top of that you have contractors who would just be telling workers, 'Well let's just finish this project and after a month I'll pay you everything at once,'" he said. "And when the month would go by, workers just wouldn't get their pay, and sometimes they would be trying to call immigration on them or even [respond] with violence. And every time a worker would try to step forward and call the authorities [or] call the police, the police would simply say they didn't have any jurisdiction."
In some cases, workers would be lured to a location under the pretense of a job availability after working weeks without pay, he continued.
"The contractor would tell them to gather at this certain place in the parking lot [and] workers would go there early in the morning to get their paycheck, [but] it would actually be a setup for an immigration raid."
Watch the HuffPost Live interview with organizer Fernando Lopez in the video above.
Sign up here for Live Today, HuffPost Live's morning email that will let you know the newsmakers, celebrities and politicians joining us that day and give you the best clips from the day before.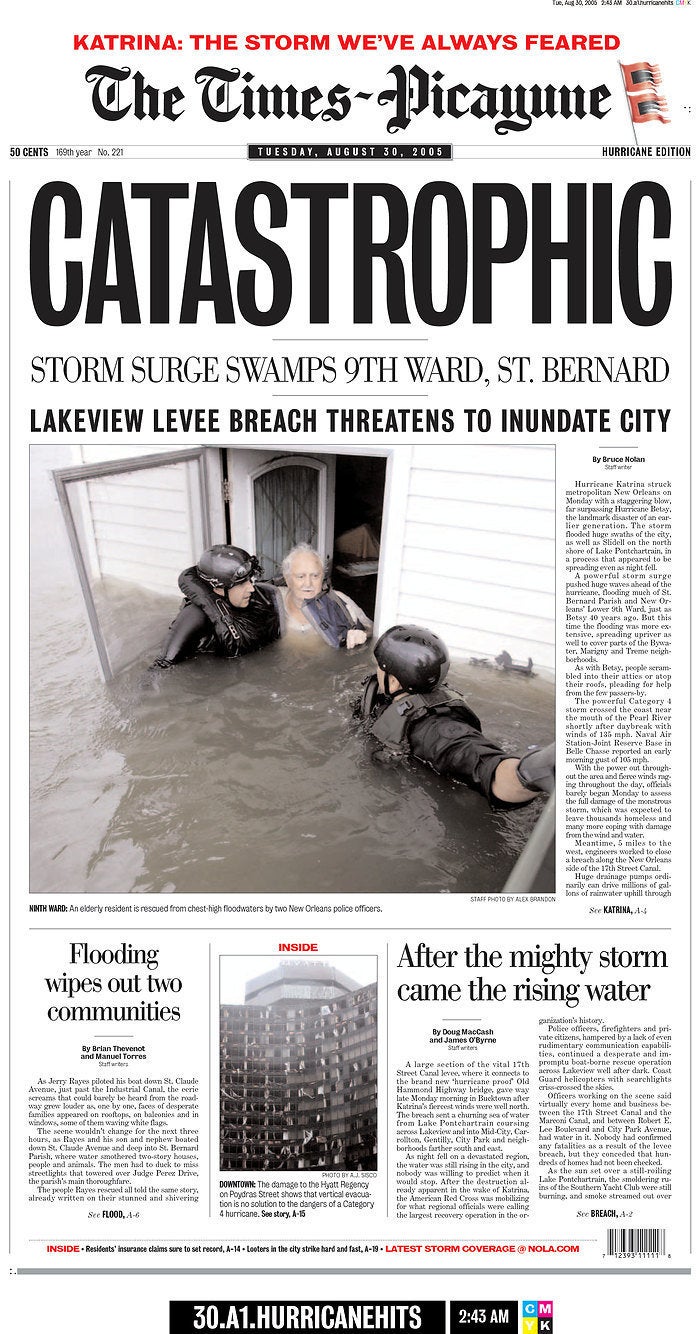 Katrina's Front Pages
Popular in the Community