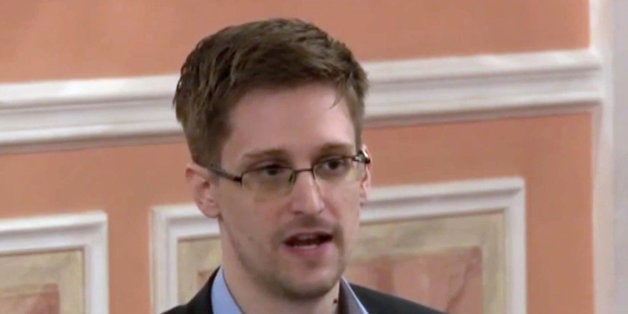 By now, the story of how a team of journalists met Edward Snowden in a Hong Kong hotel has become the stuff of legend, a modern-day update to Bob Woodward and Deep Throat in the parking garage.
But the Snowden story has something Woodward's didn't: video footage of the encounter. The video is part of a new documentary called "CITIZENFOUR," by Laura Poitras, one of the journalists who met Snowden on that fateful day in 2013. On Tuesday, the New York Film Festival made a surprise announcement that the film will be a part of its 2014 lineup.
It marked the first time that the storied festival has ever added a title to its slate after its schedule had already been announced. "CITIZENFOUR" will screen on October 16th, and will be released in theaters on October 24th.
In a press release, the NYFF said (perhaps with a fair amount of hype) that "CITIZENFOUR" was "absolutely sui generis in the history of cinema: a 100% real-life thriller unfolding minute by minute before our eyes."
The documentary will doubtless be eagerly anticipated, not least because it marks the most high-profile intervention by Poitras into the ongoing Snowden journalism. Though it was she who instigated the initial meeting with Snowden, her story has taken something of a back seat to that of Glenn Greenwald, who has become the undisputed public face of the Snowden saga. A steady stream of journalists has traveled to Greenwald's home in Brazil to interview him, and he has been a constant presence on television; Poitras has been much more behind-the-scenes, with some notable exceptions.
REAL LIFE. REAL NEWS. REAL VOICES.
Help us tell more of the stories that matter from voices that too often remain unheard.