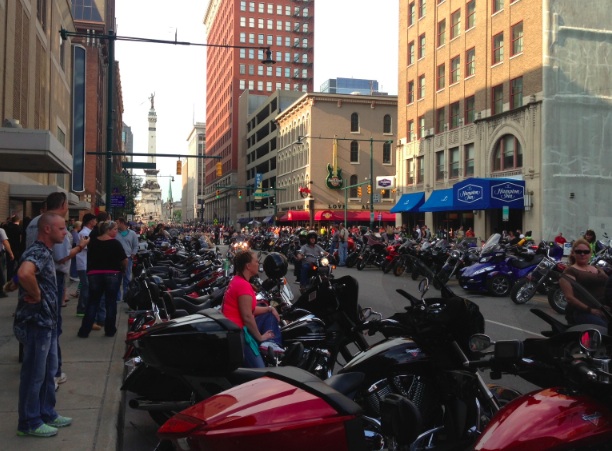 It's a well-known fact that when the Indianapolis convention center was built and later greatly expanded, the eye on the main prize was, not surprisingly, the Republican National Convention. It would stand to reason that a traditionally-held "red" state would want to play host to America's Conservatives.
So far, however, there has been no ConCon (if you would allow me some phonic consistency here). Instead, GenCon, short for Geneva (as in Lake Geneva, Wisconsin) Convention, has descended upon our downtown an 11th time, this year joining the Indy-area event roster alongside the MotoGP, run at the venerable Indianapolis Motor Speedway since 2008. So, on a glorious late summer's Saturday afternoon, the Indiana capital had lining its Monument Circle and connecting city blocks an arsenal of beautifully designed and meticulously maintained motorcycles and their logo-sporting, leather and kerchief-clad riders and their companions, with GenCon gamers and fans filling the Convention area, sidewalks and neighboring restaurants just a few yards to the west. Let no one be fooled, the social diversity and income/educational levels represented by these communities of enthusiasts is as broad as it is devoutly followed. These are collectives to be respected and appreciated as much for their ability to lend color to a city as for their ability to put solid coin in the retail and municipal coffers of their hosts.
Just a few blocks over, the swarming crowds morph into the throngs that are the GenCon attendees. Toddlers in strollers are pushed by green-wigged mothers, vampires and aliens join ranks with laniard-sporting shoppers, vintage board games in their arms. Skulls are everywhere -- not the watered down, round-eyed motifs found in designer garments and their knock-offs but rather the scowl-faced, craggly skulls, intended to suggest some penchant for a dark edginess.
My favorite GenCon looks were the kilts on the men and the women in their corsets. The kilts were often black, a few in colorful plaids. These age-old garments were accurately paired with pouches called sporran and knee socks, and pulled neatly into the 21st c with darkly arty gamer T-shirts and moto-style boots. The corsets were finely wrought devices, held with anything from what looked like oversized hook and eye closures to brass pieces that reminded me of turn-locks on old window sashes. Many corsets were brocaded fabric, some were stitched leather or of a leather-looking fabric. Corseted ensembles were completed with full, draped skirts and petticoats, sleek boots and peasant-style blouses. I in my ordinary weekender's outfit sipped on a beer and feasted on the freedom of self-expression and belonging this assemblage of uniqueness created. I felt rather proud to be resident of a city that, though no ConCon has yet to grace us with its patriotic, tea-bag-trimmed presence, the cyclists and the gamers have seen fit to (and will again) bless our city with their respective communities of studied eccentricity and their black and scarlet and gun metal gray.
One fellow, as we stood and watched a swath of motorcycles go by, asked us if the gorgeous, teal-blue bike in front of us was ours. No, we said. But thanks for asking, we thought.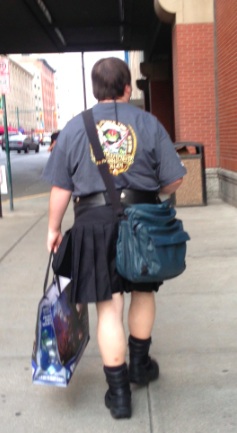 Related