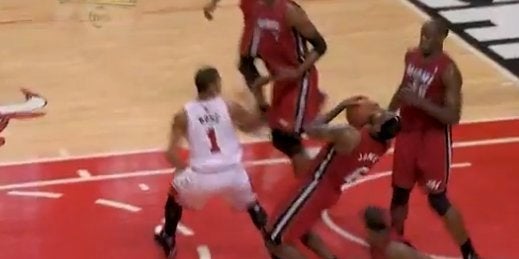 Late in the third quarter of Thursday's Game 5 win over the Bulls, James grabbed a defensive rebound and Chicago's Derrick Rose ran over to steal the ball. It appeared as if Rose nailed James in the face as the two-time MVP jerked back and fell to his knees.
The referee called a foul on Rose, but the replay showed that the Bulls star didn't even touch James' face. As LeBron got back to his feet, he winked at head coach Erik Spoelstra.
"We have seen, throughout these playoffs, some outstanding acting," TNT announcer Reggie Miller said.
Scroll down to watch the highlight.