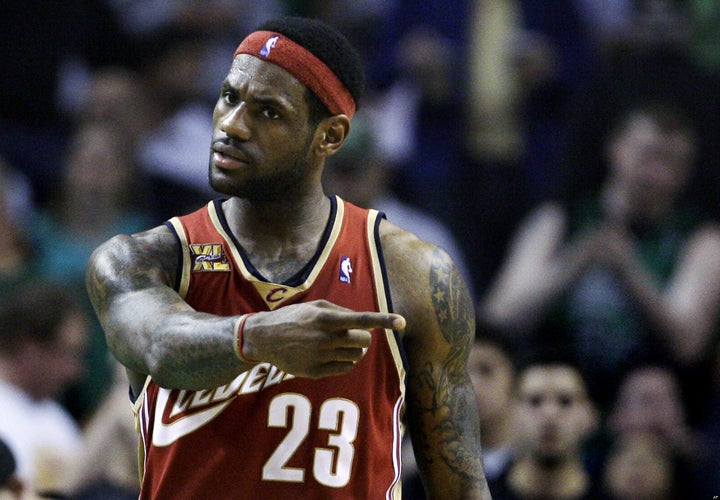 LeBron James has announced that he will sign with the Miami Heat. The two-time NBA MVP will join stars Dwyane Wade and Chris Bosh, both of whom committed to the Heat on Wednesday, to form a fearsome trio in Miami. James made his choice during a widely criticized live broadcast on ESPN.
"I think the major factor and the major reason was the best opportunity to win, and to win now, and to win into the future, also," he said during the announcement, devastating Cleveland fans in a cold, nationally televised rebuke. "Winning is a huge thing for me.... I've done some great things in my seven years and I want to continue doing them."
(UPDATE: SCROLL DOWN TO SEE LEBRON EXPLAIN HIS DECISION)
"Well, the numbers are not finalized. I think my agent, Leon Rose, will take care of that," James added. Fellow superstar and future teammate Wade told ESPN that "it's going to be crazy," and Bosh tweeted his excitement: "Yeeeeeeeeeeeeeee eeeeeeaaaaaaaaaaaaaaaaaaa aaaaaaa!!!!!!!!!!!!!!!!!!!!!!!!!!!!!!!!!!!!!!"
Scroll down for more from the AP as well video of the announcement.
LeBron James wanted to play with Dwyane Wade and Chris Bosh. The only place that could happen was Miami.

Get ready, NBA: A superstar trio is born.

Ending weeks of silence and drama, the two-time MVP said on his ESPN special from Greenwich, Conn. on Thursday night that he's decided to join the Miami Heat and leave the Cleveland Cavaliers after an unsuccessful seven-year quest for the championship he covets.

"I can't say it was always in my plans, because I never thought it was possible," James said. "But the things that the Miami Heat franchise have done, to free up cap space and be able to put themselves in a position this summer to have all three of us, it was hard to turn down. Those are two great players, two of the greatest players that we have in this game today."

Olympic teammates in Beijing, James, Bosh and Wade all helped deliver gold medals.

This time, it'll be about a gold trophy, the NBA championship one - the one Wade got in 2006, the one that James and Bosh have yet to touch.

"Winning is a huge thing for me," James said.

It's a huge victory for the Heat, who got commitments from Wade and Bosh on Wednesday. That duo, along with James, formed the upper echelon of the most-celebrated free-agent period in league history.

Heat president Pat Riley landed them all, a three-pack of stars to help shape his quest for a dynasty in Miami.

And for Cleveland, a city scorned for generations by some of sports' biggest letdowns, James' long-awaited words represented a defeat perhaps unlike any other.

James is gone. Home sweet home no more.

He said he made the decision Thursday morning and knows it won't go over well in Ohio.

"They can have mixed emotions, of course," James said, adding that Akron will "always be home for me."

His new home - part-time or otherwise - wasted no time in beginning the celebration. Horns honked outside the arena and on Miami Beach, where Wade was watching the announcement with members of his inner circle.

"It's going to be crazy," Wade said.

James, Bosh and Wade entered the pros in the same year, the respective Nos. 1, 4 and 5 picks in the 2003 draft. They went their separate ways: James to Cleveland, Bosh to Toronto and Wade to Miami, where he won a championship partnered with center Shaquille O'Neal in 2006. That year, James, Bosh and Wade all signed matching contracts to make sure they were all unrestricted free agents at the same time.

Season-ticket sales for the Heat's coming 41-game season were suspended Thursday afternoon after the entire supply of available seats were sold out. Not every seat has been released for sale yet and some will be held back for single-game purchases at the 19,600-capacity arena.

"I'll believe it when I see it," Louisville coach Rick Pitino said while attending a tournament of high school stars at Cleveland State University, co-sponsored by James and Nike, one of the 25-year-old's corporate partners.

Believe it.

The Cavaliers, a franchise that was in ruins before winning a lottery drawing and bringing James up Interstate 77 from his Akron home, have had the upper hand - until now. They were able to offer him more money - $30 million more - than any other team.

This wasn't about money, though.

Wade and Bosh both said they would take fewer dollars to make this happen. And that, combined with what Riley and Heat coach Erik Spoelstra said to James on the recruiting tour, was enough to pull off the stunner.

Because they have overspent while trying to please James and win the first title by any of Cleveland's three pro sports teams since 1964, the Cavs are strapped with a few big contracts that have eaten up salary-cap space and prevented them from making roster moves to improve the team.

They've come close to winning it all with James, who at 6-foot-8 and 260 pounds has the quickness of a point guard and brute force of an NFL defensive lineman.

With the possible exception of Los Angeles Lakers superstar Kobe Bryant, James is the NBA's premier player, but his legacy cannot be fulfilled until he wins a championship.

If it's going to happen soon, it'll happen in Miami.
Related
Popular in the Community