Game 6 of the NBA Finals was such a seesaw battle of emotions and just sheer basketball that nobody, perhaps not even the San Antonio or Miami players, knew what Game 7 would bring. And, after a two-point Heat lead at halftime, where a series of jabs and hooks were thrown, LeBron James and Dwyane Wade offered a solution: Play like the superstars they are in a 95-88 victory.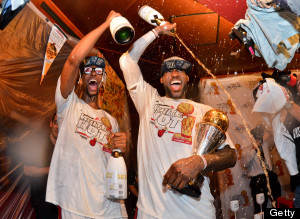 LeBron James knocked down five huge 3-pointers in Game 7 on the heels of shooting just 29 percent from distance throughout the first six games of The Finals. (Getty Images)
While the scoreless Chris Bosh offered a surprisingly good effort defensively on Tim Duncan, it was Miami's "Big 2" of Wade and James who combined for a hearty 59 points. James -- who had been mired in an atrocious 29 percent slump from 3 in the Finals -- knocked down five 3s en route to 37 points and Wade, on the heels of a brutal Game 6, found his mid-range game early and often. Both were highly active and aggressive, but as reluctant as James was to shoot a perimeter jump shot throughout this series, he was equally eager to fire away in the game that it mattered the most, including a 17-footer to ice the win late.
Of course, if players win championships, coaches certainly help. For a guy who has now won back-to-back rings, Erik Spoelstra has battled a litany of criticism surrounding his rotations and seemingly inability at times to motivate his team. Dueling with the wily Gregg Popovich, winner of four titles, Spoelstra often went small with Mike Miller in the starting lineup three times. He benched Udonis Haslem, one of his more reliable and hard-working guys, and he eventually recognized his plan to sit Chris Andersen was no longer working. In Game 7, when the Spurs counterpunched Miami's third quarter run, he didn't panic and take out Shane Battier (who didn't even play in Game 7 of the conference finals) for Wade, nor did he bench Mario Chalmers after a couple questionable turnovers. Every one of those moves paid off -- Andersen with great post defense and energy, Miller spreading the floor, and both Battier and Chalmers hitting huge shots while combining for 32 points Thursday night.
As Ray Allen deftly put it after his miraculous 3-pointer to tie Game 6 and send it to overtime, luck always plays a crucial role in winning a championship. And the Heat, to be sure, got its share of luck, most notably in Game 6. Yet perhaps what gets lost with all of the drama of this team is the grit and gull it continuously displayed in the Finals. Remember, until Thursday night, it hadn't once held a series lead.
"We did whatever it took," Wade told ABC after the game. "This is the reason we came together."
Game 7 surely wasn't the prettiest performance from either side. The Spurs and Heat combined to shoot just 40 percent with a robust 30 turnovers, but that hardly seems to matter anymore. LeBron James -- arguably the most scrutinized star in league history -- now has two titles at 28 years old. For what it's worth, Michael Jordan, at the same age, had one.
Correction: A previous edition of this article stated that Jordan had zero titles at 28. He actually had one title at that age, per the NBA's February 1 deadline for birthdays, as his is February 17.
Email me at jordan.schultz@huffingtonpost.com or ask me questions about anything sports-related at @Schultz_Report. Also, be sure and catch my NBC Sports Radio show, Kup and Schultz, which airs Sunday mornings from 9-12 ET, right here.
REAL LIFE. REAL NEWS. REAL VOICES.
Help us tell more of the stories that matter from voices that too often remain unheard.