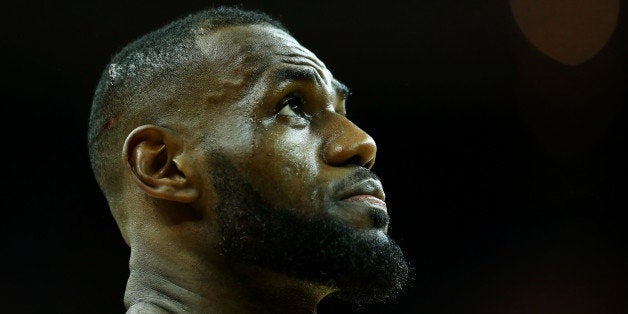 Photos and videos have been circulated over the last day or so of what looks an awful lot like the best basketball player in the world's penis, taken on the court just before Game 4 of the NBA Finals against the Golden State Warriors.
People have delighted in seeing what appears to be LeBron James' junk, and media outlets have been more than happy to provide a screenshot, accompanied with a couple sentences of verbal goop, and then sit back as the traffic rolls in.
We didn't write up the very important story of LeBron James' penis on Friday, and I've had a stupidly difficult time articulating why. After all, this isn't a Fappening-like situation. No one hacked LeBron's phone or iCloud and leaked his personal dick pics to the world. This was a Janet Jackson-like wardrobe malfunction. LeBron could have adjusted himself back in the locker room! Or he could have just made do with some bunched underwear for a little while! With millions of eyes on you, you should probably know not to adjust your underwear.
But I can't shake this feeling -- it feels so wrong, doesn't it? While it might be an exaggeration to depict the act of circulating a picture of LeBron's penis as a "sex crime" on the level of last summer's leak, it still feels exploitative. It still feels gross, and I can't help but wonder if the conversation would be a lot different if the best female athlete in the world experienced a similar moment. Or, at least, I'd like to hope people would stand up for her.
Last month, we talked to Allen Iverson, and Iverson, an admittedly flawed man, said something that has stuck with me since then: "I wish the media and people that work in media would realize sometimes -- and I know it doesn't pay your bills -- but sometimes just sit back and think, like, 'Man, what if this was my child? And somebody was doing this to them?'"
I've thought about that a lot since then, and I thought about it this morning. If your child was in the middle of one of the biggest moments of his life, as LeBron was last night, and he was faced with the same mishap, wouldn't you want people to think about how it would feel if it was their child's malfunction? Wouldn't you expect people to try and exercise empathy and restraint?
Of course, people don't think this way. They see a rich man, a man who was once audacious enough to tell the world that he would like to play for a different team, on live TV no less! People see this man as a caricature of a human, a man to be talked about and, if possible, humiliated. They don't see a husband and father.
That's a shame. And it makes me sad. Stop sharing photos of LeBron's junk.
You can send your hate mail to maxwell@huffingtonpost.com.
Calling all HuffPost superfans!
Sign up for membership to become a founding member and help shape HuffPost's next chapter
BEFORE YOU GO
PHOTO GALLERY
Some Cool 2015 NBA Finals Photos