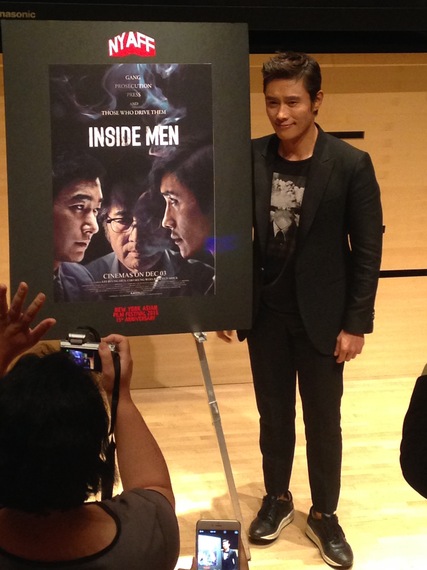 Lee Byung-Hun is regarded as one of South Korea's top leading actors in the country. With tremendous success in Korean cinema working in films like A Bittersweet Life and I Saw the Devil, Lee took his chance in the West trying to make his mark in Hollywood and become a household name in America.
I recently got a chance to speak with him at a press conference at the New York Asian Film Festival, where he was promoting his latest Korean film Inside Men. Lee first talked about the challenges he faced while working in Hollywood. He told me that one of the challenges he had in Hollywood was the language since he didn't know much English.
"First of all, there was the language barrier and then there were also cultural differences because I wasn't born or raised in the US. And so it is sometimes very hard to express the subtle differences that I feel as an actor."
However, Lee hopes that he will be able to overcome these obstacles by keeping a clear head and doing his best in whatever role he plays.
"I do feel that I'm in a handicapped position and that I'm not on equal footing as my other fellow actors but with the energy of positive thinking, I do believe that I will someday overcome these limitations." The Korean actor also found some subtle similarities and differences between the inner workings of Korean cinema and Hollywood. "I'd like to say that actors who are established whether in the East or the Western world who are under commitment and passionate about the craft are unparalleled and that is similar wherever in the world."
Lee also spotted some differences while working in the states, like the production time.
"I feel they put a lot of time for pre-production, but short production. It's the opposite in Korea, they have short term of pre-production but they put a lot of time for production. Hollywood is good for that I think, but Korean crew has flexibility because sometimes in Korea, the director has a lot of ideas on the set and he changes a lot of things whenever we are shooting."
After being so used to being in the spotlight as Korea's leading man, Lee's first films in Hollywood like G.I. Joe and RED 2 have put him in supporting roles, which is something the actor has never done before. "I started out playing lead roles and so because of that, I never really played supporting roles in Korea. Now that I'm in the position of playing supporting roles, there are certain situations where I don't get my close up and I need to be in the shot." Despite the supporting roles, Lee took this as an experience of being an actor. "It's been a very humbling experience where these moments have made me understand what it's like to be an actor that is not always in the limelight so that's been a creative experience for me."
He also has a supporting role for his upcoming Hollywood film The Magnificent Seven, a remake of the 1960s Western film being directed by Antoine Fuqua. Speaking on the experience working with an ensemble cast, Lee said he had a great time getting to know his castmates on set and learning a lot from them.
"We had a lot of time to talk about each other personally and we had a lot of time to hang out. Actually this was my first time to have that kind of a feeling with American actors. We even talked about each other's private lives, sometimes secrets. I had a really great time with them and we became really good friends. That was an amazing experience."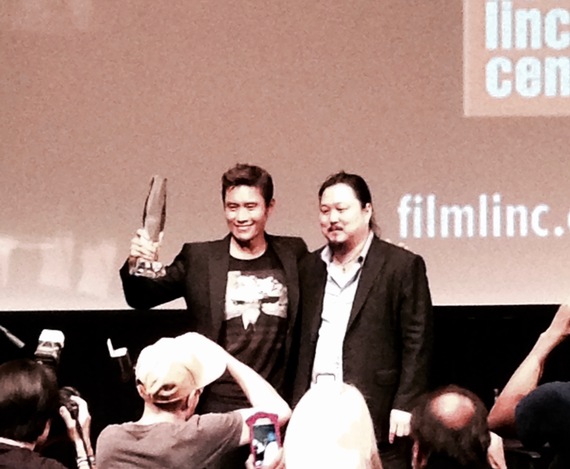 After the chat, I attended a special screening for the film where the NYAFF also awarded Lee with the Star Asia Award for his contributions to Asian cinema. Speaking of awards, Lee had the privilege to present at this year's Oscars with actress Sofia Vergara for the Foreign Film category. Talking about the experience, Lee said that he was nervous at first, but he took it as an honorable moment in his acting career. "To be able to have voting rights in the Academy is a very thrilling moment for me and also a huge honor, but personally I feel that before this opportunity came to me, I just used to enjoy films from a subjective and personal point of view." Being a part of the ceremony gave the actor a different point of view and gave him something to think about.
"Now that I have the responsibility to be able to watch these films with a more objective lens and a more incisive lens, I do feel that I have been sort of robbed of the enjoyment of one of the beautiful enjoyments of my life but overall, it's an honor." So is there an Oscar in his future? "Maybe someday, hopefully I can get the chance."
Calling all HuffPost superfans!
Sign up for membership to become a founding member and help shape HuffPost's next chapter