UPDATE: May 20 -- Ron Schneider tells WTMJ TV that he has rescinded the "English only" policy at Leon's Frozen Custard. Employees are now allowed to speak to customers in whatever languages they speak. However, he said he still prefers that people order in English, and that his employees all talk to each other in English.
A frozen custard shop's "English only" policy is causing a heated controversy in Milwaukee.
Ron Schneider, owner of Leon's Frozen Custard, says the policy he instituted for his employees is about efficiency, not racism.
"Hey, c'mon! It is America. We've spoken English for a long, long time," Schneider told Fox6Now. "Any foreign language is going to be a problem. What I`m trying to avoid is when people come up here, get waited on in a different language because there happens to be an employee who speaks that language."
It should be noted that the U.S. has no official language, and Spanish is the second-most spoken language in the country. Also, the etymology of the two most popular ice cream flavors, chocolate and vanilla, are rooted in Spanish.
Schneider's language policy has been in effect for a decade, but he says it's never been an issue.
That is, until Tuesday, when customer Joey Sanchez was in line behind a Spanish-speaking woman who was told by an employee to place her order in English.
Sanchez, who speaks both English and Spanish, said when it was his time to order, he did it in Spanish.
Sanchez said the experience left him frustrated since Leon's makes "a good profit out of the Spanish community."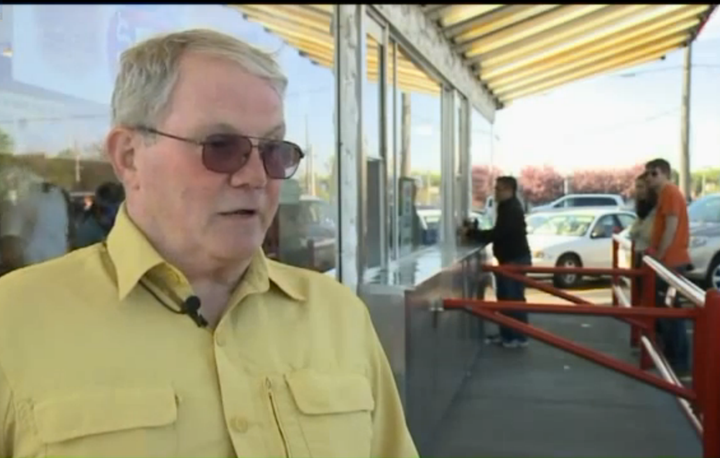 Some customers are supporting the policy. Others, like Febronio Rodriguez, think Schneider is making a big mistake.
"I think it's kind of ignorant," Rodriguez told WTMJ TV while munching down a cone. "It's going to be a loss for Leon's if that's the way the owner feels about that."
Now the League of United Latin American Citizens is calling for a federal investigation into the "English only" policy.
LULAC of Wisconsin State Director Dr. Arturo Martinez released this statement:
In the last 24 hours, LULAC of Wisconsin has received numerous requests to investigate the issue of workplace policy as it pertains to language at Leon's Frozen Custard located at 3131 S. 27th Street in Milwaukee, Wisconsin. While many of us consider this as a community institution, it was surprising when we learned of their language policy, which is in clear violation of federal labor law. Upon reviewing the statements made by management in a video interview detailing Leon's policy, we are requesting an investigation of this policy by the United States Equal Employment Opportunity Commission. The law is clear on this issue and offers few exceptions. In the meantime, we encourage management to review their current employment policies with counsel to bring them into compliance. We are confident that in doing so, it will lead to a stronger business and a stronger community.
Schneider insists his policy follows the law and isn't racist by any means.
"Let me tell you something. My wife is Hispanic. My children are Hispanic," he told WISN.com. "Anyone that wants to call me racist on that basis, maybe we should settle it the old-fashioned American way in the alley."
Calling all HuffPost superfans!
Sign up for membership to become a founding member and help shape HuffPost's next chapter
BEFORE YOU GO
PHOTO GALLERY
15 Reasons Every American Should Learn Spanish