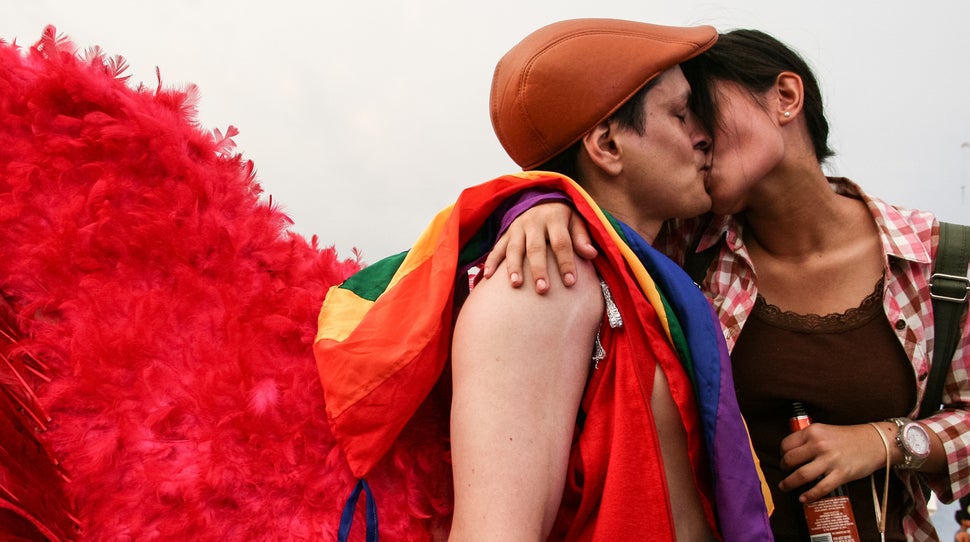 Last October, a transgender woman named Jennifer Laude was found dead inside a motel room in Olongapo City, Philippines. Motel staff found her naked body on the floor of the bathroom, her head leaning on the rim of the toilet bowl. 
U.S. Marine Joseph Scott Pemberton admitted in August to strangling the woman. The 19-year-old said in court that he was "repulsed" and "feared he would be raped" after discovering that Laude was transgender. That fear, he said, prompted him to "subdue" her in self-defense.
He later allegedly told a fellow Marine: "I think I killed a he/she."
LGBT activist Corky Hope Maranan told the Associated Press last year that the case was one of the worst hate crimes she has seen."This is just so abominable," she said.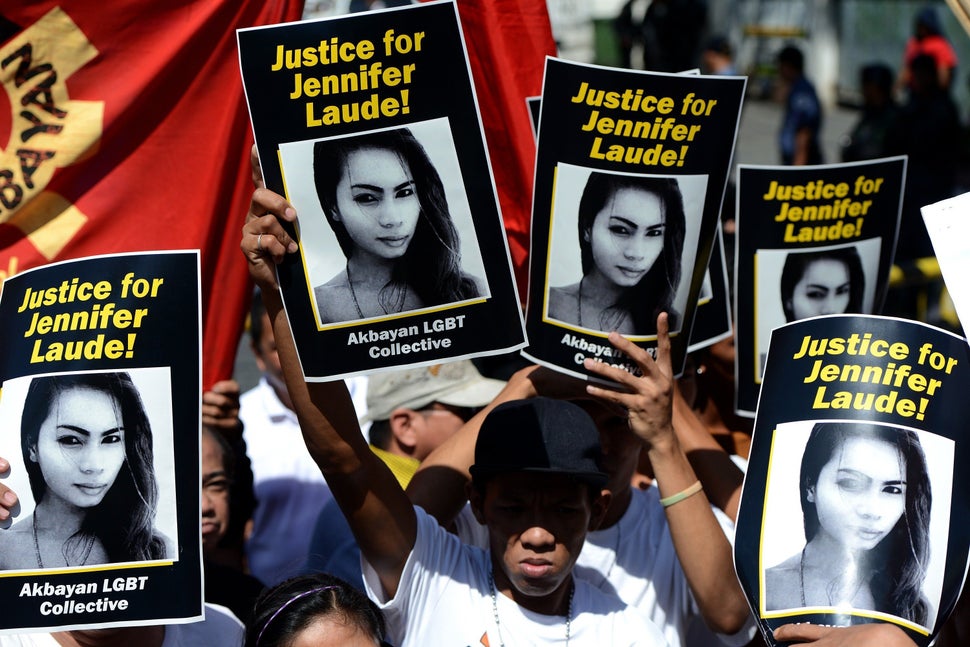 Just a few weeks after Laude's death, Mary Jo Añonuevo, a 55-year-old transgender woman, was found dead in a bar she owned in Lucena City, Philippines. 
Añonuevo had been stabbed 33 times.
The Philippines has one of worst records of violence against the trans community. The murders of 29 transgender people have been documented in the Philippines since 2008, according to the TvT project, which monitors and analyzes cases of transphobia worldwide. This is the highest number in the Southeast Asian region, and the second highest in Asia -- though activists say that many murders of trans people go unreported in the country, so the number is likely much higher.  
The trans community is not the only LGBT group that has experienced violence in the Philippines. There were at least "28 LGBT-related killings" in the country in the first half of 2011 alone, according to a 2014 UNDP/USAID report. These troubling statistics offer a glimpse into the marginalization and abuse that the LGBT community faces in the predominantly-Catholic archipelago.
On the surface, the Philippines may appear to be one of the more "liberal" ASEAN countries when it comes to the LGBT community. 
Homosexuality is not criminalized, and a handful of anti-discrimination ordinances (both those specifically protecting LGBT persons and more broadly-worded decrees) have been passed in some cities, including Quezon City, Cebu City and Davao City, in recent years. In another win, in 2009 the Philippines lifted a ban that had prevented openly gay and bisexual men and women from serving in the military. 
In a 2013 Pew Research Center report about global opinions of the LGBT community, more than 70 percent of Filipinos said homosexuality should be "accepted by society," making the Philippines the most "tolerant" nation surveyed in the Asia-Pacific region after Australia.
However, although "there is high tolerance here, there's not real acceptance," Ging Cristobal, a Manila-based activist with the International Gay & Lesbian Human Rights Commission, tells The Huffington Post.
Legal recognition and protection of LGBT people at the national level largely remains absent.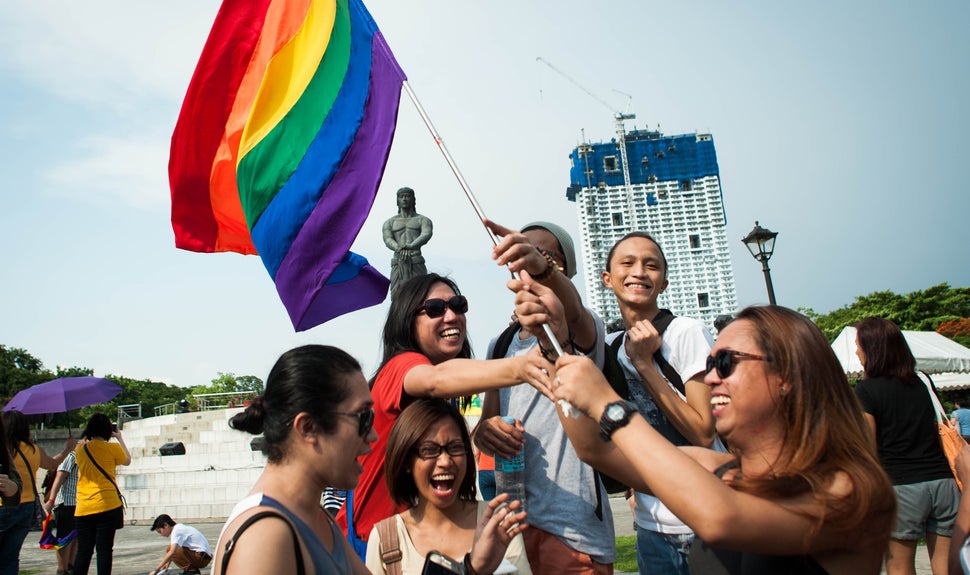 The debate on same-sex marriage has also proved controversial, with the Catholic Church and other conservative groups speaking out vehemently against marriage equality -- the Catholic Bishops Conference of the Philippines said in 2011 that the "church won't tolerate same-sex marriage," adding that being LGBT is a "choice."
"Without the right to marry, LGBT Filipinos are treated unequally in a whole host of ways in comparison to heterosexual married couples," according to the UNDP/USAID report. There remain "no clear rights for either spouse in same-sex and transgender-heterosexual partnerships regarding hospital and prison visitations, making medical and burial decisions, transfer of joint properties, custody of children, insurance benefits, and other privileges accorded to married and unmarried opposite-sex couples," the report continued.
In addition, while a single LGBT person is allowed to adopt a child in the Philippines, two LGBT people who identify as a domestic couple cannot.
The report added that despite robust LGBT activism in the country, and a "growing awareness of LGBT Filipinos," many members of the community continue to face discrimination, violence and abuse. 
LGBT activists in the Philippines say their number one priority is the enactment of anti-discrimination legislation throughout the country.
The lack of legal protections for LGBT persons "greatly affects our day to day lives," Cristobal says.
"It limits our opportunities for better employment, and access to better education and housing," she says. Access to healthcare is also a concern, as most medical practitioners are ill-equipped and uneducated when it comes to the care and support of LGBT patients. Resources for, and access to HIV testing, and related services, is also limited.
At the time of publication, the case against Jennifer Laude's alleged murderer is ongoing.
LGBT rights activists say they are watching the case closely -- and with growing alarm.
"In the Philippines, Pemberton is absolutely free to deploy the trans panic defense to mitigate the severity of his crime," wrote Slate's Mark Joseph Stern in August. "If he can convince the judge that he grew violent because Laude deceived him, his prison sentence could be reduced by up to 28 years. That would send a clear message to trans victims of violence across the Philippines: You had it coming."
REAL LIFE. REAL NEWS. REAL VOICES.
Help us tell more of the stories that matter from voices that too often remain unheard.