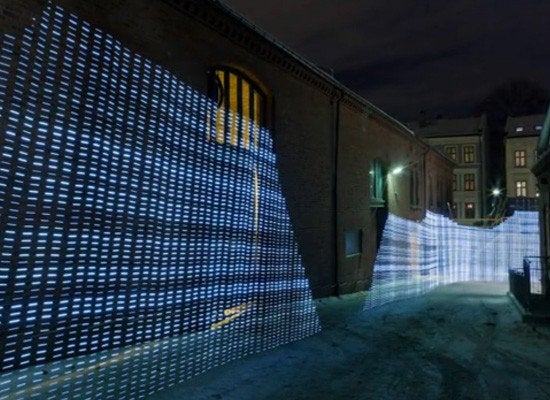 What would your city look like if WiFi networks were visible to the naked eye?
The film's "light paintings," which represent "cross-sections" of individual WiFi networks, show semi-transparent trails of soft light that appear to interact with the architectural aspects of their environment without having any visible impact of their own. The trails crisscross streets and fields, intersect with buildings and with each other, and vary in height depending on location.
The filmmakers created these trails by constructing four-meter "WiFi measuring rods" affixed with 80 lights for reading nearby WiFi networks' signal strength. As a person holding a rod walked about a given space, long-exposure photos were taken to create the WiFi trails visible in the film.
A blog post about the project explains how each network creates a unique light paining:
The visualisations illustrate how WiFi networks in this neighbourhood are ubiquitous, but also fragmented and qualitatively different. The strength, consistency and reach of the network says something about the built environment where it is set up, as well as reflecting the size and status of the host. Small, domestic networks in old apartment buildings flow into the streets in different ways than the networks of large institutions. Dense residential areas have more, but shorter range networks than parks and campuses.
View the film (below) to see some of the light paintings created in Oslo's Grünerløkka neighborhood, and visit YOUrban to learn more about this project.
Related
Popular in the Community