Today in Lindsay-Lohan-as-a-designer-land, the actress has accused her "BFF" Patrick "Pooty" Aufdenkamp of stealing sketches from her upcoming 6126 line. Us Magazine reports Aufdenkamp sat in on many meetings about Lohan's 6126 line, which sparked suspicions when he announced he was doing his own line to debut at New York Fashion Week on February 18.
An unnamed Lohan friend said:
"It's horrible. He was her best friend. He has always used her, and she's been warned to never trust him. Lindsay is a good friend and likes to see the good in people. She didn't want to believe how bad Patrick's energy was, and how false his friendship has always been with her."

Aufdenkamp released a statement to PerezHilton.com, saying there is no evidence that he stole from Lohan.
"I'm way too creative of an individual to need to steal anything design-related from that girl. She knows how much my new line means to me and has seen first hand all the HARD and HONEST work I have put into bringing it to life. The fact that she is trying to take that away from me with a guilt free conscious and can still sleep at night, is in essence, (for those of you who may not already know) exactly what kind of person she is right now."
Some people think that Lohan herself is the type of person to steal someone else's ideas. In fact, one of her sketches bears a striking resemblance to a Jen Kao Fall 2009 dress that Lohan was spotted wearing late last year.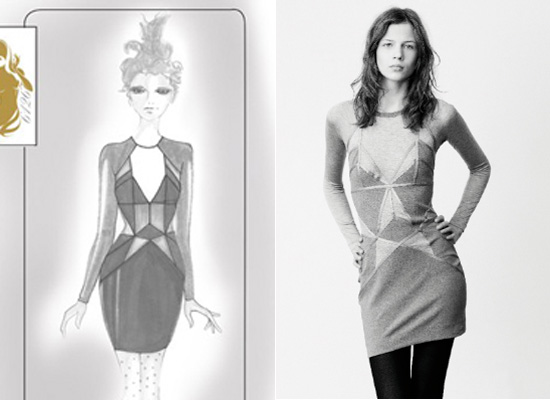 Lindsay's sketch; Image from Jen Kao's lookbook.