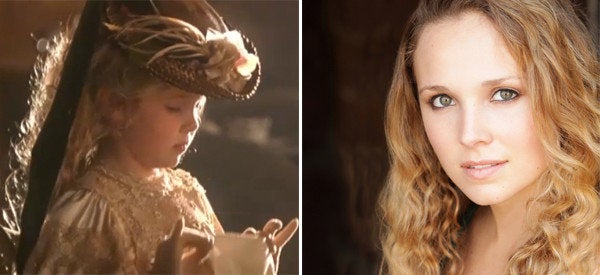 Dec. 19 marks the 15th anniversary of James Cameron's iconic film "Titanic." The movie introduced the world to the love story of Jack and Rose, celebrated Celine Dion's "My Heart Will Go On," and gave America the infamous phrase "I'll never let go, Jack."
It has been said that "Titanic" was the movie that defined a generation, captivating audiences with more than three hours of sweeping visuals, heartbreak, and tragedy. But what was it like growing up a part of a film, as a girl just slightly older than the film itself? In celebration of the 15th anniversary of "Titanic," HuffPost Entertainment checked in with Ellie Bensinger, a now-21-year-old actress who played a young girl aboard the famed Titanic in the 1997 film.
"My official title was 'Tea Room Girl.' I played a girl sitting at tea with her mother, being taught how to be proper," Bensinger said. "It's the scene where Kate Winslet is having tea with her mom and she looks over her shoulder and sees me, being taught to be a member of society. It makes her have reservations."
Born in 1991, Bensinger was just five when she shot her scenes for the film. "It was so huge and there were so many people," she said. "It was such a huge production and as a little five-year-old, I was very overwhelmed by it all."
After arriving at Warner Bros. studios to audition and booking the part, Bensinger almost didn't appear in the film at all. "They wanted to have me film on Halloween," she explained. "My mom turned down the part because she didn't want me missing out on having a Halloween."
Fortunately for Bensinger, production was pushed back and she was able to keep the part, and still go trick-or-treating. During the filming for "Titanic," Ellie's mother found her way into the film as well. "My mom actually also played my mom in the scene," she said. "They forgot to cast someone as my mother ahead of time." Bensinger's mother was on set with her, keeping watch over her daughter, when she was included in a group of extras as options to play the little girl's mom.
"James Cameron comes over and he looks through the girls," Bensinger said. "He points to my mom and he goes, 'her, she can play the mom.' She's walking away and I ran up to her and said 'Mommy, mommy, mommy!' as I was trying to get her attention. James Cameron turns around and he goes, 'wait, you're actually her mother?' He had no idea that he was casting her. He was picking out of a line."
However, the roadblocks of being a young child and an actress didn't end there. "I was not allowed to see the movie when it came out because it was a PG-13 movie and I was seven years old," she said. "I was allowed to watch the first VHS tape for a while. Probably around 13 I was finally allowed to watch the second VHS tape. I thought the movie just ended with [Jack and Rose] doing it in the car so that was a bit of a shocker."
While she didn't learn the film's true ending until years after, Bensinger got the chance to rub shoulders with Rose herself during her time on set. "I went to the hair and makeup room and [Kate] was in there, having her hair done," she said. "I went and sat on the counter in front of her and she and I talked for a while, while she was getting her hair done. I just remember she had that white makeup on her face and she looked like a porcelain doll. I remember thinking she was the most beautiful woman in the world. I called her my 'angel lady friend' because she was so pale."
In the 15 years since the release of "Titanic," Bensinger's 'angel lady friend' has gone on to become a major movie star with Oscar credentials and upcoming roles in films such as "Movie 43" and "Labor Day." And Bensinger herself? The 'Tea Room Girl' is now a senior at Northwestern University, studying theater with plans of chasing her acting dreams in New York City.
PHOTO GALLERY
Kate Winslet Style Evolution
Calling all HuffPost superfans!
Sign up for membership to become a founding member and help shape HuffPost's next chapter
BEFORE YOU GO