Affirming that the devil is in the details, Little Shop of Horrors, written by Howard Ashman and Alan Menken, directed by Elizabeth Serra for the STAGEStheatre, nails each teensy-weensy bit of stagecraft: the story (a hardscrabble West Side Story love tale), a superb ensemble performance, the genre (a creature that belongs in a campy science fiction movie), the songs (a doo-wop back beat, a couple of staggering musical leads), the set (a cross between Sesame Street and The Blob), and, lest we forget, an admonition against making Faustian deals.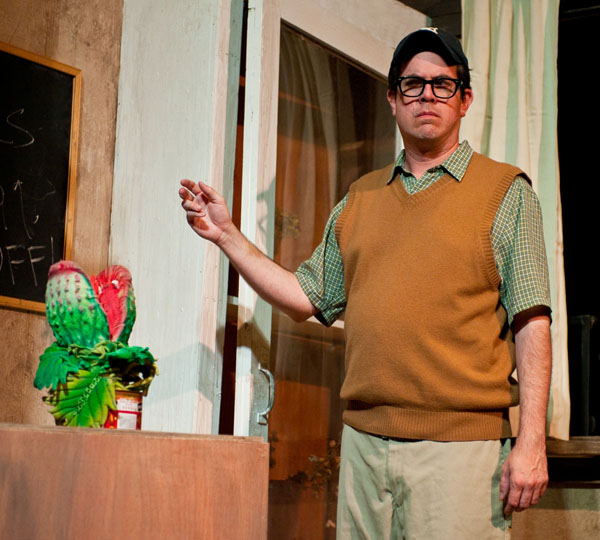 It skips along, at times precarious (dead end, sad sack lives, physical and emotional abuse, and world domination by a vampire plant), at times joyous (an aw-shucks love story, a rags-to-riches business success, and a fantastic sense of place, established by a song that states its preference for downtown to uptown).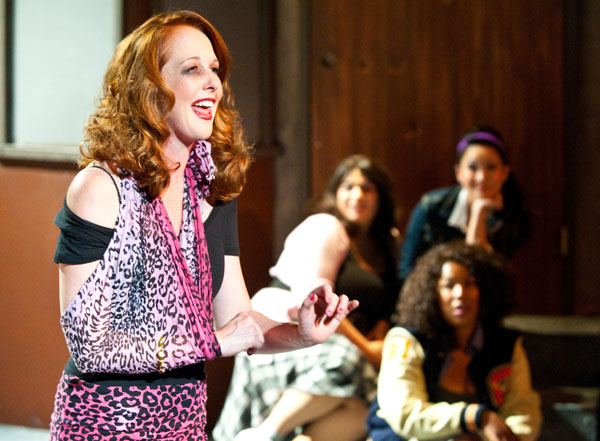 There are great moments. The plant's (Audrey II -- Eulis Kay) constant requests to "Feed Me!" begin as a quirky (and scary) hunger pang and become a metaphor for the desire for wealth and fame. The slow-motion Matrix-like fight between the Greek chorus doo-wop girls (Ronnette -- Jennifer Moraca, Chiffon -- Lara Avengoza, and Crystal -- Tiffany Polite) and mashers and muggers is as hilarious as a phones-ringing-off-the-hook exchange between Seymour (Mike Martin) and Audrey (Nicole Dominguez) is well choreographed and -sung. Though it's perfectly embedded in its era (the music, Dominguez's costumes, the dream to own a TV with a whopping 12-inch screen) it has a contemporary relevance: it suggests the peril of fiddling around with the genetics of plants.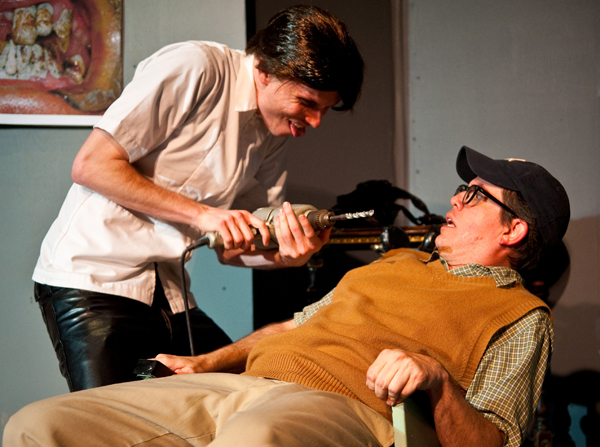 The production is aided by Jon Gaw's unusually functional and evocative set that situates the characters in what amounts to the base of a isosceles triangle whose tip extends indefinitely into a far-off vanishing point, suggesting both a going-nowhere claustrophobia as well as the prospect of infinite hope. And who can fail to notice the Theatre's ironic location a few doors down from a dentist's office?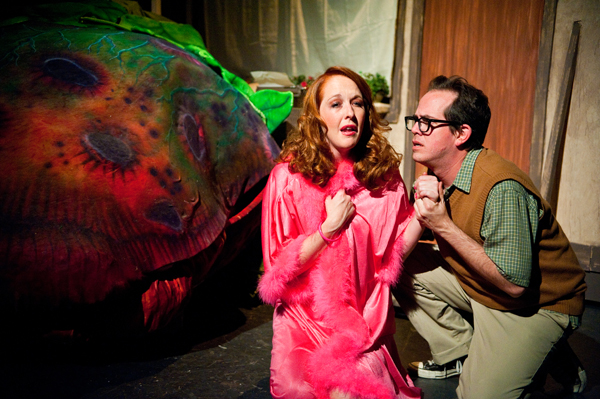 Believable characters (and the actors that bring them to life) ensure our engagement in a story of doing-much-with-nothing. We identify with Audrey and Seymour because they come from the same wrong side of the tracks; they manage, in different ways, to make the best of the hand they've been dealt. Though besotted to Orin (Robert Tully), a hardly painless dentist, Audrey lives her Eliza Doolittle dreams: a toaster, a tidy little yard like everyone else's, boxed off by a real chain link fence, and someone with whom to watch TV. Seymour's secure, if not happy, for he was condemned to a life on the streets until Mr. Mushnik (Bruce Schechter) elevated him to the lowly status of clerk in his floundering flower shop and his subsequent nurturing of a carnivorous uber-plant. The heart of the production lies in their exchanges. Whether it's when they were just colleagues, when they initially hit off, and even in those final few minutes when you realize just to what extent they really love each other, their chemistry was palpable.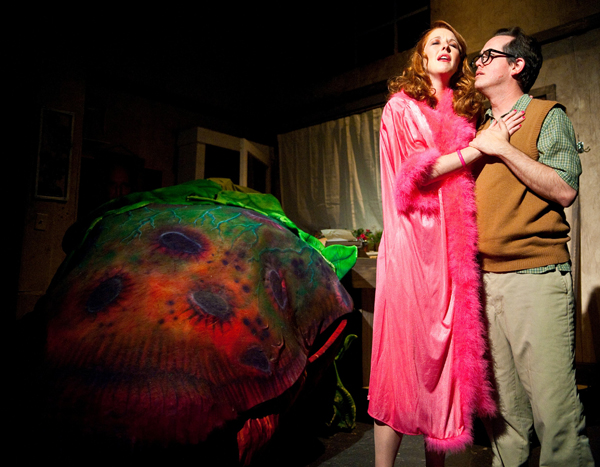 The excellent Dominguez utterly convinces us as a young woman who just wants to get by while the equally adept Martin distinguishes himself by his serenity at having brought himself up from nothing (he used to sleep on the street) to state of extreme poverty (now he sleeps under a desk). Both are polished, dramatic, and technically spot-on.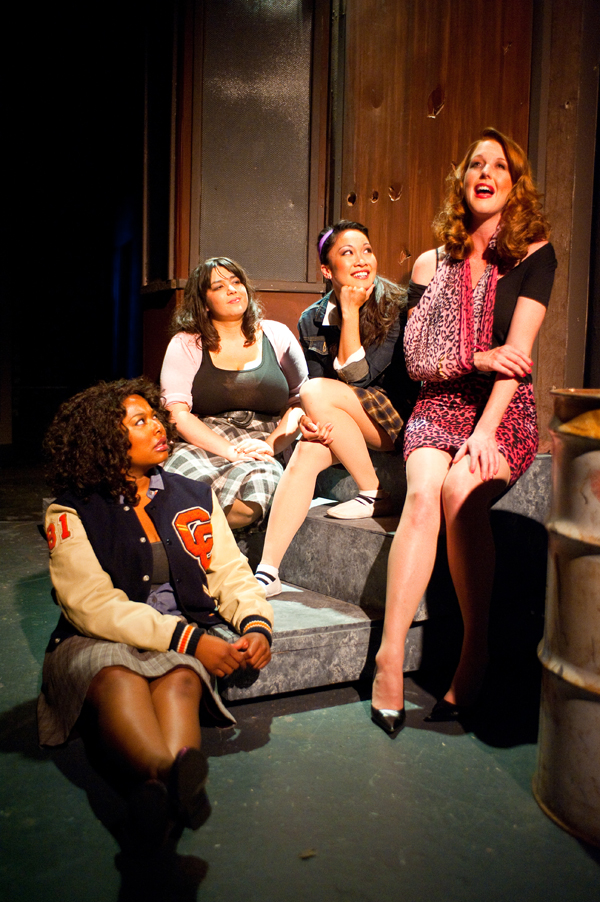 Dominguez's tattered adorableness at the beginning, the way she warbles about what Glen Campbell would call the dreams of an everyday housewife, her lambent and then incandescent love for Seymour, all this she conveys with passion and conviction. Just look at her nose, which she scrunches when she sings love songs; at how she doesn't sing to us in the audience but to a destiny that she hopes will throw her a crumb. She nicely captures Audrey's passive resignation to her circumstances. Though she's battered (a black eye, a broken arm; "yes, dear, the handcuffs are in my purse"), she's not broken -- she's just stuck in the rut of a Shirelles 45 rpm record. Dreaming but dreaming small, her constant costume changes reflect her constant need to reinvent herself; ironically enough, those miniskirts are all variations on the same design.
Martin's equally excellent Seymour brims with dweeby charm and a disarming sense of his place in that skid row flower shop. There's not an ounce of dramatic fat on his Seymour. These days those Clark Kent glasses, baggy khakis, and Chuck Taylors would make him a Silicon Valley whiz kid. But this being the Sixties, he's got the geeky dignity of a disheveled Dobie Gillis, not so much slovenly as unkempt. At first he's grateful to Mr. Mushnik for taking him off the streets (the doo wops shake down every passerby in exchange for directions and information). When things get dark, though, he's a cross between Harry Potter and Twin Peaks.
Performances are 8pm, Friday & Saturday, and 2pm, Sunday. The show runs until July 24. Tickets are $20-25. The Theatre is located at 400 E. Commonwealth, Fullerton, For more information call (714) 525-4484 or visit www.stagesoc.org.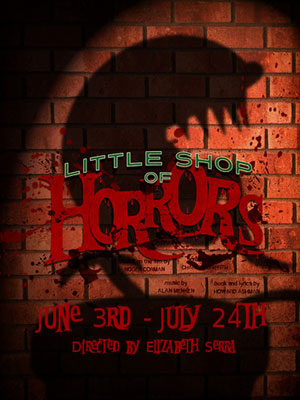 Popular in the Community