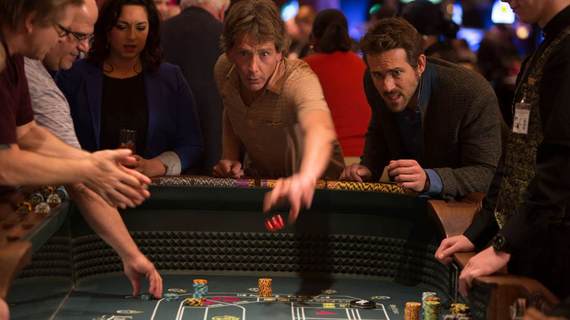 I hit the ground running, arriving not-quite midway into the 2015 Sundance Film Festival in time to crank out a five-movie day on Sunday. That's less a testament to my stamina than to luck and logistics (and the willingness to suffer this year's new normal: arriving at least an hour early to stand in line for the most popular press screenings).
By luck of the draw, I liked all of my films for the day, always a good way to start the festival. I saw two outstanding documentaries and three other films that, by coincidence, were built around relationships between two people, though none of them could really be called couples.
Mississippi Grind is the new film by Ryan Fleck and Anna Boden ("Half Nelson"), built around two beautifully calibrated performances by Ben Mendelsohn and Ryan Reynolds. They are gamblers who meet at a poker tournament in Dubuque, where Gerry (Mendelsohn) lives, sells real estate (badly) and runs up gambling debts (big ones).
But sitting at the table next to Curtis (Reynolds), Gerry feels his luck change -- and then gets proof (in his mind, at least) that Curtis is his good-luck charm. So he convinces the footloose younger man to join him on a trip to New Orleans to cash in at a high-stakes game Curtis knows about.
It's a road movie and a gambling movie, but really it's a dual character study. These are two men on very different paths. Gerry just wants to get ahead, to stop losing and find his life back. Curtis, on the other hand, is more of a mystery: "The journey is the destination," he says, frequently alluding to his final destination as Machu Picchu, hinting at how unattainable reaching one's goal is - in this case, the ancient mountain city in Peru.
Reynolds, with his easy, edgy comic timing, is an interesting match with Mendelsohn, who moves away from the growling psychos he often plays. Mendelsohn creates a man who feels like a failure and isn't certain he can ever shake that stink. Reynolds' Curtis is the guy with just the right mental air-freshener to give him that new-car smell.
I also liked Kris Swanberg's Unexpected, though I didn't necessarily agree with the choices it depicted.
This commentary continues on my website.
Calling all HuffPost superfans!
Sign up for membership to become a founding member and help shape HuffPost's next chapter