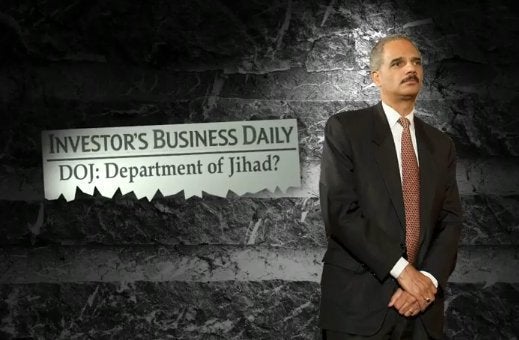 Keep American Safe, the brainchild of Liz Cheney released a new video Tuesday challenging the loyalties of Justice Department lawyers who "represented or advocated for terrorist detainees" during the Bush administration.
The video entitled "Who Are The Al Qaeda Seven?" shows an image of an Investor's Business Daily headline that reads "DOJ: Department of Jihad?" and singles out DOJ lawyers who represented terrorist suspects as well as Obama administration Attorney General Eric Holder.
"Who are these government officials? Eric Holder will only name two. Why the secrecy behind the other 7? Whose values do they share?" the clip says. "Tell Eric Holder "Americans have a right to know the identity of the 'Al-Qaeda 7.'"
This video is the latest in a series of attacks from the group, which has repeatedly knocked heads with Holder.
Last month, the concern overflowed into the Senate when Sen. Chuck Grassley (R-Iowa) called on Holder to name all Justice Department lawyers who had previously represented detainees. In response, the Department announced that nine appointees had, but Holder declined to identify any lawyer whose work hadn't already been reported.
"Holder has hired lawyers who used to represent terrorists to work in President Obama's Justice Department, and he won't tell the American people who they are," Keep America Safe spokesman Michael Goldfarb told Politico's Ben Smith. "These lawyers did far more than represent criminals. They have propagandized on behalf of our enemies, engaging in a worldwide smear campaign against the CIA, the U.S. military and the United States itself while we are at war."
Popular in the Community