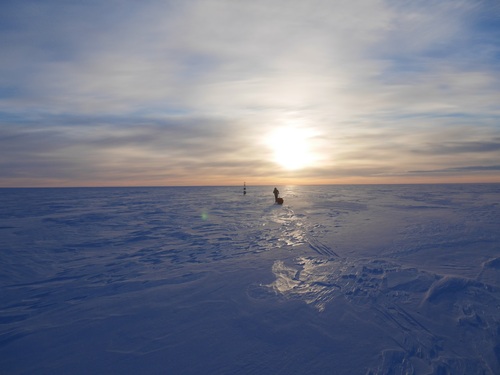 We cranked out 16.4km (10.2 miles) today, which we're pretty happy with, and I can tell you that dragging two-and-a-half times your body weight for seven hours is a bit of a workout.
It felt colder than the numbers suggested (-26C ambient, -30C windchill) though thankfully the wind stayed at our backs all day.
The surface today was quite different: hard and wind-scoured, with a lot of sastrugi -- wind-blown ridges in the snow -- for the latter two thirds of the day. I actually quite enjoyed navigating through these, which reminded me of trying to find the best course over pack ice on the Arctic Ocean.
We spotted something odd-looking on our bearing this morning, alone on the Ice Shelf not far from Minna Bluff. I thought it was a flag at first, or a very lost penguin, but it turned out to be an automatic weather station belonging to the University of Wisconsin. They'll be pleased to hear it was whirring busily away in the wind.
More of the same tomorrow.
For daily updates visit here and subscribe to the Scott Expedition YouTube channel to watch the first video Ben and Tarka will send back from Antarctica in the next couple of weeks. In the meantime here's a video on how and why to pack lightly for a polar expedition: