The Los Angeles Dodgers apologized Monday to the Sisters of Perpetual Indulgence, a drag charity group, after it disinvited its members from a Pride Night event following criticism from conservative groups and Republican politicians.
"After much thoughtful feedback from our diverse communities, honest conversations within the Los Angeles Dodgers organization and generous discussions with the Sisters of Perpetual Indulgence, the Los Angeles Dodgers would like to offer our sincerest apologies to the Sisters of Perpetual Indulgence, members of the LGBTQ+ community and their friends and families," the team said in a statement reinviting the group to the event.
"In the weeks ahead, we will continue to work with our LGBTQ+ partners to better educate ourselves, find ways to strengthen the ties that bind and use our platform to support all of our fans who make up the diversity of the Dodgers family," the team added.
The sisters form a well-known order of "queer and trans nuns" that was founded in San Francisco in 1979. The group uses "humor and irreverent wit to expose the forces of bigotry, complacency and guilt that chain the human spirit," according to its website.
The order was set to receive the Dodgers' Community Hero Award at an annual Pride Night on June 16, but the team said last week that some had been "offended by the sisters' inclusion in our evening" and rescinded the invitation. The sisters pointed directly at Sen. Marco Rubio (R-Fla.), who claimed any celebration of the group "intentionally mocks and degrades Christians."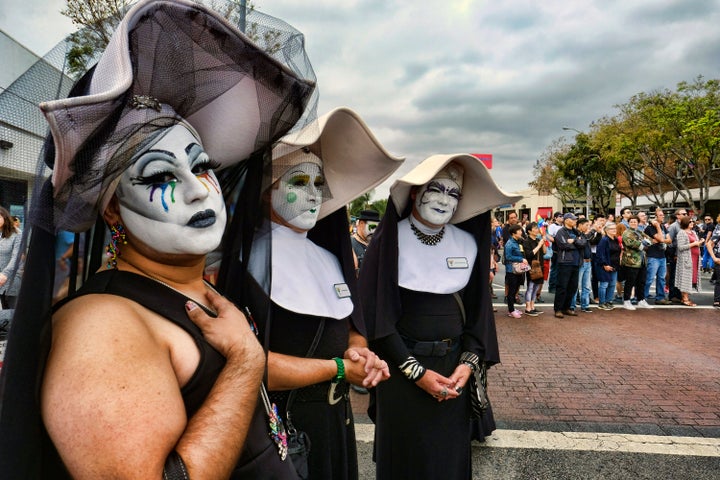 The group said later Monday that it would participate in Pride Night and be proud to accept the award, saying it believed the Dodgers' apology was "sincere" and the LGBTQ+ community was "now more closely tied with the LA Dodgers than ever before."
"This affair has been an opportunity for learning with a silver lining," the group said in a statement. "Our group has been strengthened, protected and uplifted to a position where we may now offer our message of hope and joy to far more people than before."
"May the beer and hot dogs flow forth in tasty abundance!" the Sisters concluded.
Rubio said he was livid with the decision Monday, saying the team had "shamefully, (but not surprisingly) … been bullied into apologizing."
"Today our great country is controlled by socio-political ruling elites who don't just tolerate anti-Christian bigotry, they encourage & celebrate it," he wrote.
Despite the Florida congressman's claims, the Los Angeles LGBT Center praised local efforts to support the community, saying it was "filled with gratitude" to everyone "who mobilized to support the Sisters, all of which compelled the Dodgers to ultimately do right by LGBTQ+ people everywhere."
"The Center will always strive to hold our corporate partners accountable — which means so much more than waving a rainbow flag," the center said.
Popular in the Community