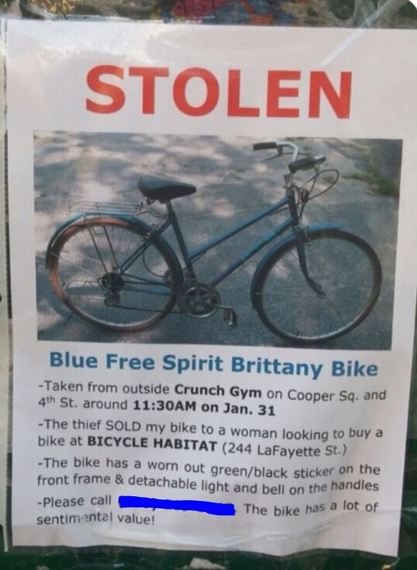 Last Saturday, I lost "Brittany." She was 35-years-old.
Hundreds of posters depicting Brittany's beautiful frame were plastered on polls all over New York City, while social media sites like Twitter, Instagram and Reddit buzzed about her whereabouts. Brittany even became the center of conversation among my friends.
All day long, I waited impatiently for my phone to ring. Every hour of the day, I waited tirelessly for someone to tell me that they had found Brittany. Days went by, but still nothing. Although I could not handle the truth that I had lost her, I had to get a grip on the reality that I would never see Brittany again.
Then, exactly a week later, my phone rang. I had found Brittany.
Brittany and I first met during my freshman year in college. Her previous owner, a graduating senior who was moving to California, had sent out an email with the headline, "Vintage Blue Bike for Sale."
"This is a vintage bike," the owner said, emphasizing the word that marketers typically use to inflate the price. "You won't find anything like it these days."
Manufactured in 1980, the bike showed some signs of age with its rusty chains, dented fender and scratched paint. Personally, these were great selling points for me because I had been looking for an old-looking bike as opposed to a shiny new one, which is more vulnerable to theft. On that note, the bike passed the visual test.
Next, I took it out for a test ride around campus. As I hopped on the seat, gripped the handlebar and rested my feet on the paddles, I immediately felt at ease with the bike. Without much hesitation, I bought it.
The owner's parting words? "Please take good care of the bike."
From that day on, Brittany -- a nickname I had given the blue bike -- accompanied me wherever I went. Her wheels were my second set of feet, transporting me to places twice as fast as walking and twice as efficiently as shuttling.
I biked to classes in the morning even if meant my hair would freeze in the icy Boston winter. I biked to my part-time job at MIT to avoid the subway, which would frequently delay during the rush hour. I even biked to job interviews in my suit so that I could calm my nerves.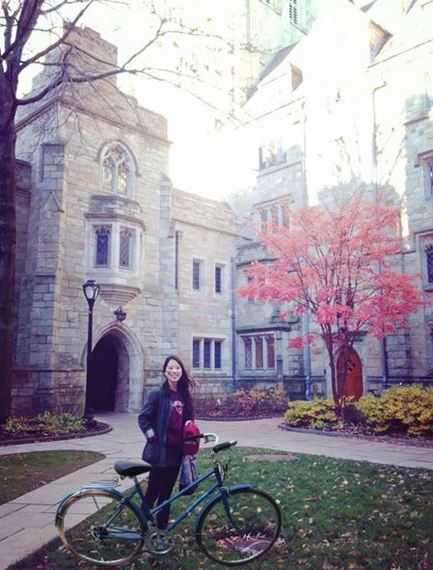 Brittany also introduced me to places I would not have explored on my own otherwise. I discovered the Esplanade, a roughly 3-mile path along the Charles River where I came to de-stress while watching the sunset or biking amongst a flock of geese. I discovered the most decadent Boston cream pie at a hole-in-the-wall bakery in Lexington, a small city about 15 miles northwest of Boston, during a weekend expedition with Brittany. I also discovered an uncrowded study space at the Harvard Business School across the river, where I wrote most of my senior thesis.
For all four years of college, Brittany kept me in shape -- both physically and mentally. By the time graduation rolled around, I could not leave her behind. I decided to take her with me to New York City.
"You got everything, right?" my brother asked as he latched the rear door of a U-Haul truck. I could not believe I was finally heading to the Big Apple and move into a new apartment, start a new job, and begin a new chapter in my life.
"New York City, here I come!" I thought as I looked out the window. I imagined spending hours at the city's many museums, watching Broadway shows, scoring great deals at sample sales, sampling the much-hyped Cronut, exploring many hidden spots on my bike...
And that's when I realized I had left Brittany behind in Boston.
We were already about an hour away, so my disgruntled brother was opposed to going back. "It's just a bike. Why don't you get a new one?" he said. Luckily, my mom -- knowing how much sentimental value Brittany has for me -- coaxed him to turn around and go back.
Since then, Brittany has taken me to numerous sites throughout New York. Together with my boyfriend and his newly acquired bike, we covered both the northern and southern tips of Manhattan, crossed the bridge that connected Queens and Brooklyn, and cruised the boardwalk of Staten Island. I commuted to work every day, and stored Brittany inside my tiny, 8 feet by 9 feet room on cold, snowy days.
For others, Brittany was just an old bike; for me, Brittany was a special -- although inanimate -- friend.
Saturday, January 31, started like any other Saturday. I had a bowl of frosted flakes and almond milk for breakfast before heading out to a yoga class, a new activity I had picked up this New Year. The streets were coated with sleet from the previous night's precipitation, so I firmly gripped the handlebar as I biked to the gym. To avoid the scolding look from the yoga instructor for being tardy, I hurriedly locked Brittany's back wheel to the frame outside the entrance and rushed in to the gym.
When I came out an hour later, Brittany was nowhere to be seen. I wondered if I had parked her somewhere else. I wondered if someone had temporarily removed her. I wondered if I had even biked in the morning or if she was still at the apartment.
Puzzled, I went back inside the gym. "Do you know what happened to the blue bike that was parked right outside?" I asked the man at the front desk.
"A blue bike?" he said. "Yeah, this guy came in about an hour ago. He asked if it belonged to anyone, and I said I don't know. He said he fixes bikes for a living, and then he left with it."
I could not believe it. I panicked for a moment, and proceeded to call all the bike shops within one mile of the gym. My logic was that, if the person who took Brittany fixes bikes for a living as he claimed to be, then he must have believed Brittany was an abandoned bike and took her to the shop for a repair.
The first shop didn't know about it. The second shop didn't pick up. The third shop, however, had some news.
"Yeah, I remember a blue bike" said the man at the bike shop. "There was a man who was trying to sell it to us, just before noon. He said he got it as a gift, but we told him we don't buy used bikes."
He then told me the thief sold the bike to a woman right outside the shop. Apparently she was looking to buy a bike.
"And she rode away," he said.
THE FIND BRITTANY CAMPAIGN
I traced my steps back to the gym, with my eyes fixated on any and all bikes that had slight resemblance to Brittany. The man at the front desk said the security camera probably caught the thief's face, but he couldn't review it until Monday. Additionally, he could release the footage only to a law enforcement.
So I walked to the police station. I filed a report, but the police administrator was brutally forthright.
"I will be honest with you, hun, but there are other more important crimes than a stolen bike that the officers are concerned with," she said, as she wrote down the words, "Petit Larceny: Bicycle," on an incident information slip.
Disheartened, I left the police station with no lead on what to do. I contemplated purchasing a megaphone and obnoxiously walking around Manhattan with it in search of Brittany. I thought about dressing up as a law enforcement, acquiring the security footage, and using Google image to identify the thief. Amongst all these infeasible ideas, I knew one thing for certain: I had to take the matter into my own hands if I were to find Brittany.
And so began the Find Brittany Campaign.
#BIKENYC #BLUEBIKE #STOLENBIKE
I had no time to waste; the longer I waited, the harder it would be to find Brittany. Since my objective was to recover the bike, I focused on finding the woman who bought Brittany from the thief, not the thief himself.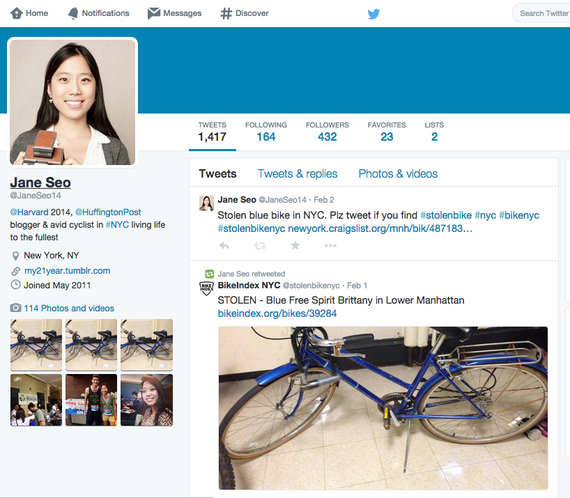 As soon as I got home, I posted an ad on Craigslist about my stolen blue bike. Maybe the woman would look for a bike lock on Craigslist. I posted on Yelp's community page and Reddit's NYC forum. Maybe she is a user of these sites and would stumble upon my posting. I tweeted about Brittany's whereabouts and searched for hashtags like #bikenyc #bluebike #newbike on Instagram and Twitter. Maybe she is an active social media user who would post about her newly acquired blue bike.
She could also be offline completely, so I resorted to the traditional method of flyers. I printed 130 copies of posters detailing Brittany's disappearance, sealed them in clear sheet protectors, and scattered them throughout the area about half a mile north and south of Houston Street.
Now, all I could do was to wait for my phone to ring.
As I trudged home the following Friday, I felt discouraged by all the happenings since Brittany's disappearance. Not only did my effort to recover her remain fruitless, but also the public has explicitly berated, belittled, and mocked my loss.
One afternoon, I had a missed call from an unknown number. When I returned the call, the person texted me back: "Sorry my friend thought it'd be funny to prank call you. Idk about your bike." Another person kindly corrected my misspelling in the poster: "Dear Out of Towner, note the spelling for 'Lafayette,' not 'LaFayette.'"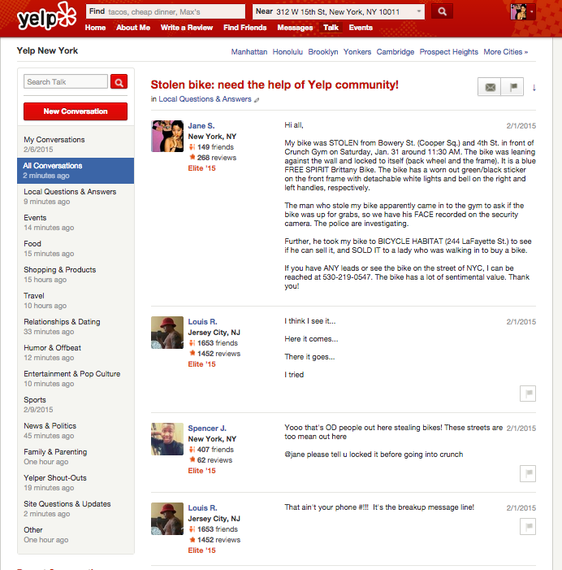 Many responses to my thread on Yelp reprimanded me for not taking a better care of my bike. One person said: "Wait -- you live in NYC and didn't lock your bike to [a fixture] then left it there and thought it would be safe and sound until you got back? Do you also leave your cash on the sidewalk when going somewhere and hope no one takes it until you return?"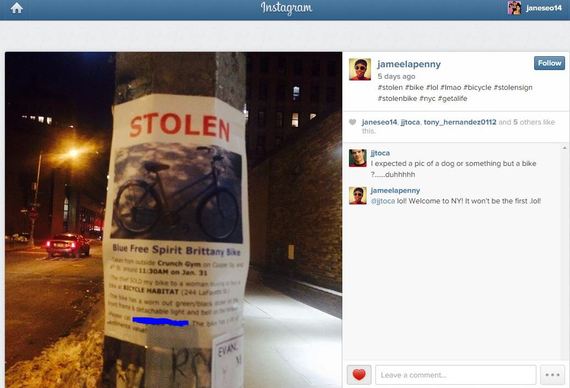 I was upset that these people would ridicule my effort. I was annoyed that these people would never understand my feelings. I was also frustrated that I would waste my time and energy on something that seemed to produce no foreseeable result.
My boyfriend consoled me, telling me that loss is an inevitable part of life, and that I would lose things that are of greater value than Brittany in the future. I needed to get a grip on the reality. I could not dwell on this particular loss for too long.
That night, I browsed through Amazon for a new bike.
Saturday, February 7 -- one week after Brittany's disappearance -- did not start like any other Saturday. I had accidentally set my alarm for 9:30 p.m., so I overslept and missed my yoga class. I ran out of milk, so I had frosted flakes and a scoop of Neapolitan ice cream instead. I had slipped on the street and inflamed my left shoulder a couple days prior, so I bummed around in my pajama until the late afternoon when my boyfriend and I went to a wine tasting event in Times Square.
Because I was taking Ibuprofen, I couldn't really drink. I just sat around in the corner, glancing at other people perusing through different venues for endless glasses of wine.
Then, at 4:05 p.m., I received a phone call from an unknown number.
"Hi! I am calling because I saw your poster. I have your bike."
Those last four words echoed in my head. I felt a wave of emotion, from shock to numbness to ecstasy to gratefulness. We arranged for a time and a place to meet. It turned out she lives right around the corner from the bike shop where she had purchased Brittany...for a mere $20.
I didn't realize how valuable Brittany was until she disappeared from my life; in fact, people generally do not realize the significance of what they have until they have lost it.
The odds of recovering Brittany, or a stolen good in generally, are extremely slim, but there was a lot of luck, determination, and persistence involved in the recovery of my bike. Not only was I able to track Brittany's whereabouts immediately after her disappearance, but the bike was also in possession of an honest woman who happened to live near where I had put up the flyers and who returned the bike to its owner.
The timing could not have been more perfect. One day too late, and I would have bought that red bike I had added in the cart on Amazon. Now, I can delete that item and purchase a sturdy lock instead.
Because this Saturday, I found Brittany.
Calling all HuffPost superfans!
Sign up for membership to become a founding member and help shape HuffPost's next chapter