"Let's see ... Champagne Moet and Campari are selling well, Vagisil we're very low on. Brooklyn Lager we've had to re-stock," Store Manager Jo Brooks ticks off the hot sales of the day here in Manhattan's newest deli.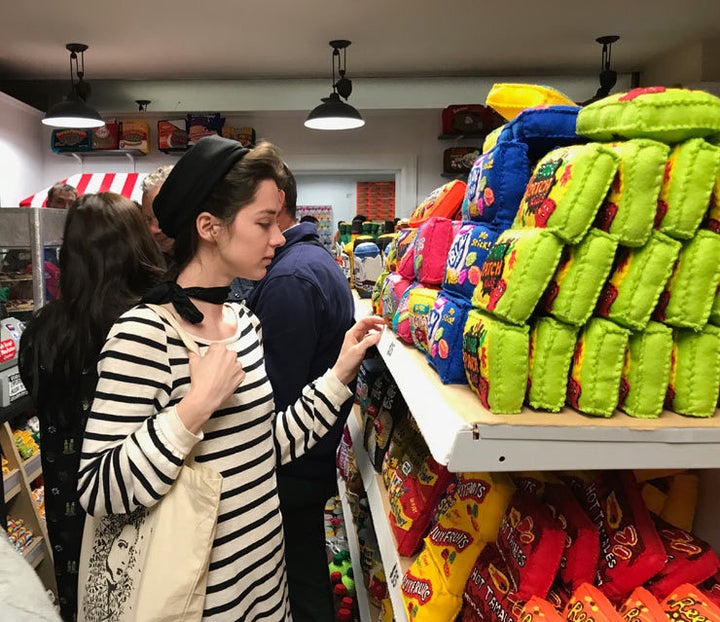 "And randomly, the cassette tapes have been flying out of here," she says as she squeezes the rectangles with images of yesterday's pop stars preening their way into your heart. "We sold Duran Duran, Pink Floyd, Wham, Madonna's "Immaculate Collection". We sold "The Sound of Music" on VHS, "Texas Chainsaw Massacre", that lady's just bought "Vertigo".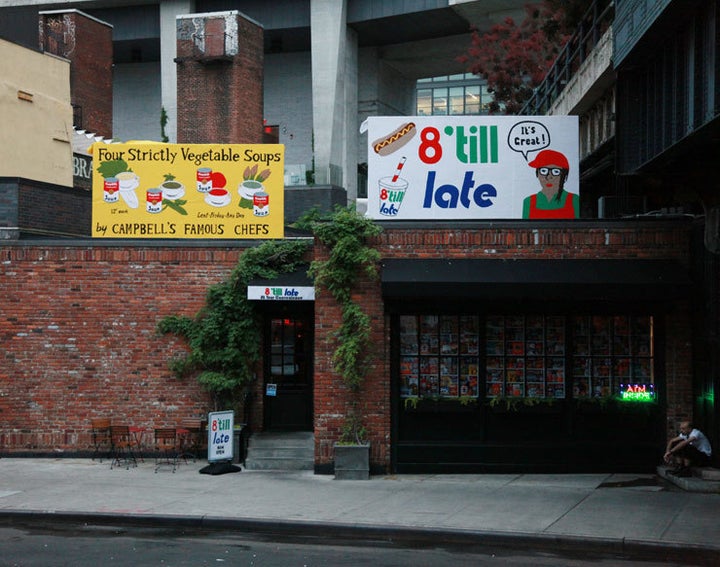 "I wanted tapes that were going to be slightly like 'B movie' ," says artist Lucy Sparrow, who made everything in this place, including the cassette tapes. "They're supposed to be the ones that were going to be in the bargain bin. Stuff that is like second-hand that you'd find at a yard sale." She's cheerfully nostalgic when she says she has placed the timeframe of the bodega into the 1990s, where she spent most of her time in the single digits.
Nearby in the meat section next to the sausage links a small boom box plays "I'm So Excited" by the Pointers Sisters, "White Wedding" by Billy Idol, "Fire," by Bruce Springsteen. You know, oldies.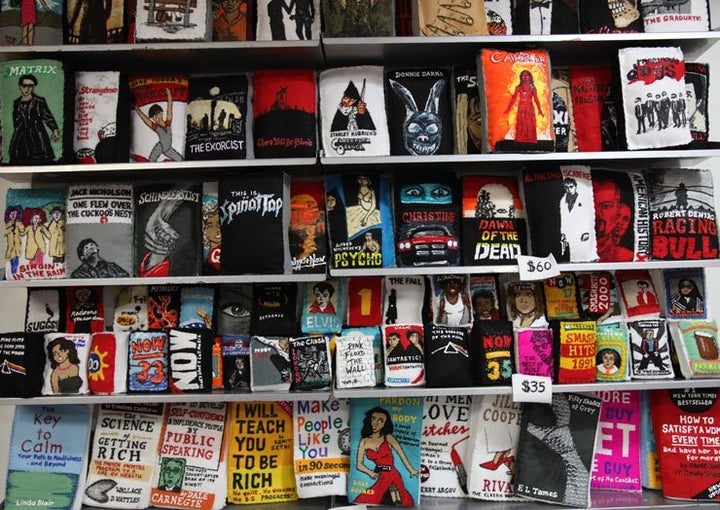 It's 8 'Till Late, artist Lucy Sparrows first all-felt store in New York, and it's literally just under the Standard Hotel in the Meat Packing district. She's made 9,000 items over roughly 9 months out of this soft fabric-like craft material – and at first impression it sincerely looks like everything you would have found in a New York bodega in the 1990s aside from the hard liquor, which is actually illegal to sell outside a liquor store in NYC, but relax, its all heartfelt.
"We sell quite a lot of self-help books as well," chimes in Clare Croome, a cashier.
"Yes! Self-help books! Have you seen them?" says Brooks "They've got nothing in them on the pages, they're just blank."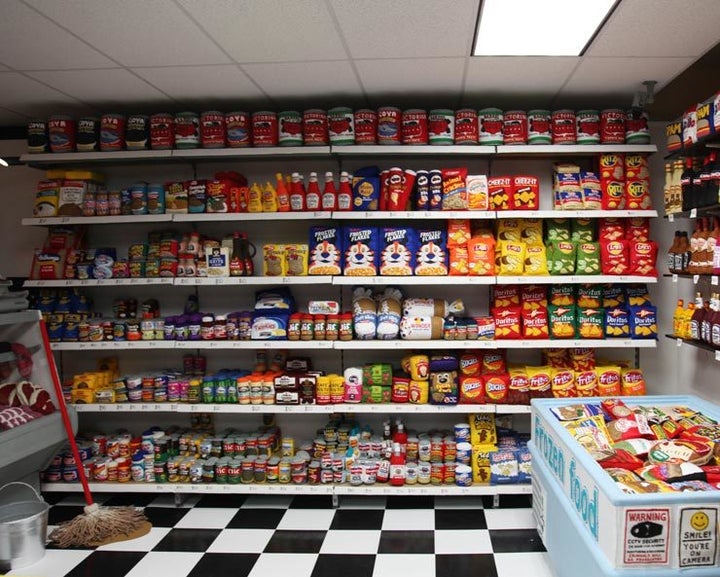 The New York bodega installation idea began in 2014 when Sparrow's "Cornership" in London turned into a blockbuster. "That was sort of my 'Big Break' in the art world. It sort of went viral and it was very very sudden and I had to sort of form a company and organize accounts and it was a very fast growing-up lesson."
"But it was wonderful. I never did it thinking that the art world would take it seriously and then suddenly it happened."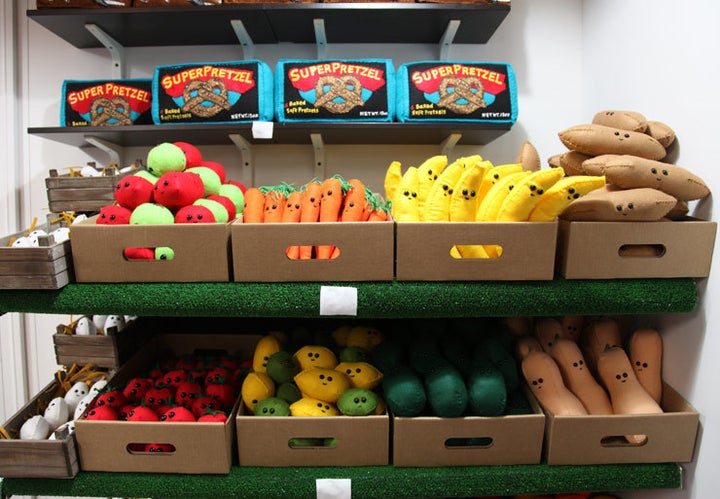 Very methodical, she says that for nine months she just made piles of patterns and felt and paint and became somewhat of a factory. "I just put everything in a big pile, put on Netflix, and I literally just time myself. 1 hour: Pretzels. 1 hour: Bananas. Nothing is ever difficult, it's just fiddly. And when it is fiddly I guess it is difficult," she says.
But it must be a remarkable change for this young woman originally from Bath in the North Country to have such a solitary existence for weeks and weeks sitting on her couch with tubes of Crest toothpaste, Pringles potato chips, Ben & Jerry's pints of ice cream, and bun-length wieners as her principal friends – to suddenly be meeting all sorts of talkative and neurotic New Yorkers who are pawing through the items that range from $15 for rolling papers to a few hundred for a collection of cleaning products.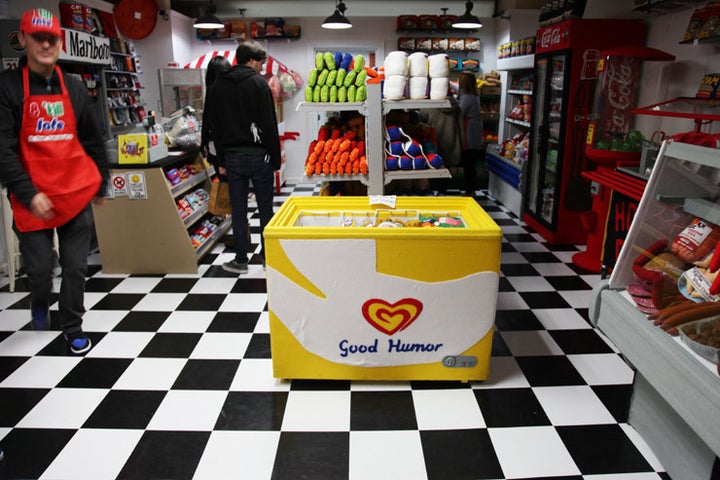 "It's quite difficult going from literally nine months of being alone to being here with all these people," she says conspiratorially, which explains why she has some cheerful help in the PR department.
"I've completely lost the ability to talk to people and I've got to learn to do it again really, really quickly," she says under her breath as the front door swings open again and a professional woman in her thirties walks in wearing power heels and carrying a purse that might double as furniture or a weapon.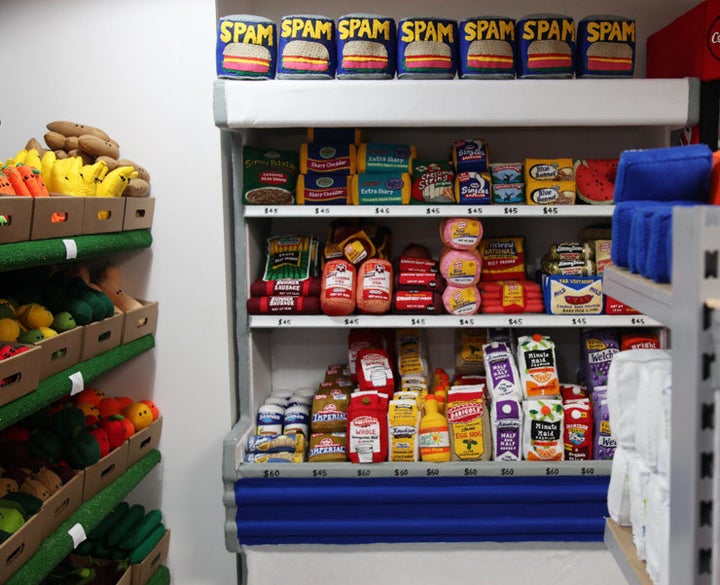 Interestingly, she did have a bit of a 'street practice' as they say in art school, making birds and insects with red eyes and gluing them onto walls with a heavy cohesive to do what she calls "GRAFFELTI".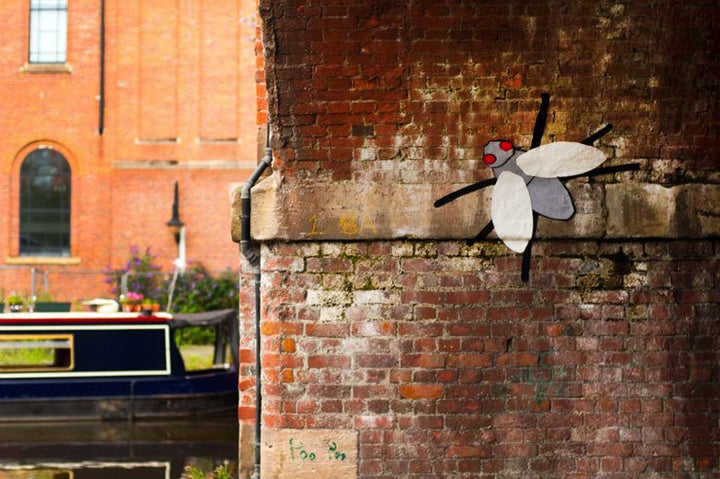 You know what? I absolutely love doing it. I've done graffelti with flat pieces of felt and I use 'No More Nails', " which sounds sort of like a product you could buy in a store like this. "I did it in Manchester when I lived there. A few years ago. I also did a seagull opposite the Hilton in Manchester as well."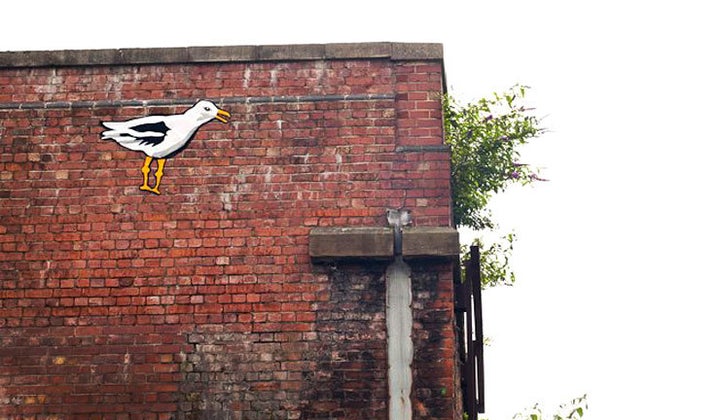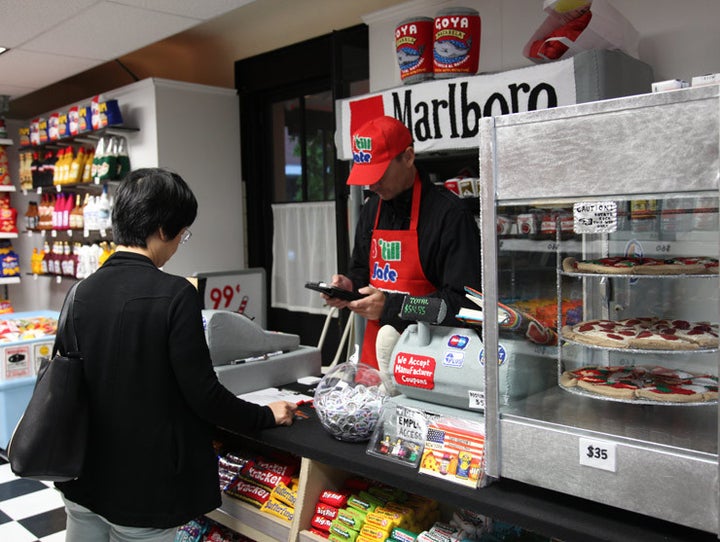 You can buy the whole store for a half million, if you are wondering. It will also save her the trouble of sending this stuff back to England. t will also save her the trouble of sending this stuff back to England. Certainly the fresh produce wouldn't make through customs anyway.
We ask her the obvious: What separates this work from "craft"?
"I don't think there should be any separation really," she says quickly. I'm using craft materials but I'm not worried about the snobs- the same ones who look down their noses at watercolors. It's the same way that many museums still look down at Street Artists as not necessarily real art. That's always the question isn't it, 'Is it real art?' It's like 'who the hell are you to decide?"
"This is volume, context, meaning. I've never seen it as anything but art. I never realized that it would go the way that it did, due to my own insecurities or I don't know what. But it did. And it is wonderful to be taken seriously."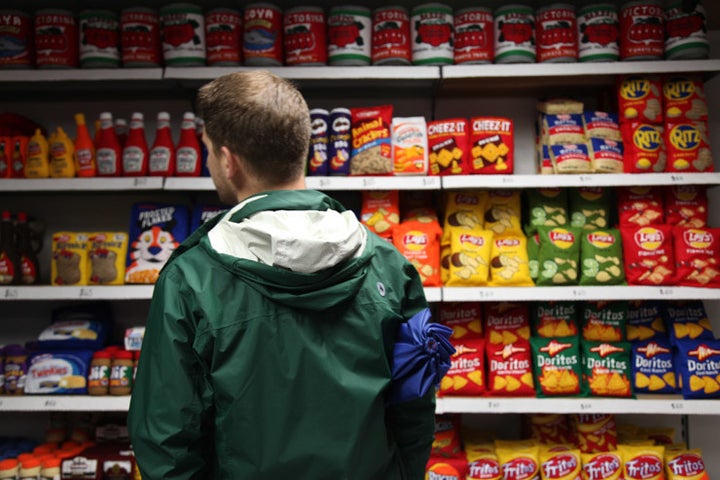 Did she alter the selections from "Cornershop" to "8 to Late" for the New York audience?
"I mean I did some research," she says, "Mustard, Ketchup – I did like 30 of each of them because I knew they were going to be popular."
"The alcohol is literally flying off of the shelves. I don't know what that says about you."
"Indeed!" we say while pointing to the fresh produce and quickly flinging our basket with vodka bottles on top of a stack of frozen pizzas.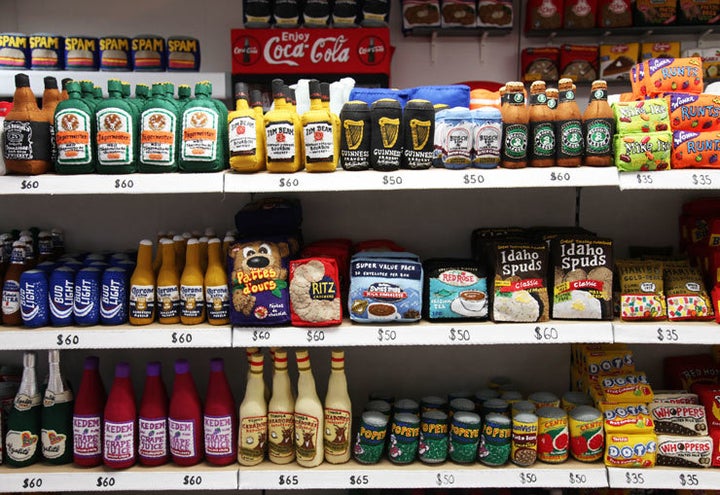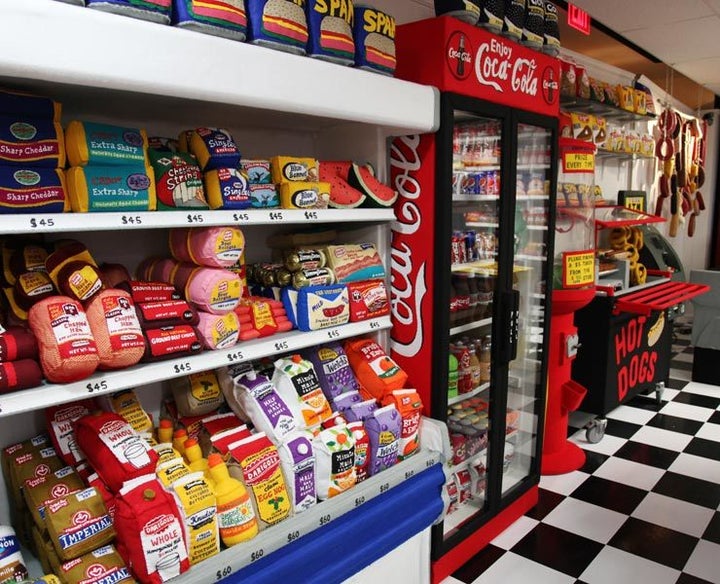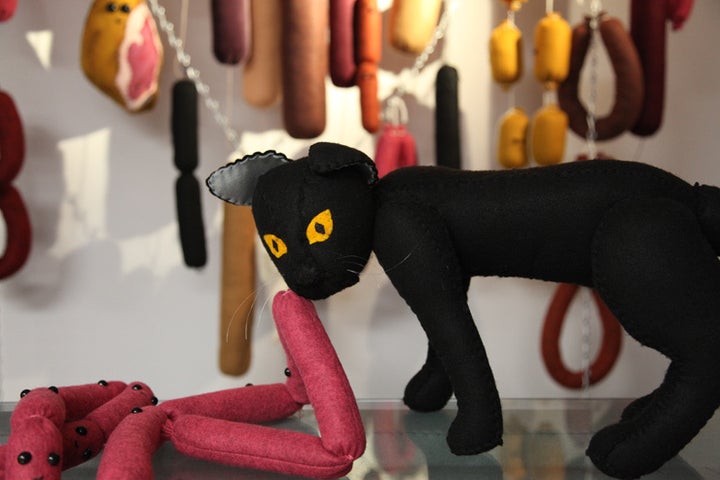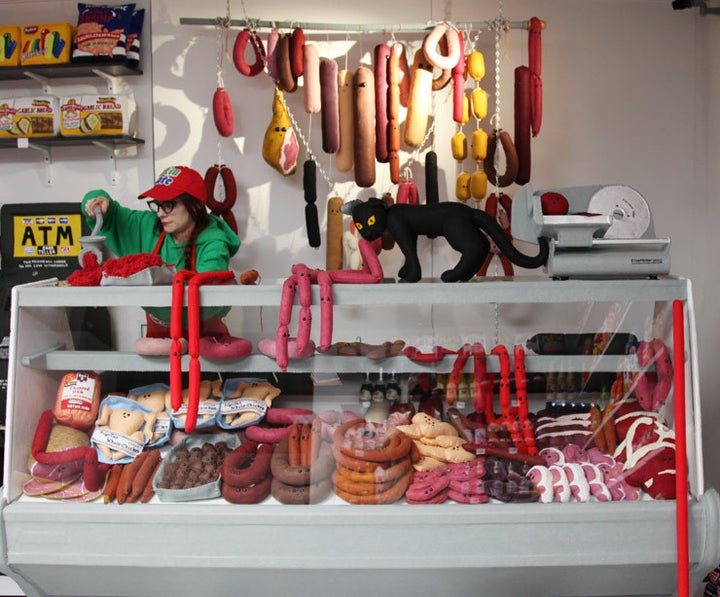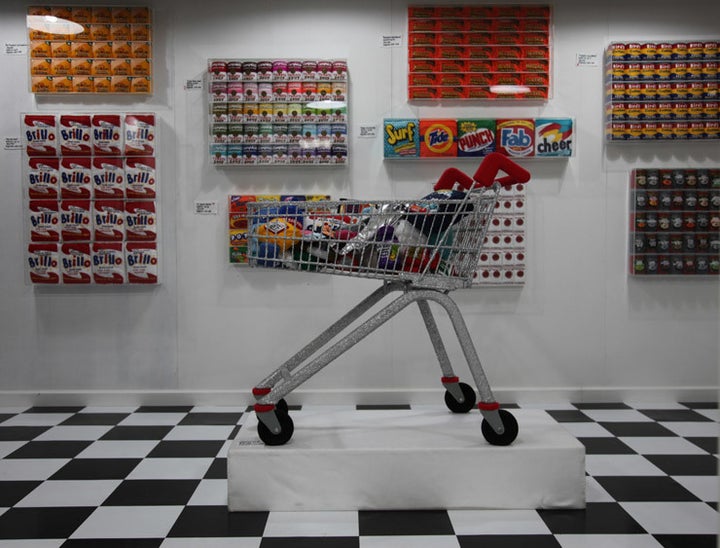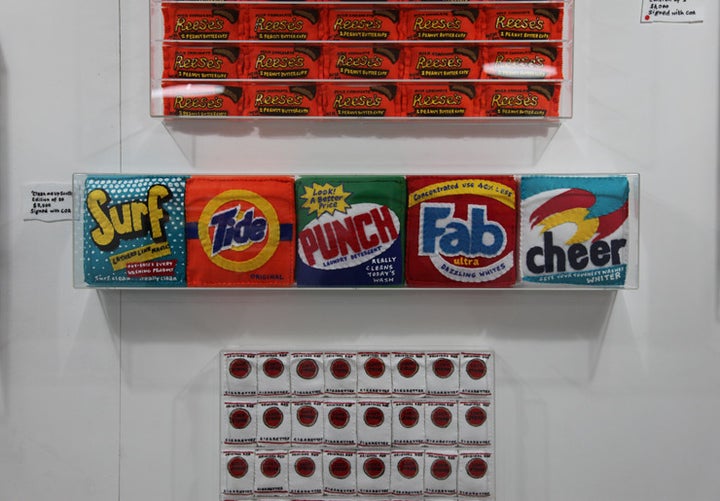 Lucy Sparrow's 8 'Till late is currently on view at the Meat Packing District in Manhattan and will close on June 30th. 69 Little West 12th Street.
Please note: All content including images and text are © BrooklynStreetArt.com, unless otherwise noted. We like sharing BSA content for non-commercial purposes as long as you credit the photographer(s) and BSA, include a link to the original article URL and do not remove the photographer's name from the .jpg file. Otherwise, please refrain from re-posting. Thanks!
Read all posts by Steven P. Harrington and Jaime Rojo on The Huffington Post HERE.
Support HuffPost
The Stakes Have Never Been Higher
Related
Popular in the Community