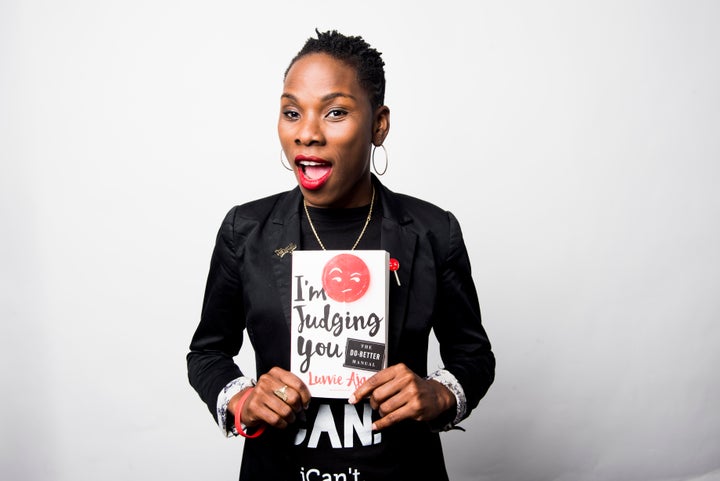 Luvvie Ajayi has a way with words that is so impressive, she has been praised by queens in media like Oprah Winfrey, Ava DuVernay and Shonda Rhimes.
In fact, all three are fans of her first published book, I'm Judging You: The Do-Better Manual, which was released everywhere on Tuesday, and they're far from the only ones. Just ask Ajayi's personal fan base, collectively known as LuvvNation, who have been eagerly anticipating the release.
The book, which reflects Ajayi's spunky personality and hilarious commentary, documents her thoughts on everything from her personal take on serious issues like racism and sexism to her everyday pet peeves like the obnoxious use of hashtags. No matter the case, Ajayi said she's judging us all for the shameful decisions we make but encourages us to rest assured because she's here to help us do better.
"I want people to walk away from this book understanding that you always have some type of way to do better," Ajayi told HuffPost during a Facebook Live interview on Wednesday. "There are very key ways that we can leave this world a little bit better than when we found it. This book will make you laugh while you're thinking through some of the stuff."
Ajayi split the book into four separate sections, each with its own collection of stories and lessons: Life, Culture, Social Media and Fame.
"I had a brainstorm session with myself and ended up with this strong list of topics and the strongest 24 topics ended up in the book," Ajayi explained.
Each chapter focuses on a different issue and is identified by hilarious titles like, "When Baehood Goes Bad," and "Your Facebook Is My Favorite Soap Opera," which Ajayi admits are two parts of the book she enjoyed writing the most. However, don't be mistaken, the book isn't meant to harm feelings ― it aims to help people live their best lives. Ajayi even calls out herself in the book for being guilty of many of the condemnable actions she writes about.
"I'm judging myself throughout the book, too. I am judge-worthy," she says before a slight chuckle. "This book was a manual for me, too!"
However, Ajayi explained that inspiration from the book actually came about from an unfortunate event. She said, years ago, a journalist had plagiarized three paragraphs of her work that had been flagged to her attention by her fans. In reaction, Ajayi tweeted out her anger and eventually received a response from the culprit who, she said, didn't know that he should have given her credit for her work.
"In my head, I was like, 'That's the book I'm supposed to write,'" she said, after writing the tweet above. "It was a literal lightbulb moment... That's what became I'm Judging You: The Do-Better Manual."
Ajayi, who previously worked as a marketing and digital strategist, began blogging in 2003 and launched her popular blog, AwesomelyLuvvie.com, shortly after. She quickly amassed a significant following of readers by writing and sharing articles on anything she was compelled to write about, which included everything from juicy recaps of "Scandal" to thoughtful pieces on politics, fashion and music.
"'Scandal' made a huge difference in my blog's growth," she explained. "[Readers] found me for my 'Scandal' recaps, but they stayed for my other things."
The show's creator, Shonda Rhimes, has even shared Ajayi's work multiple times on social media, including her support for the new book.
"[The book] is my blog on steroids," Ajayi said. "It's 240-pages of my voice in its true form and at it's best."
I'm Judging You: The Do-Better Manual is now available for purchase here.
And check out Ajayi recapping the moment she met Oprah and Ava Duvernay below:
Before You Go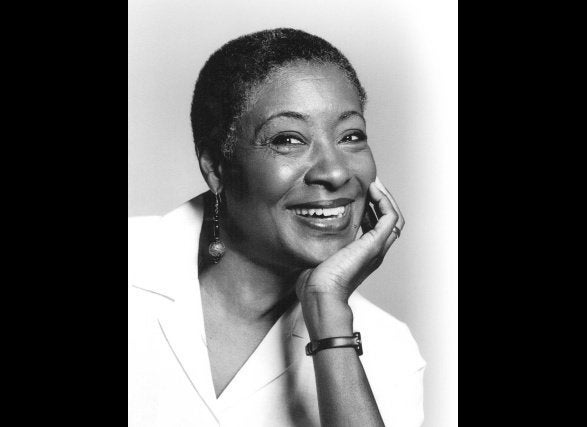 Black Authors On Power Of Reading And Writing
Popular in the Community