A TikToker who solicited over $37,000 from online donors by faking pancreatic cancer pleaded guilty to first-degree theft Wednesday.
According to court documents obtained by HuffPost, 20-year-old Madison Russo entered a plea in Iowa's Scott County District Court in connection with the scheme, where she faked having stage 2 pancreatic cancer, acute lymphoblastic leukemia and "a tumor the size of a football ... wrapped around her spine."
Russo was 19 years old and studying at St. Ambrose University in Davenport when she was arrested on Jan. 23, according to the complaint. She was taken into custody after the Eldridge Police Department said an anonymous tipster "pointed out the many medical discrepancies found on her pictures posted on her social media site."
Though Russo's TikTok account has since been deleted, videos reposted elsewhere on the platform show that she had been sharing intimate details about her supposed experiences with chemotherapy and radiation treatment.
Police also discovered that Russo had been taking photos from actual cancer patients' social media pages and sharing them as her own, according to the complaint.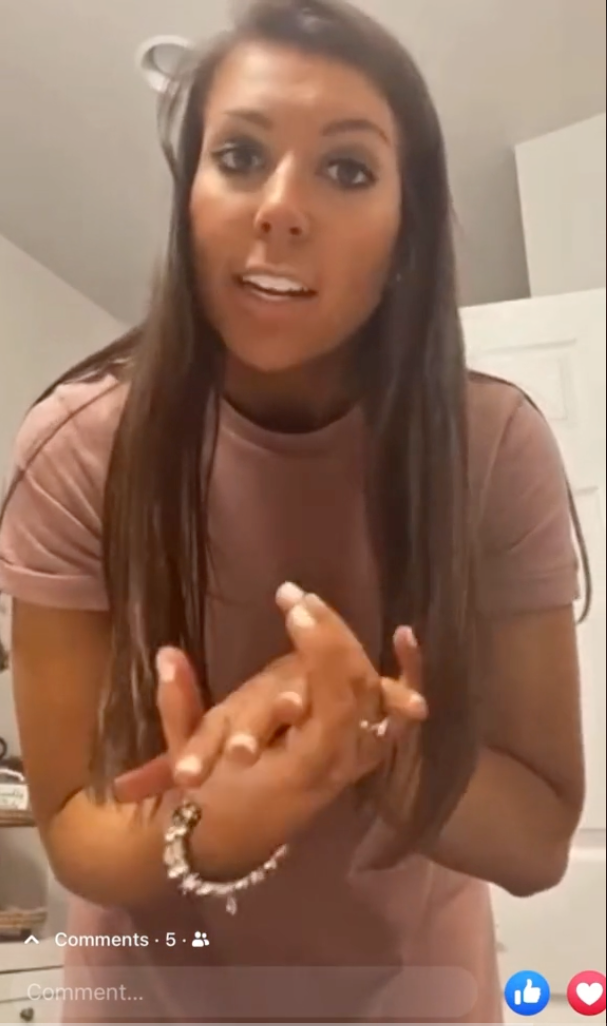 Russo's arrest affidavit said she had taken money from over 439 donors, including business, schools, colleges, charities and individuals, raising tens of thousands of dollars by the time of her apprehension.
Outside of social media, Russo gave several interviews about her supposed illness and was a guest speaker for St. Ambrose as well as cancer-focused organizations like the National Pancreatic Cancer Foundation, Project Purple and the Ohl Foundation, according to the complaint. A spokesperson for the National Pancreatic Cancer Foundation told HuffPost that Russo "has zero affiliation" with the group.
In an interview with Iowa's North Scott Press last fall, Russo claimed she was diagnosed with cancer in February 2022 after experiencing sporadic fevers, bloody stools and random nosebleeds.
"Of course, every day can't be sunshine and rainbows, but you can't just choose to be mad at the cancer. It just happens to people," Russo said at the time. "If you stay depressed, and in a dark space, I feel like your body will never get better."
She told the outlet that doctors gave her an "11-percent survival rate for five years."
"I feel like when you deal with cancer, you just never know when it's going to happen, or what it's going to do," Russo said in the interview. "That's the unfortunate part. I wish everybody could just be cured and you could move on. As for me, I'm just going to ride it out."
According to the affidavit, police said her medical records showed that she had never been diagnosed with any kind of cancer or tumor.
Russo's attorney did not immediately respond to HuffPost's request for comment.
The TikToker's GoFundMe page, where she collected online donations, was taken down in the aftermath of her arrest, WQAD News 8 reported.
In a statement to HuffPost, a spokesperson for GoFundMe said it has "zero tolerance" for misuse of its platform and "takes swift action against those who exploit the generosity" of its community.
"All donors who donated to the fundraiser created on behalf of Madison Russo were fully refunded, and she has been banned from using the platform for any future fundraisers," the spokesperson said.

Russo could face up to 10 years in prison when she's sentenced at a later date, according to Iowa state law.
Subscribe to our true crime newsletter, Suspicious Circumstances, to get the biggest unsolved mysteries, white collar scandals, and captivating cases delivered straight to your inbox every week. Sign up here.
Support HuffPost
The Stakes Have Never Been Higher
Popular in the Community