Henry, a professional magician, employed all his skills earlier this week to surprise his girlfriend, Charlie Gardner, by proposing to her in front of a live audience at the Edinburgh Fringe Festival, inviting her on stage under the pretense of needing an assistant.
Henry set up the bit by first downing a cold can of alphabet soup and slurping up a long piece of string, then asking Gardner to join him on stage.
As she looked on suspiciously, Henry proceeded to slowly pull the string from his mouth. One by one, letters popped out, attached to the string as if by magic, slowly building to one big question.
Gardner reacted with disbelief at first, which quickly turned to shock and tears as she realized just what was happening.
"Having you in my life is real magic," Henry told her as she stood on the side of the stage, "and I never want that magic to end."
With a magical flourish, he then lit a piece of paper on fire, somehow turned it into a ring, and popped the question.
Gardner, in between squeals of "oh my god!" said yes.
In an email to The Huffington Post, Henry explained the alphabet soup bit regularly features in his show, though it involves a random audience member and a random word.
"When I decided to ask Charlie to marry me (easiest decision of my life by the way!!), the idea of vomiting up the proposal made me laugh so much I just had to do it," he said. "I told my mum and she said eeewww... it was then that I knew it was perfect!"
He said he considered tying the ring to the end of the string, "but thought that was just a little too gross!"
Afterward, Henry said he bought the entire audience a drink, then the happy couple went out and grabbed a bite to eat.
"Charlie once said to me that if I was ever to propose it better be amazing as I'm a magician, so I was really keen to do something cool," he added. "I'm so happy she liked it...and even more happy she said yes!!!"
Sure beats another rabbit-in-a-hat trick.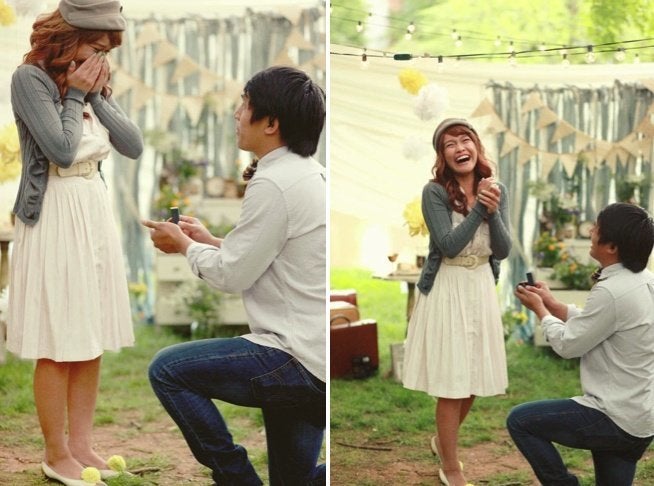 Emotional Proposal Photos