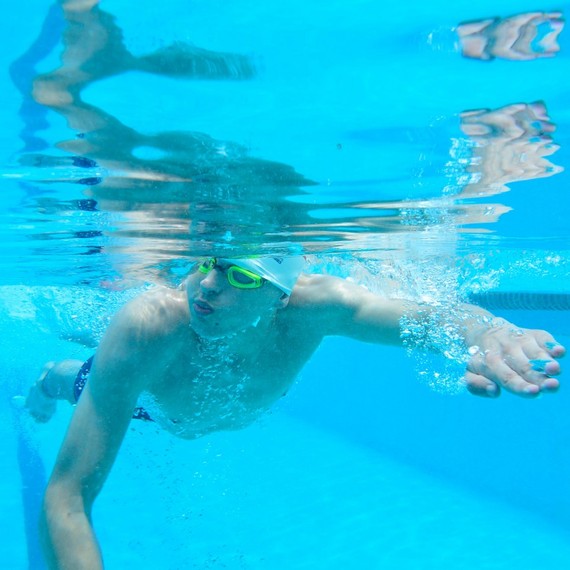 I have been lucky to have experienced Super Bowls. I have been fortunate to have cheered at Olympic Opening Ceremonies. I have happily shouted at World Series Games. I have had the privilege of attending Broadway and Hollywood opening nights, and I have had the opportunity to meet famous people, of all types, all over the world.
All good...all auspicious...all opportune.
But last night my experience trumped all others, surpassed every one of them -- in fact, made them pale by any comparison.
Participated - not just cheered or watched or attended or met - I was in the thick of it.
A night of TEARS AND CHEERS....
I had the honor of "marching" into a sold-out Los Angeles Memorial Coliseum packed with over 60,000 people (broadcast globally to millions by ESPN) as part of the Special Olympics Delegation from Israel.
In fact, many of the Special Olympics, "Honored Guests" were exponentially honored in this way, as we were paired with the teams of various countries and joined them as they entered the stadium to the roar of the crowd and the cheers and high-fives and hugs - lots of hugs - from their fellow delegates from other countries.
I don't use the word "blessed" lightly...but how else can you describe the feeling of overwhelming love given to you unconditionally, usually accompanied by a hug...and then another and another...by proud athletes...whose oath is:
Let me win.

But if I cannot win,

Let me be brave

In the attempt.
And unlike the Olympics, where politics hold sway and where one country will forfeit a game rather than play against another they somehow hate, despite all the Olympic oaths and such, these games are about inclusion, about a unified world, about a vision of a world where we don't discriminate against anyone, no matter their intellectual or physical abilities.
There is no race, color, religion, national or gender bias anywhere to be found here...
Horieh Golchin, a table tennis player from Iran, passed the torch to Eliyahu Somer, a basketball player from Israel, who in turn passed it to Darianny Urtado of Cuba who is competing in badminton...
There were also a ton of celebrities who joined the national teams - but you never knew, because they just got into the thick of it, took and gave hugs and helped to make inclusion real...I turned around and found myself marching in with Paula Abdul who, like the others, was there sans entourage and helped make the athletes the full and only center of attention.
Tim asked all to "find their brave"...find the courage to attempt - find the courage to understand and believe that being in the game is a win, too.
"Fear is a weapon of mass destruction," he said; people with ID - intellectual disability - no longer have to be afraid of trying for fear of losing; none of us do, was his real message.
So what is the message for us? What do we take away from this? What difference does any of this make to your business or personal day?
Bottom line and let me be clear - this is not Kumbayah, this is not feel good for a minute's time and then go about your business...
The Special Olympics is about changing the world - yours and mine.
The athletes see this as "training for life" - it gives them skills and confidence to go out into the world proudly, with self-confidence and self-assurance that they can and will make a difference by being different.
As for us? For corporations big and small - and you and I - it is also "training for life," as we learn to embrace difference, be inspired by difference, champion difference, learn from difference and love difference...
And there are so many hugs involved you will have many to put aside for a rainy day.
This is serious business, because the impact of employing a person with ID will change your life and your organization in ways you have never even considered.
We serve more than food...we serve breakfast, lunch and hugs.
He is changing the world....are we?
Calling all HuffPost superfans!
Sign up for membership to become a founding member and help shape HuffPost's next chapter