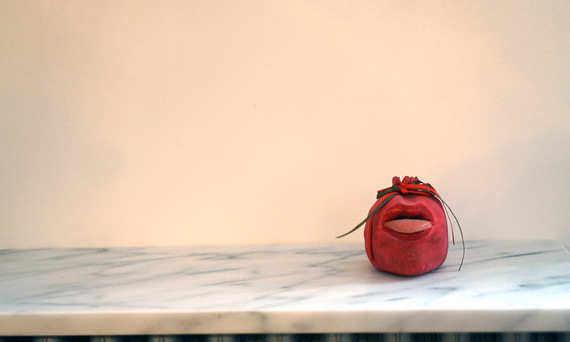 Quite some time ago, having just turned 21, I traveled with my dad to Tanzania, where he'd once lived. It was the first trip of my life that could reasonably qualify as exotic, even with my father leading the way. After a layover, we flew on an enormous, nearly empty plane from Amsterdam to Dar es Salaam and endured the most convulsive turbulence I've felt before or since. At our hotel, I avoided the tap water obsessively. From Dar es Salaam, we went to the town where my dad had taught English in the Peace Corps and we went on safari. As a markedly unglamorous girl from the Midwest, who knows where my sense of entitlement came from, but I considered this the first step toward a manifest destiny of adventure, delights, etc.
Souvenirs became the tangible representation of this destiny. I envisioned an apartment -- it would be an apartment, because I would live in a city -- brimming with crafts and keepsakes acquired along the way of something that was never over. Visitors to my apartment would learn a lot about the elaborate depths of me just by poking around, lucky them.
In Tanzania, my father bought a tanzanite stone for me that I still have today, and still love, although I rarely wear it because the chain holding it around my neck has broken three times. Each of those times, I found the gem as it plunked to the ground, but I can feel my luck about to run out. For myself on that trip I bought a pair of ebony candlesticks and an ebony canister that today holds an accumulation of stray safety pins in my kitchen.
On Zanzibar, the island off the coast of Tanzania's mainland, which we also visited on that trip, I almost bought one of the chests for which the island is famous, but the prospect of shipping it home became too much for me, because of the complication and also because I didn't really have a home, just a three-bedroom house I'd be renting with two friends for the next couple semesters until we graduated, with my portion of the rent running $240 per month. I remember that shop well though, the monotone color scheme, the many chests strewn about the room, and me hemming and hawing while the salesman tried to determine how close I was to pulling the trigger. I remember me kneeling by the one I'd chosen as my favorite, opening and closing it, while my father and the salesmen loomed above. It stands as the great souvenir that might have been.
The following summer, just after graduating college, I got a Eurail pass and headed around via train by myself for a couple of months. I learned a bit about Europe, but spent most of my time with other Americans, sometimes Brits or Australians. I learned more about a certain approach to my own culture than I did about the cultures I was visiting. I learned to grow bored by great cathedrals, and to seek out an Irish pub straight away from the train station. I learned that sometimes a certain hostel was the whole point. I also learned to turn the state of being lonely from time to time into a positive that has served me well since. Every museum I went to, I bought postcards of my favorite works in the museum shop, to remember them better later.