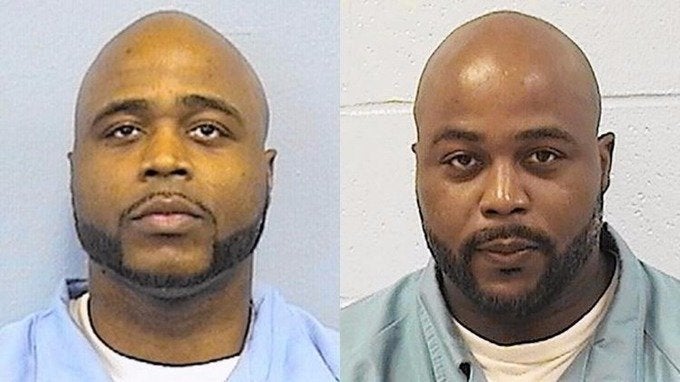 More than a decade after Kevin Dugar was convicted of firing a gun into a small group of people, killing one man and wounding another, his twin brother has made a shocking courtroom confession.
"I'm here to confess to a crime I committed that he was wrongly accused of," Karl Smith, who has adopted his mother's maiden name, testified on the witness stand, according to The Chicago Tribune.
The Illinois court confession comes three years after Smith, who is serving a 99-year prison sentence for a 2008 home invasion robbery, sent a letter to his brother confessing to the crime. Smith, 38, wrote that he was owning up to it because "I have to get it off my chest before it kills me."
Smith later signed a sworn affidavit detailing his admission.
Testifying before Cook County Judge Vincent Gaughan on Thursday, Smith said it was him, and not his brother, who in March 2003 shot into a small group of people, killing 27-year-old Antwan Carter and wounding Ronnie Bolden, then 24.
A month after the shooting, Bolden, who survived being shot twice, picked Dugar out of a photo lineup and identified him as the shooter. Dugar was ultimately convicted of first-degree murder and sentenced to 54 years in prison.
According to Dugar's lawyer, Karen Daniel, authorities have no evidence linking her client to the crime. She also claims Smith's photo was not included in the photo lineup that was shown to Bolden. Smith's confession, she argued in court, raises enough doubt to grant her client a new trial.
Assistant State's Attorney Carol Rogala on Thursday questioned Smith's motive in coming forward, saying he only chose to do so after an appeals court upheld his own conviction.
"He's got nothing to lose," Rogala said.
The twins' mother, Judy Dugar, disagrees with Rogala, saying she is certain that Smith is telling the truth.
"He wouldn't lie about that," she told the Tribune. "I hope Kevin will get out. I hope he change his whole life around."
It's unclear when Gaughan will decide if Dugar should be given a new trial.
REAL LIFE. REAL NEWS. REAL VOICES.
Help us tell more of the stories that matter from voices that too often remain unheard.
BEFORE YOU GO
PHOTO GALLERY
Bad Choices