A man was filmed harassing a group of Muslim girls wearing headscarves inside of an Illinois restaurant on Monday, using vulgar language and telling them, "If you don't like it in this country, you can leave," disturbing video shows.
The girls, who are all from the Chicago area, had just finished their evening meal breaking their Ramadan fast when the man rudely called out to them, they told Yahoo News.
"We were walking past him on our way out of the restaurant. He yelled, 'That girl could break a camel's back,'" Sawin Osman, 17, recalled. "We stopped and said, 'Excuse me, sir, what did you just say?'"
One of the girls in the group then pulled out a cell phone to record their exchange inside of Pepe's restaurant, in Hickory Hills.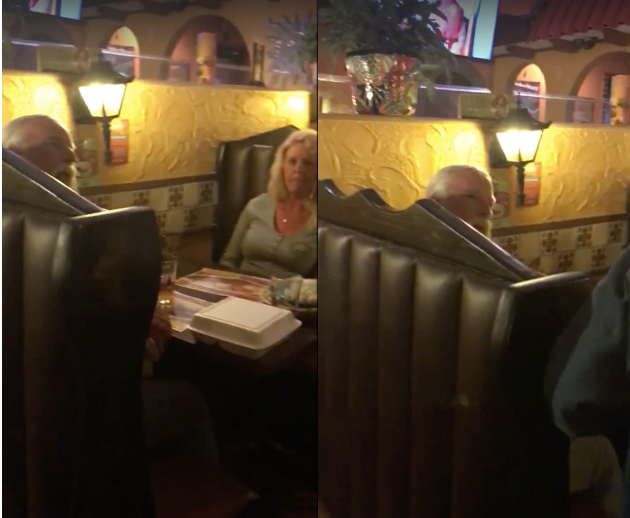 "I just said she's a big one, what's the problem?" the man can be heard saying from a booth, where he's seated with a woman. "You can go and beat it. If you don't like this country, leave."
"It's our home too. What do you mean, leave?" one of the girls asks.
"I just said she's a big one. What's the problem?" the man responds. "Yeah? Anything else?"
When the girls decide to leave, the man can be seen rising from the booth and belligerently calling out to them to wait.
"F**king goddamn, camel-jacking motherf**king c**ts!" he hollers through the restaurant after them.
As of Wednesday afternoon, the man has not been publicly identified.
WARNING: The following video contains extremely graphic language. 
The Hickory Hills Police Department told HuffPost they are conducting an investigation and looking to identify the man. Their investigation follows the restaurant reporting the video to their department on Tuesday evening after seeing it online, they said.
Edwin Ptak, corporate counsel for Pepe's Incorporated, told HuffPost on Wednesday that the man seen in the video is no longer welcome at any of their locations and that they've reached out to the girls' families.
"It's a terrible incident," he said, while advising the public to call for help instead of engage with people like that.
"You're dealing with a crazy guy," he said. "You can't stop idiots from saying things."
A statement posted to the restaurant's website also condemned the man's actions and "all discriminatory comments and actions directed to any of our customers and employees."
The girls, as well as their families, are meanwhile hoping the experience sheds light on religious intolerance in the U.S.
"We live in a very charged climate. I think the furor at the presidential level has sort of exacerbated this feeling and given a platform for those who might not have spoken out so aggressively," Osman's mother, Catherine Bronson, an Islamic Studies professor at Notre Dame, told Yahoo.
"Just because we have the headscarf on, doesn't mean we're not from here," her daughter also told the website. 
America does not do a good job of tracking incidents of hate and bias. We need your help to create a database of such incidents across the country, so we all know what's going on. Tell us your story.
REAL LIFE. REAL NEWS. REAL VOICES.
Help us tell more of the stories that matter from voices that too often remain unheard.
BEFORE YOU GO