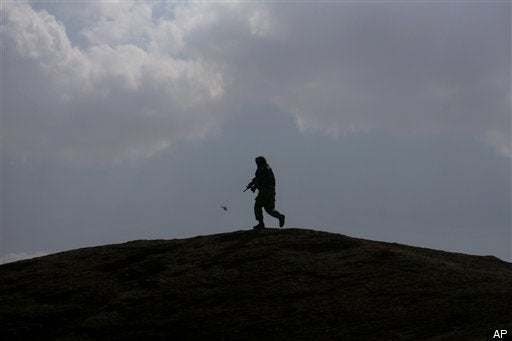 As part of its Bearing Witness 2.0 project, the Huffington Post is rounding up a few of the best local stories of the day.
Bill Caudle, 39, enlisted in the Army so that he could get health insurance help pay for his wife's ovarian cancer treatment, reports Mark Johnson of the Milwaukee Journal Sentinel. Bill was laid off from his job at a plastics company in March, where he had worked for 20 years, and searched for a new job for a few months before signing up so that his wife and high school sweetheart, Michelle, would be guaranteed chemotherapy. On their own, the Caudles' insurance cost them $1,370 each month, which they could not afford on Michelle's part-time salary at a fast food restaurant.
The four-year commitment means Bill will miss all of his youngest daughter's four years of high school. Chelsea, the daughter, cried when her mother told her. Bill left for processing and basic training October 6. The next day, once he was officially processed, his Army health coverage started.
(The Huffington Post previously reported a similar story about a woman named Rebecca Johnston who joined the military for health and education benefits for her family.)
Ron and Diana Ames were temporarily homeless in the early 1980s after Ron lost his job. They pledged that they would never be that way again, but hard times have left them flirting with homelessness, reports Jim Martin of the Eerie, Penn., Times-News. Early this year they nearly lost their home after medical bills from Diana's broken leg bankrupted the two.
In Waco, Texas, a nonprofit has started buying up foreclosed homes, repairing them, and leasing them to potential homebuyers, reports Cody Winchester of the Waco Tribune-Herald. NeighborWorks, which is a nation-wide organization, started operating locally last year, naming its initiative PEARLS, which stands for "Purchase Efficient, Affordable homes; Rehab, Lease and Sell," according to president and CEO Roy Nash. So far they have bought 20 foreclosed of vacant properties in Waco, and all of them are either occupied or being fixed up in preparation for someone to move in.
Sign of the times: Neil McCurry Jr. went from financing home loans as bank president to auctioning them off after they went into foreclosure. John Hielscher, of the Sarasota, Fla., Herald Tribune, reports that McCurry left his job late last year to become a private consultant. His first client: Superior Bank, who bought his startup Peoples Community Bank in 2007. McCurry is now selling off houses and condos after his old bank kicked the residents out in foreclosure-wrecked Florida.
HuffPost readers: Seen a good local story? Heard about a heroic judge, neighbor, or doctor helping people stay in their homes? Tell us about it! Email jmhattem@gmail.com.

Popular in the Community