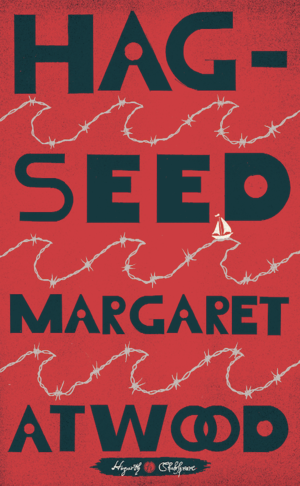 The latest of Hogarth's retellings of Shakespearean plays by eminent authors is a match made in dystopian heaven. (If such a thing could exist.)
Margaret Atwood, the author behind great ecological speculative fiction like the chilling MaddAddam trilogy, meets William Shakespeare's most climate-obsessed drama: "The Tempest."
Not, of course, that Atwood goes with the obvious, stormy angle.
Instead, Hag-Seed leans into the elements of theatricality, imprisonment and deception within "The Tempest," telling the story of Felix, a once-ambitious artistic director who's been living in grim isolation since his righthand man stabbed him in the back and took over the Makeshiweg Theatre Festival in his place. His over-the-top production of "The Tempest," in which he was to play Prospero, was canceled. Humiliated, he retreats from society. Alone in a tiny hut, he mourns his lost little girl, Miranda, who died not long before he was ousted from his position, and he plots his revenge on his replacement, Tony Price.
After years in virtual exile, Felix takes a position under an assumed name teaching theater at a prison. He has the Fletcher Correctional Players take on macho, violent selections from Shakespeare ― "Julius Caesar," "Macbeth" ― and as the seasons pass, he wins the trust of the inmates he teaches, the prison officials, and Estelle, the local professor who instituted the program.
Seriously, he has a devious plan to use his position teaching drama at a correctional facility to get back at Tony and Sal O'Nally, once the Heritage Minister who'd helped Tony clamber over Felix's back. The two, both Cabinet ministers now, plan to attend the fourth year program performance ― the perfect opportunity for Felix to finally stage his "Tempest" and exact his baroque revenge, which will involve drugging the ministers during the show.
If this all sounds a little farfetched, implausible, and unnecessarily complicated, that's because it is. How could it not be? "The Tempest" itself features multiple shipwrecks of convenience, a wizard who commands island spirits, and a passionate love affair between the only two young people in sight. Atwood's formidable skill as a wordsmith and storyteller makes Hag-Seed an engrossing tale, and a true update to "The Tempest," but it's too knotted up in its vengeful minutiae to stand as a distinctly worthwhile novel on its own merits.
Felix, the novel's Prospero, is a study worth poring over, all the same. Ever sharp in her observation, Atwood prods at her hero's ridiculousness ― his puffed-up certainty that Estelle is nursing a crush on him, even as he spends most days on sponge baths, nibbling on crackers at dinner time; his obsession with Googling men who wronged him over a decade ago.
She neatly skewers his self-satisfied pride in helping the inmates, whom, it turns out, he's actually exploiting to his own selfish ends. The ingenuity and poetic license shown by some of his students, she suggests, is more meaningful than Felix's own gifts, though he turns them to his own advantage. At one point, a cast member comes up with a rap interlude for Antonio, Prospero's evil brother; Felix has to squash envy that his own students might outshine him during the production.
Oddly, the hip-hop verses of the inmates' Antonio and, later, the imprisoned creature Caliban, leave a bit of the same uncomfortable taste they have in the world of the play ― the work and talent of the marginalized students is used as window dressing for the story of the aggrieved white man, Felix, who maintains credit and control. What would a novel look like that flipped the script, rather than simply ruffled it? Giving someone's narrative other than Prospero's centrality might just be the start.
Margaret Atwood's retelling of "The Tempest," Hag-Seed, leans into the elements of theatricality and deception within the play.
What other reviewers think:
The New York Times: "The novel to this point is a marvel of gorgeous yet economical prose, in the service of a story that's utterly heartbreaking yet pierced by humor, with a plot that retains considerable subtlety even as the original's back story falls neatly into place. But the prison production of 'The Tempest' leads to some of the book's clunkiest elements."
The Guardian: "There is so much exuberance and heart and wonder in this novel that the only thing I want to happen next is for Atwood to rewrite the whole of Shakespeare. (No offence, Will.)"
Margaret Atwood is the acclaimed author of modern classics such as The Handmaid's Tale and The Blind Assassin. Her most recent novel was The Heart Goes Last.
Fans of the Bard, fans of Atwood, and fans of revenge.
"Felix brushes his teeth. Then he brushes his other teeth, the false ones, and slides them into his mouth. Despite the layer of pink adhesive he's applied, they don't fit very well; perhaps his mouth is shrinking. He smiles: the illusion of a smile. Pretense, faker, but who's to know?"
"On their final 'Hah!' they all look at Felix. He knows that look. Love me, don't reject me, say I'm in!
'What d'you think?' SnakeEye asks. He's gone all out on the prancing, he's breathing hard.
'It has something,' says Felix, who in fact would like to throttle him. Scene-stealer! But he tamps down on that emotion: it's their show, he scolds himself."
Hag-Seed
By Margaret Atwood
Hogarth, $25.00
Published Oct. 6, 2016
The Bottom Line is a weekly review combining plot description and analysis with fun tidbits about the book.
Before You Go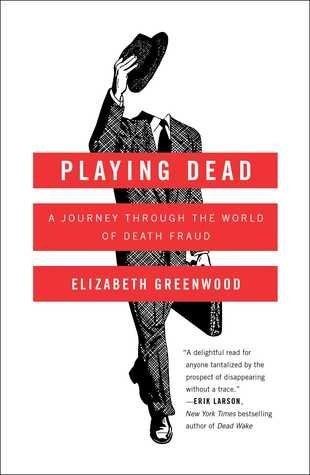 Fascinating And Macabre Non-Fiction Books To Read
Popular in the Community