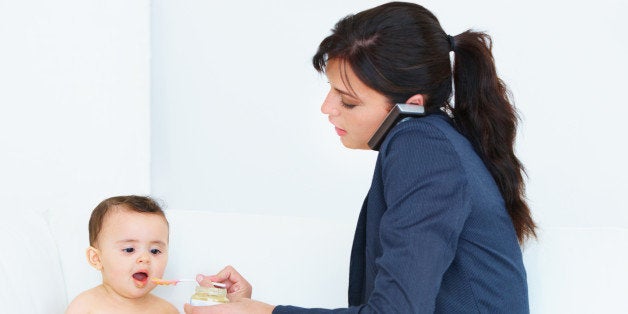 When stars such as Gwyneth Paltrow, Victoria Beckham or Angelina Jolie talk about how hard it is being a working mom in Hollywood, you can guarantee there will be a collective eye roll from every non-famous working class mom out there.
How hard can it be when you're a multi-millionaire and have an entourage of staff - think personal chef, personal trainer, hair stylist, make up artist, driver, pool man, gardener, holistic therapist, yoga teacher and a team of attentive nannies - to get through the day.
What makes Margot Black's hilarious new memoir, "Where's My Award? How to Get Baby Barf out of a Red Carpet & Other Tales from a Working Mom in Hollywood" so refreshing is that she is just like you and I (even if she lives less than a mile from the Hollywood sign).
Margot is a stand up comedian turn publicist now running her own boutique PR agency in Hollywood and the book is a love letter to working moms everywhere.
It opens with the birth of her son Jett, who is now eight years old, and covers the trials and tribulations of her life as a working mom, from the moment she dives headfirst back into the workplace while she's still breast-feeding up until the point at which her son starts kindergarten.
Any working mom will easily identify with Margot's trials and tribulations. Her life is a constant juggling act and the book is funny, authentic and heart-felt. From pumping breast milk in the bathroom of a Beverly Hills hotel, to saving a famous sportsman's dignity at a hotel launch, to being summoned on stage at a celebrity auction by one of the most famous lawyer's in the world, to getting baby barf out of a red carpet at a prestigious film festival, Margot's tales shine a revealing and hilarious light on motherhood, Hollywood and the media.
"The struggle is real. As real as the super easy to cook Kraft Mac and Cheese in my kitchen cupboards, the Spanx I wear to hold it all in and as real as the hours I spend awake at night wondering how I'm going to get through my to-do list the next day," she says.
In fact Where's My Award? is so much more than that. It's unique in that it offers a tantalizing insight into the daily struggle that moms face told against the glamorous, crazy and sometimes downright bizarre, backdrop of Hollywood. Exactly, how do you compete with the most beautiful, genetically-blessed and pampered people in the world when you've got Cheerios in your bra, your butt hasn't seen a gym in over a year (okay, a decade) and your days relaxing at the salon are a dim and distant memory.
Margot, who jokes that she's probably the only person in the world to move to Hollywood to find a husband and settle down, says all she wanted to achieve with the book was more respect for moms who work.
"I'm a Hollywood pleb," laughs Margot, who lives near the Hollywood sign with her husband Rob (who works in the health industry and not showbiz), and their son. "I don't have a kidney shaped swimming pool, a chauffeur or personal juice chef. I run my own business, I have a family to support and a kid to bring up. It's an insane juggle. In Where's My Award? I set out to show the truths of motherhood in a way that every woman can identify with. Let's get real, no-one puts duck ragu on the table on a Monday or looks as if they've just walked out of the spa as they go about their daily lives. Working motherhood is gritty, dirty, imperfect and often hard!"
What Margot brilliantly shows is just how fake the media layout is - and as a publicist she should know how the industry works more than most. She knows how many people it takes to make everyone and everything you see on TV and in the movies look gorgeous, unblemished and perfect.
I laughed out loud at the chapter where she took chef Ben Ford (son of actor Harrison) on a press trip to New York to appear on The Today Show with Kathie Lee Gifford. She describes the Moroccan dinner dish he cooked live as needing "...about six wranglers and stylists so it glistens in just the right way on camera."
"Even Martha Stewart couldn't be Martha Stewart without a team of people behind the scenes helping her to piece is all together," says Margot. "She needs six hours of hair and make up as well as photoshop and beautiful lighting. Every woman should know the reality behind the image."
Cleverly, all of her chapters in the book are given categories in the same way that award shows do; so for example you have Best Chef, Best Actress, Best Party Favor, Best Dressed, Best Walk-on Role and Lifetime Achievement Award. Her stories also feature a host of rich and famous names including Julia Roberts, Meryl Streep, Sir Richard Branson, Khloe Kardashian, Robert Shapiro, Kathie Lee Gifford and Gene Simmons.
But it's the heart-felt real mom moments that will really resonate with every mother out there. Margot talks about answering her phone an hour after giving birth in the maternity unit just because she was so used to doing so. And in one of the first chapters Margot writes candidly - and hilariously - about going back to work too soon after having her baby, when she organized a travel PR event at the Beverly Wilshire Hotel, in Beverly Hills.
"I needed to pump breast milk halfway through the event. My boobs were sore and aching and I knew that if I didn't pump soon they would start leaking. Worse, I was also wearing a very expensive borrowed designer jacket from a friend," explains Margot. "I had a top of the line breast pump backpack but I couldn't work out how to use it. So in the restroom of the luxurious Beverly Wilshire I sat on the gorgeous marble floor and cried my eyes out. Thankfully I was saved by a kind lady stranger who came to my rescue but it was a very sad and telling moment. It was then that I realized how everything had changed. To add insult to injury, later in the day I saw Julia Roberts in the lobby - she'd had a baby around the same time as me - but looked like a beautiful, serene angel, with perfect hair and teeth and skin. I wanted to cry all over again but that's Hollywood for you!"
But it isn't just the impossibly high standards Margot feels she has to live up to in Hollywood, it's also the pressures from the school system.
"I call BS on our education system," says Margot. "Why do schools schedule parent/teaching meetings in the middle of the afternoon when most parents are at work? And why are we having to drive ourselves crazy collecting Box Tops so that our kids can have desks? Maybe our government should try buying less tanks. And I'd love to see it required that anyone in public office (as in every member of Congress) send their kids to public school - then we'd see some changes."
But as a working mom in Hollywood, hasn't she ever been tempted to give showbiz another go?
"I toured for years as a stand up, all over the country, and I sold a couple of pilots. I loved it but I wanted other things. That's not to say temptation hasn't come my way," says Margot. "Through a neighbor my kid had the chance to be in a TV pilot but he was tiny and didn't understand what my husband and I were asking him to do. We were the assholes just thinking about the riches in syndication that we saw in our future! My son who usually loves cameras wouldn't perform on the day. Later he told us that he thought that if he did a good job he'd have to leave us and live inside the TV. It made me realize how mindful I need to be of my son and his needs. Showbiz can suck you in but Jett and my husband are truly the most important people in my life."
So does she have any words of wisdom to working moms out there?
"I just wish that women didn't feel under so much pressure to be perfect. We waste a lot of energy on reaching for the impossible, when we already have so much to be grateful for," she says.
And finally - because we all want to know - just what is Margot's answer for getting baby barf out of a red carpet (the title of her book is based on an unfortunate event at a film festival red carpet she was PR-ing)?
"Sparkling mineral water, paper towels, perfume, chutzpah, and a planter to hide the stain!"
Thanks for sharing Margot!
Visit margotblack.com to purchase a copy of "Where's My Award? How to Get Baby Barf out of a Red Carpet & Other Tales from a Working Mom in Hollywood".