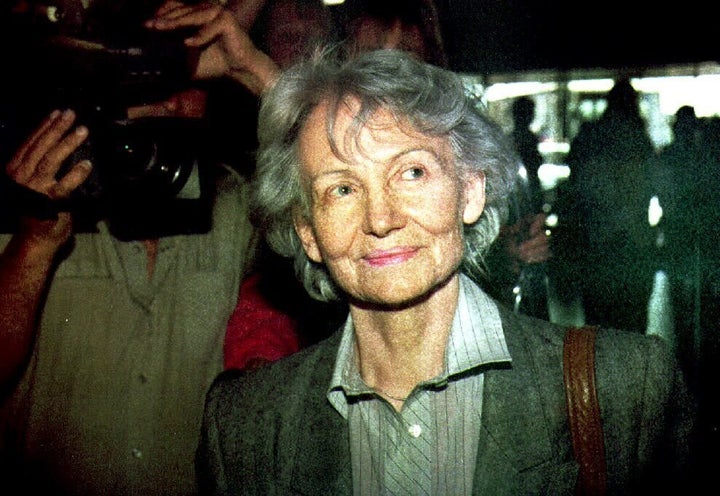 Margot Honecker, the widow of East Germany's communist dictator Erich Honecker, has given a defiant interview in which she defends her late husband and brands the victims of his regime as "criminals."
In an interview which aired on German TV on Monday night -- Honecker's first in 20 years -- the former German Democratic Republic (GDR) Education Minister appeared to idealize life under the now-defunct regime.
"For me the GDR was my life," she told reporters for a documentary made by the German public television channel ARD. "It's a tragedy that that country no longer exists."
"There was no need for them to climb over the wall, to pay for this stupidity with their lives," she said.
Honecker also described the economic demise of the GDR as "simply untrue," and called victims of the regime "criminals who today make out that they were political victims."
Yet she did not reject all criticism, telling the interviewer from ARD television "mistakes were made in history, which one has to regret." The Irish Times reports that Honecker said that she was ready to accept criticisms of the GDR from former "comrades": "What doesn't touch me is the critique of bandits" and "enemies of the GDR" who, she said, had brought about the 1989 "counter-revolution." "I have a tough shell against that criticism."
Honecker also expressed irritation over her pension of 1,500 euros (£1,249; $2,000) a month from today's unified German state, calling it "outrageously small," according to BBC News.
Eric Friedler, the journalist who interviewed Honecker, was quoted in the International Business Times as saying that she is completely out of touch with reality, despite the fact that she seems to keep up to date on current events.
"Margot Honecker showed no remorse, or discernment, she expressed no word of regret or apology," he said.

"She might be in Chile, but she is very well connected to a whole guard of old comrades. She regularly spends hours reading the internet, knows exactly what's going on in Germany, but says her desire for Germany is restricted to … the GDR."
Honecker, 84, lives in Chile, where she and her late husband Erich fled after the fall of the Berlin Wall in 1989.
Related
Popular in the Community