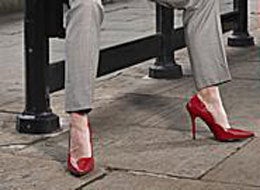 "Excuse me, could we order a pot of Earl Grey?" Marianne Faithfull says to the waitress, in that smoky, sexy voice you might hear on the edges of your dreams. I'll admit to you that I'm close to being unnerved and pretty surprised to be so; I've grown a pretty thick skin over the years when it comes to celebrities. However it's just not that often that I find myself sitting across someone who, frankly, was a bonafide teen idol in my particular pantheon. We're talking photos stuck onto bedroom walls here.
Trying not to let this fact trip me up too much, I launch right into a discussion about the mind-blowingly trippy, colorful, light-hearted cover art for Horses and High Heels, Marianne Faithfull's 23rd album, released at the end of June by naïve records. I'm absolutely enchanted by it, it's equal parts children's book fantasy world and 1970's Joni Mitchell album cover. Marianne is pleasantly surprised to hear this, as it appears to have been roundly criticized for not being dark and goth enough, completely outside the midnight black satin-lined box many have put their idea of Marianne Faithfull and her work into.
"I didn't want to have the usual sort of chic picture of me, I wanted to do something different," Marianne states over her cup of tea. She and her manager discovered Jim Warren's illustration by coming upon his website on the internet, and that was that. "I just loved it. You know it's got seven horses in it. It's like a game, one of those children's games... I love all that. They don't really like it, the fans. They want to see me be more serious." She allows as how it's "very kitsch," which is not at all what her fans have come to expect from the singing career resurrected in 1979 with the iconic LP Broken English.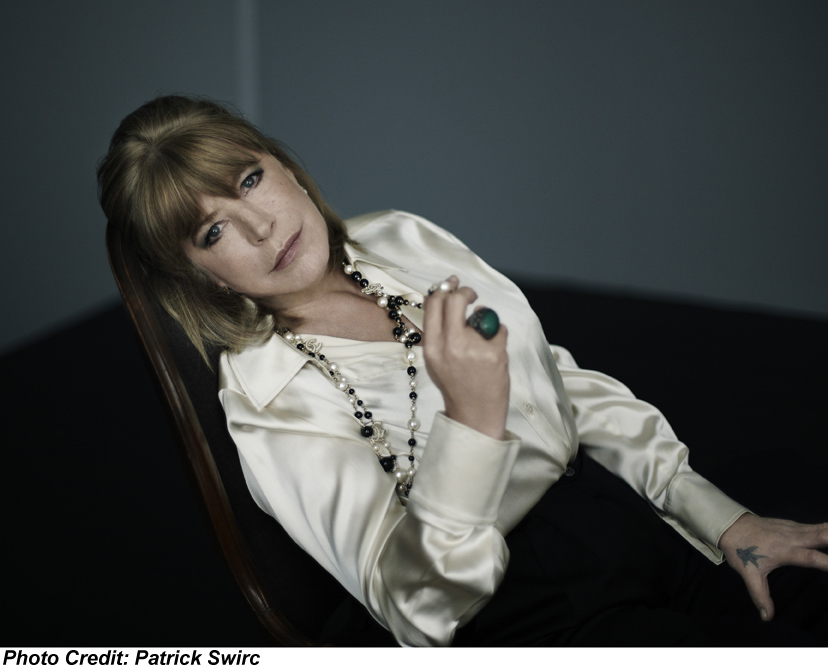 For those who don't have the slightest idea of Marianne's work pre-Broken English, a quick primer: she was famously discovered at a party in 1964 by Rolling Stones manager Andrew Loog Oldham at the tender age of seventeen. Oldham immediately knew that he'd found a star, and urged Stones' songwriting team Jagger/Richards to pen her a hit song, which they did ("As Tears Go By"). This launched her career as a pop singer, while she was still enrolled in convent school. Several records followed as well as an acting career on television and in feature films. And there was also a rather well known relationship with Mick Jagger, in the eye of the hurricane of 1960's Rock Royalty.
She herself was the daughter of a Viennese Baroness with roots in the Hapsburg Dynasty; her maternal great great uncle Leopold von Sacher-Masoch was the author of the erotic novel Venus in Furs, his name later inspired the term 'masochism.' Between convent school and Mick, there was a short lived marriage to artist John Dunbar, and a beautiful golden haired child, Nicholas (now aged 45, "he's turned out very well," she tells me). For the rest I urge you to read the amazing Faithfull: An Autobiography which will make you feel as if you're right there, wearing a caftan and smoking ganja in Morocco, going to the Bag O'Nails and Sibylla's to dance the night away with various rock stars and models. But I digress.
Horses and High Heels -- which is, deservedly, garnering great reviews -- was produced by Marianne's long time artistic compadre, Hal Willner (they teamed up previously for her 2009 acclaimed collection of duets and covers Easy Come Easy Go), and recorded during an incredibly quick three week period in the enchanted city of New Orleans. NOLA was the chosen location because of a group of local musicians that they wanted to use on the tracks (for instance The Meters' George Porter Jr. on bass and drummer Carlo Nuccio make up the album's rhythm section). "But then I found that there's also something else, there's like a really good special kind of vibe from New Orleans, it's not like America. Not at all," Marianne observes. "I thought it was rather Caribbean, European and Caribbean."
How were the songs picked? There's The Stations (Greg Dulli and Mark Lanegan), That's How Every Empire Falls (R.B. Morris), Jackie Lomax's No Reason, Love Song (Lesley Duncan), the NOLA classic Gee Baby, the Goffin/King anthemic Goin' Back, Back in Baby's Arms (Allen Toussaint), The Old House (written for her by playwright Franck McGuiness and Leo Abrahams), Shangri Las' cover Past, Present and Future - plus four she wrote (Eternity, Prussian Blue, Why Did We Have to Part, and the title track). She and Hal started by getting together in Paris to put all their ideas together to review what would work best. "Of course Hal knows a lot, he has a lot of very good ideas of things I wouldn't necessarily know. So he picked The Stations -- brilliant idea -- and That's How Every Empire Falls -- which is also brilliant, such a great song, and I picked a few of the others," Marianne reveals.
I have to ask, because I'd never heard the Shangri Las' spookily prescient Past Present and Future before, if she herself picked that one, and she had. "I'm not sure it really works -- I hope so. I used to listen to it on Radio Luxembourg, when I was 13 or 14, under the covers... so my mother couldn't hear it... and I didn't know why I liked it then, but I know now. It's just one of the weirdest records ever made."
Past Present and Future was the Shangri Las' final single in 1966 for Red Bird Records. Beethoven's Moonlight Sonata is the musical bed to the spoken recitation of the lyrics, which are separated in three verses in chronological order. In the original, Mary Weiss who had to be all of 18 at the time, talks about a former love that went wrong and has ruined her for life. But that's what's brilliant and spooky about it; to hear a teenaged girl say world-weary lines as "Was I ever in love? I called it love -- I mean, it felt like love." And then, later, "Tomorrow? Well, tomorrow's a long way off. Maybe someday I'll have somebody's hand. Maybe somewhere someone will understand... I'm all packed up and I'm on my way and I'm gonna fall in love. But at the moment it doesn't look good. At the moment it will never happen again."
"It just means another thing, when a little girl is saying -- I don't think... I'll ever... love again -- and you know that's rubbish, it's just her first love affair that went wrong," says Marianne. "At my age of course it means something. It's truth."
Her interpretations of Gerry Goffin and Carole King's magnum opus Goin' Back and the New Orleans rocker Gee Baby are rich and textured as well. "Goin' Back is lovely," she agrees. "And I love Gee Baby, it's the first song that Mac (Dr John) worked on in the 50's." Dr. John makes a cameo appearance on the record though not on that particular song, as does Wayne Kramer and Lou Reed. Virtuoso guitarist John Porter is featured on four tracks, and Jenni Muldaur provides redoubtable backup vocals as well. In a genius move, Willner samples the 1971 record Brian Jones Presents the Pipes of Pan at Jajouka (recorded in 1968 by Jones in the Moroccan village of Jajouka) on the track Eternity to great effect.
Marianne herself wrote four of the songs, including the title tune. "It's not a tragic record, it's a happy record. I'm very pleased about that," she says. "I'm fed up with people seeing me like that. It wasn't my idea to cast me as a victim." Which is why the album cover works so well -- it's light and airy and different. "Yeah, so different. That's what I wanted, that's what I was trying to say. That's what I was after -- come on, perk up now!" she laughs.
Speaking of Light vs. Dark, I ask if it is actually true she was called a witch by the Vatican. "Yes, and I'm very proud," she beams. "It's one of the most wonderful things that ever happened to me." She admits that at the time she was quite upset, being the ripe old age of nineteen and just two years out of the convent. "Me, Anita (Pallenberg) and Mick -- we were both witches and he was denounced as a warlock." Yes, Virginia, there was a time when things like this really took place. When powerful religious figures took time out from their busy day blessing millions of people to label rock stars as demons. If you weren't there I don't blame you for not believing this actually happened.
Her work schedule at the moment is two weeks on, two weeks off, "which is very effective and my body can recover. It's such hard work," she asserts. She's just in fact come from the Montreal Jazz Festival where she performed, and will soon be going to Quebec and then over to Europe to do some shows. "Every show is really special, so that means putting all your energy into each show and of course I come out of it exhausted."
She urges me to tell everyone that she will be back in New York City in December for three shows at City Winery, "if everybody can just hold on and be patient, I'm really doing my best," she promises, flashing that gorgeously beatific smile that recalls the ethereal beauty of her 60's teen pop years. She also plans to do some dates on the west coast next year. The last time I saw her in concert was back in June of 2007 at the Kaye Playhouse on E. 69th Street where she played much longer than anticipated, delighting the appreciative crowd. It's a show you'll always remember so I urge you not to miss it. She's also currently working on some new songs with collaborator Doug Pettibone.
She's been revered and reviled, been both homeless and lived the high life, and has overcome so much in her 64 years on this earth that many weaker souls would have given up ages ago. What keeps her going, I ask? "There were moments when I thought I just can't do this anymore, what's the point? It'll never go away. But I've done it now," she admits. "Any working woman knows how hard it is. And it also affects, I think, how people see my work now, you know. You just have to let go of that lovely little voice and understand that I'm doing this now. That's lovely -- but don't expect that now. It would be very unrealistic."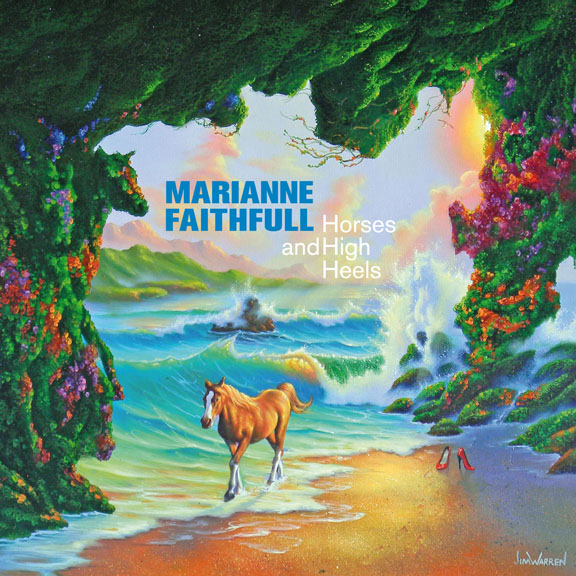 Horses and High Heels is available everywhere. For more on Marianne Faithfull visit her website. For a free download of Why Did We Have to Part, visit this link.
Calling all HuffPost superfans!
Sign up for membership to become a founding member and help shape HuffPost's next chapter