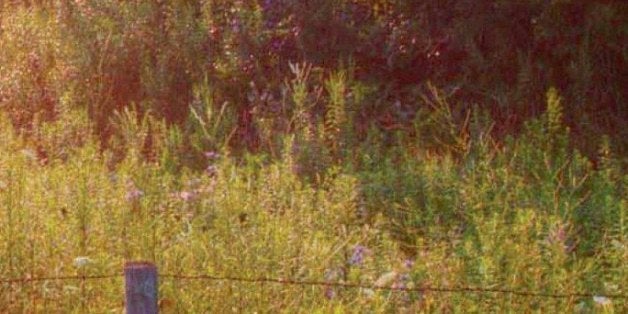 Lila
by Marilynne Robinson
Farrar, Straus and Giroux, $26.00
Published Oct. 7, 2014
The Book We're Talking About is a weekly review combining plot description and analysis with fun tidbits about the book.
What we think:
A poetic, bittersweet meditation on faith, family, and belonging, Lila embraces the depths of human doubt and misery while uncovering hope through the power of grace.

Marilynne Robinson's latest novel is dedicated simply, and perfectly, "To Iowa." She lives in Iowa, where she teaches at the Iowa Writers' Workshop, and the new book, Lila, is the third of her novels she's set in the small fictional town of Gilead, Iowa. The land has been rich literary terrain for her; Robinson even remarked recently that "Gilead voices are still simmering" in her mind: "If one of them demands its book, I may well write it."
In Lila, we learn the story of the young wife of Reverend John Ames, whose voice we heard in the pages of Robinson's novel Gilead. The titular Lila, Ames's wife and the mother of his young son, was a beloved but elusive figure in Gilead. The light of her husband's life but mostly impenetrable to him, now her secrets are thrown open to us -- her abandonment as a toddler by her parents, her rescue by a drifter named Doll, her upbringing as a wandering laborer, her stint in a brothel in St. Louis. In Gilead, Lila seemed aloof but steady, but in her story we see the full depths of her conflicted fear of domesticity, of love, of family. We know she will stay with Ames, but we see, for the first time, what a determined struggle it was not to walk out the door, back to the itinerant life she'd always known.
In her three previous novels, Housekeeping, Gilead, and Home, Robinson has shown a profound insight into the ways of the faithful and the ways of the wanderer. In Lila, she winds these threads together more closely than she ever has before. Like restless aunt Sylvie in Housekeeping, Lila seems to comprehend no way of being but disconnection, drifting, loneliness -- though her love for her guardian, Doll, was all the more fervent for its being the only meaningful constant in her young life. But it's clear her marriage to the preacher John Ames was no accident or manipulation; she also aches for the comforts that come with family and church -- belonging, warmth, and above all, understanding of her life and the lives of those she loves.
Robinson often receives praise for her treatment of religious faith in the field of literary fiction, where it is increasingly rarely seen. Her depiction of a questioning drifter seeking -- and yet resisting -- meaning in her life allows her to show the full range of her gifts in this arena. Never didactic or heavy-handed, Lila instead contains an honest, deeply nuanced, and unflinching exploration of what Christian faith might represent, both in hope and in fear, to a woman with Lila's dark and troubled past.
Told in Lila's own voice, the narrative finds the poetic juncture between her uneducated speech -- she claims at one point to have not known the word "existence" -- and Robinson's acutely observed and measured prose, resulting in a voice, and a novel, both believable and achingly beautiful.
What other reviewers think:
The New York Times: "Writing in lovely, angular prose that has the high loneliness of an old bluegrass tune, Ms. Robinson has created a balladlike story about two lost people who, after years of stoic solitariness, unexpectedly find love -- not the sudden, transformative passion of romantic movies and novels but a hard-won trust and tenderness that grow slowly over time."
The New Yorker: "Life without comfort, without love, that is the real life, and Lila would like to understand why. This is an unflinching book."
Who wrote it?
Marilynne Robinson has written four novels, including Housekeeping, Home, and Gilead, which won the Pulitzer Prize. Lila has been named as a finalist for the National Book Awards. She has also written four nonfiction titles. Robinson is a professor at the University of Iowa Writers' Workshop.
Who will read it?
Readers who prefer fiction with religious, especially Christian, themes and spiritual journeys, as well as those who admire finely crafted literary prose.
Opening lines:
"The child was just there on the stoop in the dark, hugging herself against the cold, all cried out and nearly sleeping. She couldn't holler anymore and they didn't hear her anyway, or they might and that would make things worse. Somebody shouted, Shut that thing up or I'll do it! and then a woman grabbed her out from under the table by her arm and pushed her out onto the stoop and shut the door and the cats went under the house."
Notable passage:
"I am baptized, I am married, I am Lila Dahl, and Lila Ames. I don't know what else I should want. Except for the shame to be gone, and it ain't. I'm in a strange house with a man who can't even figure out how to talk to me. Anything I could do around here has been done already. If I say something ignorant or crazy he'll start thinking, Old men can be foolish. He's thought it already. He'll ask me to leave and no one will blame him. I won't blame him. Marriage was supposed to put an end to these miseries. But now whatever happens everybody will know. She saw him standing in the parlor with his beautiful old head bowed down on his beautiful old chest. She thought, He sure better be praying. And then she thought, Praying looks just like grief. Like shame. Like regret."
Calling all HuffPost superfans!
Sign up for membership to become a founding member and help shape HuffPost's next chapter