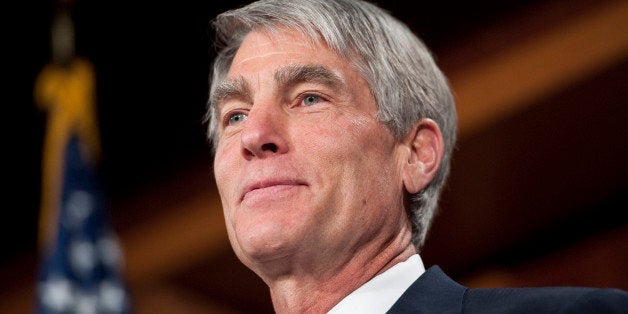 It looks like 2014 may be the year that politicians and pundits finally catch on to what we've been saying for years: Running Clean makes smart political sense and candidates from both parties should be supporting clean energy. But in the Colorado Senate race, there's one candidate who has been supporting clean energy since before it was cool: Senator Mark Udall. Looking at Udall's record, it's clear that he is truly committed to clean because it's the right thing to do, not just because it's politically expedient.
Udall's opponent, Congressman Cory Gardner, is trying to reap the benefits of voters' support for clean energy without actually supporting clean energy. Gardner filmed one of his ads in the middle of a wind farm and claimed that he "co-wrote the law to launch our state's green energy industry." Unfortunately for Gardner, that law was repealed five years later and wasn't credited with creating a single clean energy job.
The truth is that Gardner is a #DirtyDenier$. He has denied the human contribution to climate change, he has voted to deny EPA's scientific finding that carbon pollution is a threat to human health, and he has repeatedly voted to protect taxpayer subsidies for oil companies while voting to eliminate them for clean energy pioneers. He's also voted against just about anything else that might improve the environment from ocean health to clean water to clean air.
With that record, it should come as no surprise that the oil and gas industry are the largest contributors to his campaign's bank account. In just four years in Congress, Gardner has raised $695,000 from the oil and gas industry and the oil billionaire Koch Brothers are showing their appreciation for his dirty voting record by investing millions in their own advertising campaigns designed to prop up Gardner.
When Colorado voters go to the polls in November, they'd be wise to remember which candidate's record matches his rhetoric. There's only one clean candidate in this race, and that's incumbent senator Mark Udall.

Want more election coverage? Visit www.nrdcactionfund.org for weekly updates on key races featuring environmental champions.
REAL LIFE. REAL NEWS. REAL VOICES.
Help us tell more of the stories that matter from voices that too often remain unheard.