The so-called "real world" seldom demands our creativity. There are no bills in the mailbox that remind us our creativity output is due mid-month, no utilities that threaten to shut off if we've skipped our 15-minute writing ritual in the morning. We can't pay for our groceries with a jazzy, improvised ode to the checkout lady.
But for so many of us, those side moments of getting our art on -- be it through poetry, ceramics, comics, model planes, spontaneous dancing, whatever -- are crucial to daily existence. They are the "unnecessary" moments of clarity that allow life to feel necessary. Still, it is all too easy to allow the minutiae of daily work, errands and zone-out Facebook sessions to stamp out our free time.
In order to combat this feeling, business owner Marlee Grace created an Instagram account to document her daily creative ritual: dancing. "Daily ritual and routine has become incredibly important to me, especially as an addict/human being prone to impulsive behavior," Grace explained in an email to The Huffington Post. "I am incredibly good at making excuses for not taking care of myself or doing what is good for me, so this is a powerful way to not negotiate."
In short daily clips, Grace allows her body to interpret a song, turning and extending and shimmying in her apartment, her store, or wherever the practice may take her. There are times when the only accompanying sound is the quiet hum of the outdoors, with birds chirping in the background, as Grace moves along silently.
"Doing it every single day shows me that I can come into my practice anywhere, no matter where I am, no matter how many square feet I have, no matter if there is music or not," she said. Her personal practice Instagram goes back about four and a half months.
While doing these dances in private might have been enough, the social aspect of Grace's Instagram allows for greater accountability. "Accountability in general is a huge part of my healing process," she explained, "staying accountable to other friends navigating similar modalities in terms of recovery and addiction, finishing projects, doing my work."
Similar movements on social media encouraging individuals to stay publicly accountable to their art include the annual NaNoWriMo, for writers, and Inktober, for visual art. For these initiatives, the act of creating on a schedule is held higher than the end product itself.
"By having to share it every day, it's my way of saying, 'Yes. I did this today,'" Grace added. Her videos feature a mix of pop music jams and old-timey girl groups. "I am listening to music ALL the time," she said, "when I'm at my shop, in the car; I make a ton of mixtapes for my friends so I am always in this mode of WHAT IS MY VIBE today, on a sonic level."
"It all started when I was three years old on my parents' couch dancing in my Easter dress slip to Janet Jackson's 'Rhythm Nation,'" she said of her experience with dance. "The entire album completely moved my tiny body and it was the greatest way for me to vibe on being alive." Grace began formal dance classes at nine, practicing ballet to the age of 18 and receiving a BFA in dance at the University of Michigan. Now, she studies compositional improvisation with "a radical collective of ladies called The Architects."
It's inspiring to scroll through Grace's Instagram feed and take in the totality of a practice like this. One day of working on oneself may feel insignificant, but here we can see the sum of those single days: the number of daily practices shows commitment, tenacity, a simple love letter to the importance of taking time for what you love. "That is important to me, because it truly started in the womb, like the T-Rex song says, 'I danced myself right out the womb.'"
For those wishing to try their own version of Grace's practice, she encourages you to simply start it. "Make a blog, a journal, a zine, a news feed, your own dance Instagram account. Text a friend a video of you dancing, write a letter to a pen pal to start some accountability. Just start. It's the not starting that is so crippling," she said.
"I spent so long saying, 'I wish I had more time to dance,'" Grace said. "You have time, I promise. Every day, carve out the tiniest moment to just show up to yourself and your work."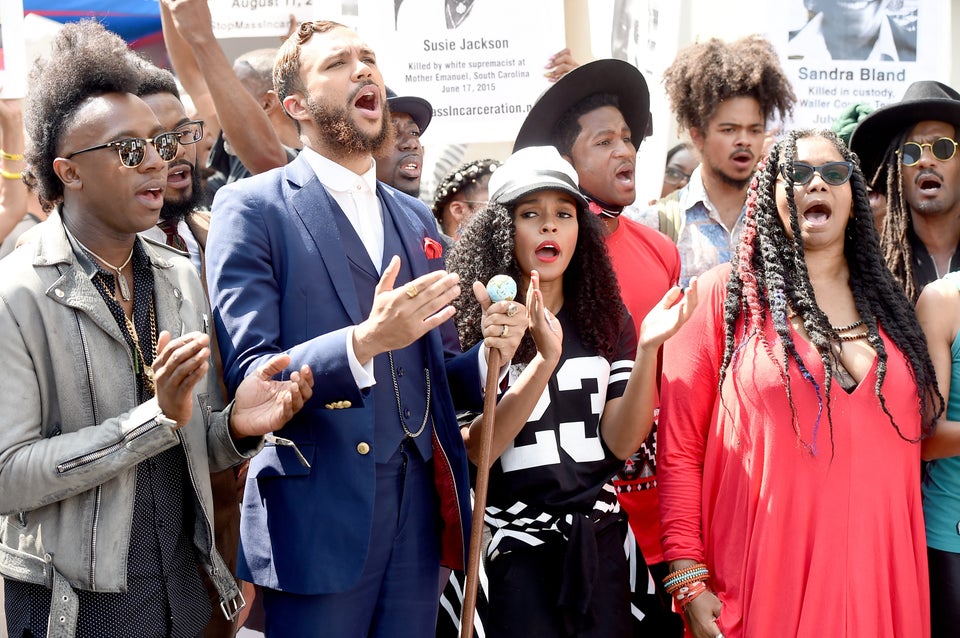 15 Ways Artists Fought For Larger Causes
Popular in the Community