This Marrakesh food tour took us deep inside the center of the old city and allowed us to explore the real flavors of Morocco. The setting was as compelling and mysterious as the food and I wonder how many people who haven't been led specifically behind the doors that we explored, leave Marrakesh without really knowing the food of Morocco. On this night we went into the small alleys of the Medina (or old city) and were invited into establishments that have been passed down by through families for generations. Without our guides, I never would have ventured inside and certainly wouldn't have ordered many of the things that we tried today - an opportunity that I am glad to say I did not miss.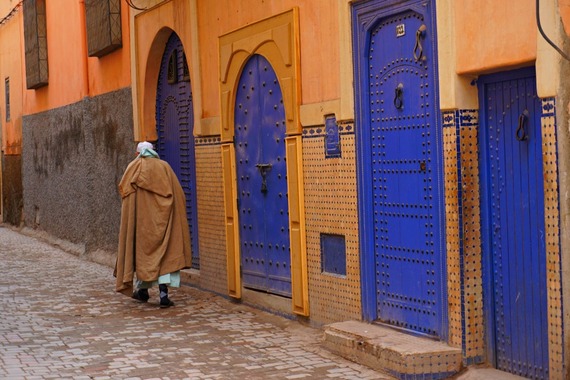 Our tour guide, Youssef, who grew up in Marrakech, along with his wife Amanda, scoured the Medina and selected a menu based on traditional foods that he grew up with. Before adding a stop on the tour, they asked themselves, would Youssef's mother eat this food? I can tell you easily that she wouldn't eat THIS MUCH food - we were about to embark on a walking feast. So if you decide to take this journey, bring a strong sense for adventure, a big appetite and comfortable shoes - you will need all three to fully appreciate this food tour.
We ventured into the Medina, passing by the Souks (shops) and began to experience the sights, sounds and smells of the old city. The confusing maze of tiny streets is actually well-organized small communities where people have lived and cooked together for centuries. Behind one door you can find the bread baker, who not only supplies his neighborhood restaurants and stores with bread, but also bakes loaves of bread for his neighbors. The traditional bread, a round dense loaf, is baked in a wood fired oven. According to Youssef, the baker is the ears and eyes of the community. Before you marry it is wise to ask the baker what sort of family you are potentially marrying into - he will know.
The bread (Khobz) is a crucial part of the food and the culture here. It is often used instead of a fork to scoop up bits of slow cooked meats, as demonstrated by our official tour guide who accompanied us and shared samples with us along the way.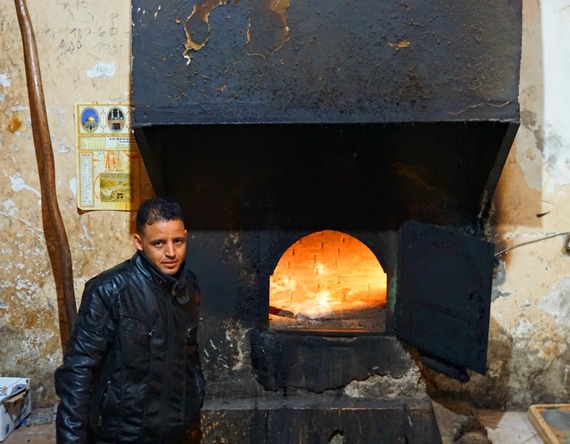 We were given our first chance to try the bread at our first stop at another communal cooking establishment. Here whole lamb is prepared (actually, typically several of them at a time) in a huge underground oven.
We tried a sample of lamb cooked in the clay pit (Mechoui) and also lamb prepared in a different way. What Youssef referred to as "bachelor cooking." Chunks of lamb along with some liquid, preserved lemon and cumin are sealed in a clay pot (Tangia). The pot is dropped off in the morning and slow cooked in a wood fired oven. When ready to eat, you collect your pot, upend it onto a platter and share it with bread. It is particularly delicious with the cumin and salt mixture available on the tables.
The next stop turned out to be one of the biggest surprises on the tour for me. If he hadn't told me I would never have guessed that the meatballs in the sandwich we tried, all piled into a corner of traditional bread with olives and onions, were actually made with sardines. We slathered on some chili sauce with a light curry flavor (harissa) and once again I ate too much.They turned out to be my favorite taste of the day. I was already starting to feel full - and we had more stops to go.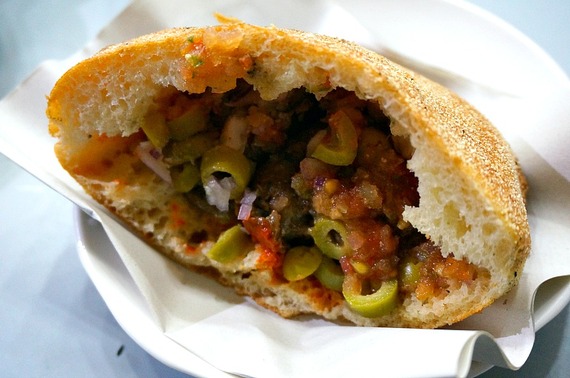 Next we entered a small shop where a group of women were preparing the dish they had become known for - traditional Moroccan couscous. Youssef shared that he and his wife scoured the Medina in order to locate a shop that would prepare a dish that was the most similar to what his mother would make at home. They placed a large platter in front of us, fragrant and artfully arranged. My favorite was the sweet and savory topping made with caramelized onion and raisins. Youssef explained that the proper way to approach sharing this formidable shared dish was to eat in your own triangle, like an imaginary pizza slice. At this point all we could manage was to make a small dent the light, fluffy dish. Luckily our local guide had anticipated this stop and helped us do more significant damage to the dish.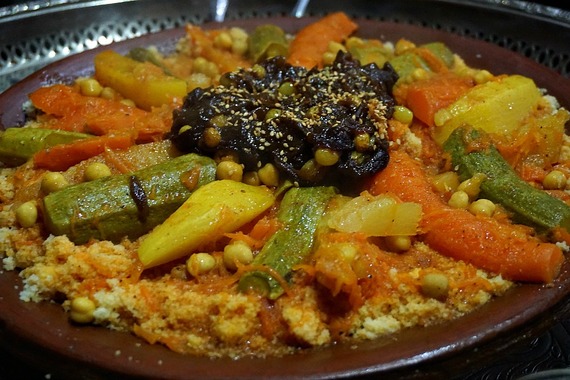 On our next stop Youssef, knowing that we were likely getting pretty full and that some of us were less adventurous that others, offered a taste of a local delicacy from another street vendor. A spleen sandwich! When we stopped in front of the street vendor two of the women on our tour laughed, because they had wandered by earlier in the day and tried a sandwich having no idea what it was. "It was spleen!" they shrieked. And, as they indicated, it was a delicious concoction of ground beef and other organ meet combined with spices and cooked in a cow spleen, called Te'han. Cow spleen - who knew?
As we wandered home, full of the sights, sounds, and tastes of the evening, I reflected that even after having been in Marrakech for a few weeks, I hadn't really tasted the red city. Until now. I am glad to have had the inner doors of the Medina opened for me. And if you ever find yourself in Marrakesh, give Amanda and Youssef a call and give yourself the opportunity to visit the Medina as a traveler, not a tourist.