All the festive trees at the Fifth Annual Georgetown Jingle on December 12, 2010 were beautiful, but there were favorites among the guests. Mary Rill, wife of Architect Jim Rill of Rill Architects, commented on the innovation of Suzanne Price's holiday tree.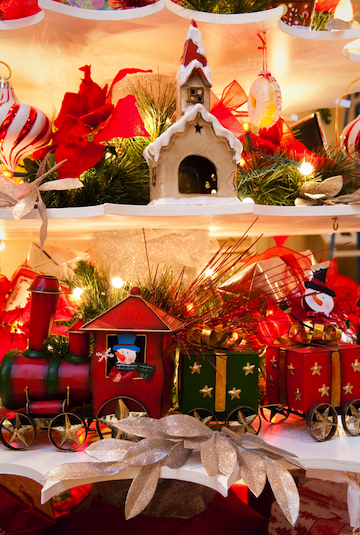 Made of painted wood shelves tiered like a pine, Price's tree called "A Few of My Favorite Things" held several of Patient Ambassador Rhiann R.'s symbols of the season. The Georgetown Jingle supports the Pediatric Hematology, Oncology, Blood and Marrow Transplantation Program and the Childhood Cancer Survivorship Program at Georgetown University Hospital. Rhiann is in treatment for Severe Aplastic Anema and one of 13 children who represented the hospital and staff as patient ambassadors at this year's Jingle.
Located at the Four Seasons Georgetown, Washington, DC, the Georgetown Jingle has had many supporters for Dr. Aziza Shad's Pediatric Oncology Department since it's inception, including JDS Designs, CVS and The Washington Design Center. The Design Center's new director of marketing, Jennifer Sergent, joined the Jingle for the first time this year with her sons and husband.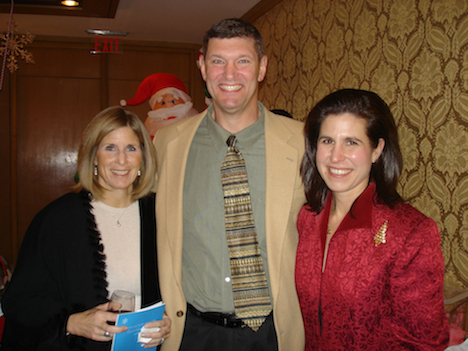 Sergent's son Chalmers really enjoyed the decorate-your-own-cookie station sponsored by Frosting A Cupcakery. Frosting owners Michelle Snow Bracken, Todd Bracken and Ann Snow had plenty of sugar cookies and colorful icing and toppings for the children.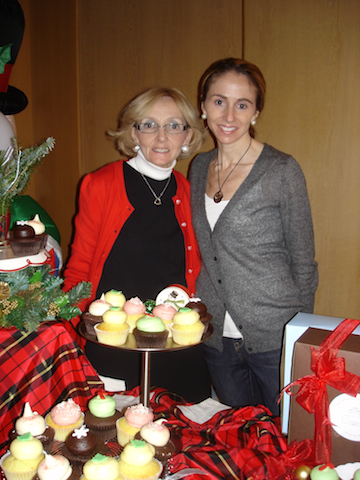 Some adults were really enjoying the decorating and tasting too, including Four Seasons' director of public relations Liliana Baldassari. Just giving birth to her second son four days ago, Baldassari enjoyed Frosting's cookies with her newborn's older brother.
Among the tree designers was Sandra Meyers, who said her tree on display at Banana Republic already sold before the event began. The purchase price for her tree, reported to be in the thousands, will be matched by Banana Republic. Martha Stewart Living Omnimedia led by craft editor Hannah Milman and art director Anduin Havens created a "Flights of Fancy" tree originally part of the "Magazine Holiday Design Showcase" at the Blair House in Washington, DC in 2009. Many of the ornaments on this year's tree are available from the Martha Stewart Collection at Macy's.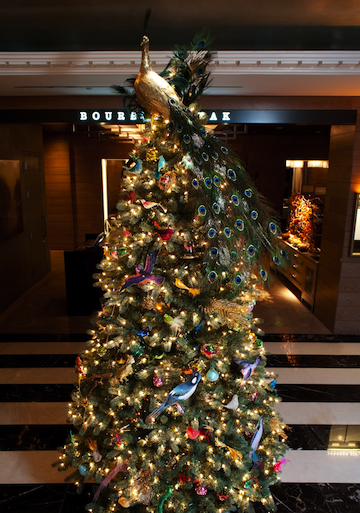 The first four years of the Jingle raised $1.3 million for Georgetown's Pediatric Department. This year may be a record setter with more silent auction items than ever before. They included a Virtual Golf Girl Happy Hour, tickets to DC's Wizards, Capitols and Nationals games, and plenty of autographed items in the Sports & Entertainment category. Other categories included Design & Décor, Great Escapes and Kid's Corner. The auctions started closing a little early, at 6 p.m., with all closed by 6:30. The event went on until 8 p.m.
More than 20 restaurants and shops including Barefoot Wine & Bubbly donated to A Taste of the Holidays, the food and beverages enjoyed by guests, who opened their hearts and wallets to this very good cause.