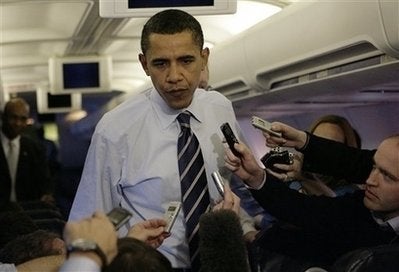 The endorsement of Barack Obama by the nation's foremost abortion-rights advocacy group is causing major fissures and backlash within the women's rights community.
Hours after Obama received the support of NARAL's Political Action Committee, the organization's Washington branch felt compelled to announce its continued neutrality and disappointment with the endorsement.
"We strongly disagree with NARAL Pro-Choice America's decision to endorse at this time," a press release from the group read. "To endorse Obama at this point in the race is an unconscionable slap in the face to Senator Hillary Clinton."
They weren't alone. In a hastily announced meeting late Wednesday night, several of Clinton's most high-profile female supporters lashed out against NARAL's PAC calling it "a betrayal," and "extremely unnecessary,"
"We feel abandoned by this organization today," said Rep. Debbie Wasserman Schultz.
Elizabeth Malcolm, the head of Emily's List, called the move "disrespectful" to Sen. Clinton, "who held up the nomination of a FDA commissioner in order to force approval of Plan B and who spoke so eloquently during the Supreme Court nomination about the importance of protecting Roe vs. Wade - to not give her the courtesy to finish the final three weeks of the primary process. It certainly must be disconcerting for elected leaders who stand up for reproductive rights and expect the choice community will stand with them."
In an interview with The Huffington Post, Martha Burke, the former chair of the National Council of Women's Organizations, said she was "disappointed and think they are wrong. It feels like they are abandoning a known ally for a less committed candidate because they want to jump on a bandwagon. I think the pro-choice community should stick by a woman who has stuck by them."
And in a phone conversation, Marcia Pappas, the head of National Organization of Women, New York -- who famously accused Ted Kennedy for betraying women by endorsing Obama -- would not even commit to supporting the Illinois Democrat in the general election.
"It is disappointing that an organization that stands up for the rights of women would rush to this type of judgment, especially when we only have three weeks left. And I would wonder what criteria they used to make that judgment, based on the fact that [Obama] chose seven times to vote present," she said. "We certainly know that John McCain is not good on women's rights and we hope that Barack Obama is better on it, but it remains to be seen when we have a candidate who did not stand firm when he could have done so. "
Combined, the blowback from NARAL's endorsement is enough to suggest that Obama, should he become the nominee, may face future political hurdles when reaching out to the women's rights movement. But his record, compared to both Clinton and McCain, is strong on the group's issues. He has received three straight perfect ratings in NARAL's congressional record, has consistently supported a pro-choice platform, and his seven "present" votes (which Pappas cites) in the Illinois Senate were driven, he says, by legislative strategy rather than policy disagreements. As NARAL's president, Nancy Keenan, wrote on the Huffington Post:
"Sen. Obama has been a strong advocate for a woman's right to choose throughout his career in public service. Since joining the Senate in 2005, he has worked to unite Americans on both sides of this debate behind commonsense, common-ground ways to prevent unintended pregnancy. He supports legislation to provide our teens with comprehensive sex education, prevent pharmacies from denying women access to their legal birth-control prescriptions, and increase access for family-planning services."
Calling all HuffPost superfans!
Sign up for membership to become a founding member and help shape HuffPost's next chapter