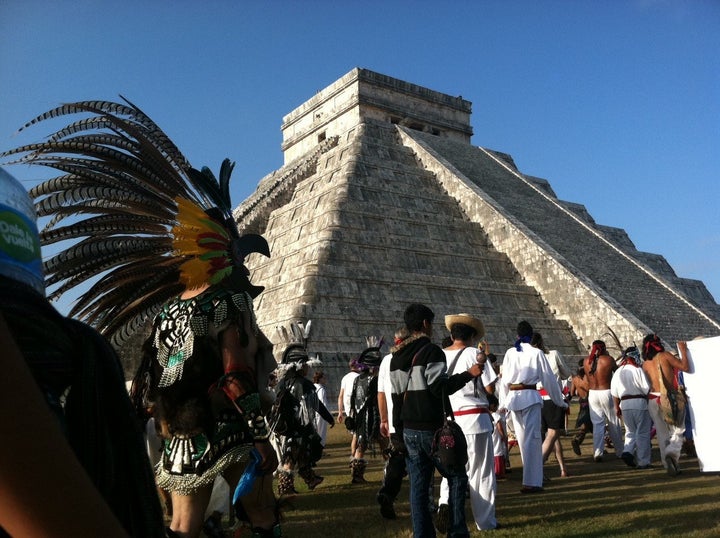 VALLADOLID, MEXICO -- On the eve of what will be known as the apocalypse that wasn't, every hotel room in the town of Valladolid -- known as Zaci during the Maya empire -- is filled and no one seems to be panicking. Only 25 miles from Chichen Itza, the visitors here are resolute in the face of doom, passing the time by inspecting colorful Christmas decorations and watching a traditional Maya dance performance set to synth music.
When I ask the several groups of tourists loitering around the town's central square whether they've come for the apocalypse, most tell me that they've visited Chichen Itza already in order to avoid the festival due to take place on Friday.
The festival, Synthesis 2012, promises to welcome in a new era with the help of a harmonic cycle neatly timed to the end of the 13th b'ak'tun, a Maya era that comes to a close on December 21.
"The world isn't going to end," an attendee at the bus terminal informs me. "This is more of a change in consciousness."
Haughtiness and harem pants don't mix well.
The young and aggressively tanned festival goers headed toward Chichen Itza to celebrate the dawning of a new era in cheap tents recognize each other by their extravagant tattoos and, much to the amusement of local cab drivers, spend most of their 10-minute stopover in Valladolid hugging. Then their bus leaves for the ruins.
Two couples standing in front of a horse-drawn carriage say the timing of their visit was mere coincidence. They ask if I would mind taking a few photos and hand me three smart phones.
Margiela, who works the front desk at the local tourism office, tells me about a fire dance scheduled to take place -- and the grand opening of a tiny museum devoted to Maya culture.
"It is wonderful that people are so interested in the Maya," she says as she hands me the book in which she asks visitors to record why they came. The word "apocalypse" is nowhere to be found, though Louis Tucci of New Orleans has written that he came to "see an authentic ciudad."
The most striking entry in the book is from the eccentrically named Chinku Gunmeretz of Sweden, who came to Valladolid because he "heard it was here." It certainly is, but it isn't making a very big deal about it.
In the park, men walk their dogs and woman sit together on white benches talking. Nuns pass periodically, greeted with nods of respect from the elderly woman in traditional attire. The night is warm and children chase each other down the back streets with sticks. There is nothing about the consciousness of this place that needs changing.
Curious about how many people have come and what is being done to accommodate them, I head to the local police station. The officer on duty calls an Officer Loeza to the door. I'm informed that more officers have been called out to deal with all the tourists.
"We have got a few more police working as crossing guards because we don't want you getting hit by those buses," Officer Loeza informs me. "Some security forces went down to Chichen Itza, but not many. It is fairly typical December."
He asks if some people in America believe this is really it and I tell him that yes, some do, but some people will believe anything.
"They should leave me their stuff," he says with a laugh.
He bikes away past a tentative Korean tour group and up a road packed with aging Volkswagon Bugs. One driver waves him over and they talk for a few minutes, holding up traffic. No one honks. It isn't the end of the world.