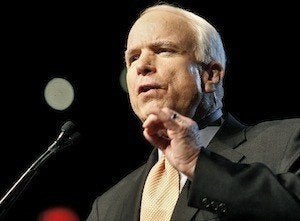 Sen. John McCain (R-Ariz.) signaled over the weekend that he would filibuster any measure put forth in the Senate aiming to repeal "Don't Ask, Don't Tell" during a lame-duck session following the November midterm election.
The four-term incumbent spoke about the Pentagon policy that prohibits gay individuals from serving openly in the military in a pre-taped interview for Arizona-based station Channel 12's "Sunday Square Off."
When asked how far he would go to prevent an attempt to repeal the controversial policy from being approved in the upper congressional chamber, McCain responded by saying, "Absolutely I will filibuster or stop it from being brought up until we have a thorough and complete study on the effect of morale and battle effectiveness."
The longtime senator said that it doesn't matter to him that Defense Secretary Robert Gates and Chairman of the Joint Chiefs of Staff Adm. Mike Mullen have both voiced support for stopping the enforcement of the ban on gay troops.
However, back in 2006 McCain communicated a distinctly different stance on the issue when he said, "The day that the leadership of the military comes to me and says, 'Senator, we ought to change the policy,' then I think we ought to consider seriously changing it."
McCain noticeably began to falter on his stance on "Don't Ask, Don't Tell" after former congressman J.D. Hayworth announced the launch of his primary campaign to unseat the Republican lawmaker. Arguing against efforts from the Obama administration to repeal the policy, McCain said, "At this moment of immense hardship for our armed services, we should not be seeking to overturn the Don't Ask, Don't Tell policy."
At the time, McCain spokeswoman Brooke Buchanan denied that the Arizona senator had reversed his position on the issue; however, the non-partisan Politifact rated the perceived inconsistency as a "full flop."
WATCH: McCain Says He'd 'Absolutely' Filibuster Repealing 'Don't Ask, Don't Tell'
Popular in the Community