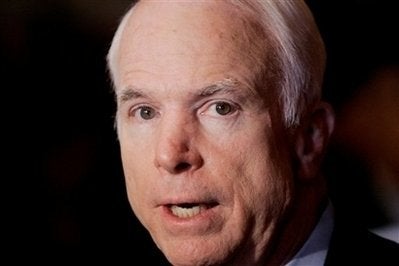 On Monday, Sen. John McCain received the endorsement of Alabama Gov. Bob Riley, connecting the circle of a political relationship that has spanned more than a decade.
The two men served in Congress together during the 1990s and since then, and with some frequency, McCain has bolstered Riley's rise, even as ethical questions surrounding the Republican governor surfaced.
Indeed, as the Huffington Post reported last week, in the summer of 2006 McCain had access to an email from disgraced-lobbyist Jack Abramoff that tied Riley to his influence peddling scandal. But instead of including it in his Senate Indian Affairs Committee report, he sat on it. A few months later, Riley was reelected.
At the time, McCain acknowledged that there were some public officials with Abramoff connections, but insisted that it was not his job to investigate them.
"There's strong evidence that there was significant wrongdoing, but I'm not a judge or jury," he told Meet The Press. "I will not [investigate], because I'm a chairman of the Indian Affairs Committee. This was brought to our... attention by some disgruntled tribal council members in a small tribe in Louisiana, and we took it as far as we thought was our responsibility, which is where the money ends up."
And yet, McCain took steps beyond merely protecting Riley from his Abramoff probe. Despite knowing that there were questions surrounding the ethical conduct of the Alabama governor, McCain actively supported his campaign. McCain's Straight Talk America PAC contributed $10,000 to Riley's reelection coffers. The Arizona senator attended Riley's inauguration and touted him as having "every potential to be a national figure."
Why take these steps? For starters, the two men do have past history. While they clashed on the topic of campaign finance reform, they served together in Congress on the Joint Armed Services Committee. And months before the 2006 campaign, they traveled together to Iraq.
There are personal ties as well. McCain's Alabama legal advisor, Matt Lembke, was a Riley confidant during his controversial 2002 race against then Gov. Don Seigelman (who has since been arrested on a highly-controversially, politically tainted, corruption charge). Troy King, meanwhile, was appointed the state's attorney general by Riley and now serves as McCain's Alabama chairman.
Perhaps, however, there were more careerist explanations to the McCain-Riley connection. Indeed, around the time that McCain sat on the Abramoff email and was making donations to Riley's gubernatorial campaign (as well as other Alabama GOP officials), the governor was signing into law legislation that moved Alabama's 2008 primary from June 3 to February 5 (Super Tuesday). At the time, the move made the state - alongside South Carolina - a southern barometer for any Republican White House candidate. Since then, however, other states followed Alabama's lead, diminishing its impact. And following Riley's reelection, much talk in political circles centered on him being a viable vice presidential choice.
All told, there was a political balance in Alabama which McCain likely did not want to disturb.
"If you are fixing to run for president, you don't want to step in the own [shit] you've created," said a source close to the Riley-Abramoff-Siegelman case. "You don't want to be the guy who is known for the downfall of Bob Riley."
Despite it all, however, it took until this past Monday for Riley to finally jump on board the McCain presidential bandwagon. A month earlier, in Alabama's primary election, McCain lost to neighboring Arkansas Gov. Mike Huckabee by a margin of 40.7 to 37.2 percent. Riley, observers say, was simply waiting for McCain to clear the last-candidate-standing hurdle.
"I think he wanted to hold off and see which way the state was going to go," said Dr. Sam Fisher, a political science professor at the University of South Alabama. "Also, politically, he wanted to make sure he had his options open, not to get stuck backing one person who might not ultimate win... a lot of it was a political calculation about his future."
Riley, it should be noted, was one of six governors to offer McCain their support on Monday. Another was Haley Barbour of Mississippi, who is no stranger to ethics charges of his own. A former lobbyist, Barbour represented an organization directly involved in Tom Delay's money-laundering scandal and helped defeat Mississippi's anti-smoking program, for which he was paid $3.8 million by tobacco companies. His work (much like Riley's possible connection to Abramoff) puts him at odds with McCain's anti-special interests posturing. And in the past, the two men have clashed.
"I like John McCain. His family is from Mississippi. He is a genuine American hero," said Barbour during the Republican primary of 2000. "But genuine American heroes have got to play by the same rules of telling it like it is as everybody else. And Senator McCain says he's going to break up all these lobbyists, these power brokers, and his campaign is full of lobbyists. Some of my best friends -- There's nothing wrong with it. What's wrong is the phony baloney of being hypocritical about it."