McDonald's Corp.'s new twist on its 11-year-old "I'm lovin' it" theme will be an equation: "Lovin' > Hatin'."
The Wall Street Journal, which broke the story about the campaign last week, suggested that the tagline would be "Lovin' Beats Hatin'," but the phrase McDonald's will use is slightly different. What the company filed U.S. federal trademark registrations for last week were both the equation "Lovin' > Hatin'" and the phrase "Lovin' is Greater Than Hatin'. " The WSJ article said the campaign is likely to begin after the first of the year.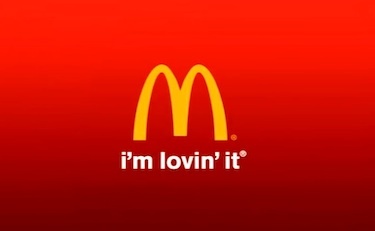 Leo Burnett is believed to be the ad agency that crafted the new tagline. A unit of Publicis Groupe, Burnett reportedly won a creative shootout in August among the chain's agencies, all of which presented new ideas for refreshing the slogan, first introduced in 2003. Burnett handles McDonald's children's advertising in the U.S. and all work for the chain in the United Kingdom. McDonald's other agencies include the DDB Worldwide (lead agency in the U.S.), TBWA and OMD units of Omnicom Group.
The McDonald's agencies relationshp with each other is cooperative but always competitive. In January of this year, DDB Chicago hired away Tony Malcolm to oversee its McDonald's work. He previously had overseen the McDonald's account at Burnett in London. In May, Burnett parent Publicis and DDB parent Omnicom decided to call off their planned $35 billion merger.
McDonald's, too, has seen several changes in its marketing/advertising ranks over the past year. Deborah Wahl was named chief marketing officer in January. She previously had worked for home builder PulteGroup and Chrysler. In August, Julia Vander Ploeg was named McDonald's first VP-digital, reporting to chief digital officer Atif Rafiq, who was brought on board late last year. In September, Chief Creative Officer Marlena Peleo-Lazar left the chain after 14 years in that role. Fred Ehle was named the company's first VP-customer officer in late September.
REAL LIFE. REAL NEWS. REAL VOICES.
Help us tell more of the stories that matter from voices that too often remain unheard.